ROOSEVELT FIELD TO OFFER NEW EXPERIENTIAL RETAIL SPACES FOR EMERGING BRANDS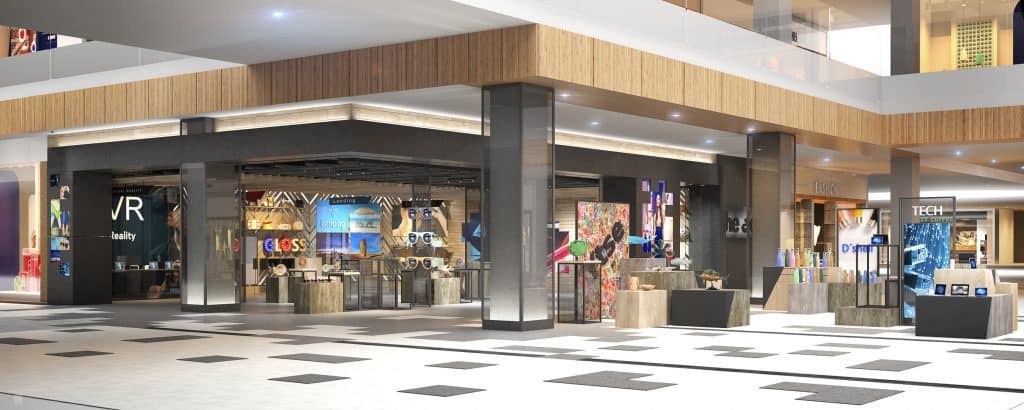 Shopping mall property group Simon has announced the launch of The Edit@Roosevelt Field, a first of its kind, scalable, turnkey retail platform that will launch in November at Roosevelt Field on Long Island, NY.
Set in one of America's most iconic shopping centers, The Edit@Roosevelt Field brings together both established and emerging brands to pilot new products in an interactive and experiential retail space that blurs the lines of physical space. For some of the participating brands that have online businesses only, this will be their first foray into a brick and mortar space.
The Edit@Roosevelt Field, designed by O'Neil Langan Architects, will feature a rotating selection of exciting and diverse new brands with the initial collection taking shape now. Highlighted brands will include Raden Smart Luggage, millennial-focused Skinnydip London, menswear brand Vitaly, athletic apparel favorite Rhone, beauty brand Winky Lux, Beltology, dessert darling JARS by Dani, and contemporary art gallery Uprise Art.
Brands will be displayed in micro retail units ranging from twenty to two hundred square feet. The Edit@Roosevelt Field platform provides all the retailing essentials from custom-designed modular fixturing systems, digital media walls, to staffing solutions for any brand that wishes not to provide their own. This 'turnkey' micro retail model is what young brands are looking for.  All a brand needs to go 'live' is product and a desire to tap into a new live customer base.  Shoppers will be able to interact with brand ambassadors who will be on hand to provide product information, brand storytelling and convert sales.
"We are thrilled to bring this revolutionary retail model that enables brands to come to market faster and more visibly than ever before beginning at one of our premier properties, Roosevelt Field," said Zachary Beloff, national director of business development for Simon. "This concept is a design-centric, experience driven, and completely transitional place to discover new product and technology in a brick and mortar space. Our customers will be able to experience and interact with new brands like never before."