RYAN SEACREST NAMED NEW CO-HOST OF ABC'S "LIVE" MORNING SHOW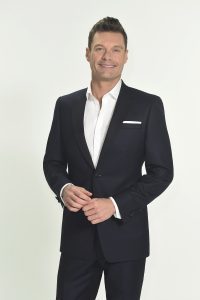 Fashion entrepreneur and TV personality Ryan Seacrest has been named Kelly Ripa's Live co-host on the long-running ABC morning show, which will be renamed Live With Kelly and Ryan. The position has been vacant since Michael Strahan left the show last year.
Seacrest is the founder of Ryan Seacrest Distinction collection, which is available exclusively at 150 Macy's stores nationwide and through macys.com. The popular menswear line will expand from tailored clothing and accessories into a new "lifewear" category beginning in September 2017. These new pieces, which range from belts to shirts to outerwear, will feature updated signatures and accents allowing men to share their personalities.
In addition, Seacrest has teamed up with popular Beverly Hills dermatologist Dr. Harold Lancer on a new line of men's skincare entitled Polished by Dr. Lancer. The new line, which is scheduled to launch in June, will be produced and distributed under a new exclusive partnership with Bonfire Enterprises, a new incubation affiliate of Guthy-Renker Ventures.
A popular radio host, Seacrest is best known for his 15-year run as the host of FOX's American Idol, which concluded last year. He is also a red carpet fashion commentator for the E! network and hosts ABC's New Year's Rockin' Eve special.