SAKS FIFTH AVENUE NYC FLAGSHIP OPENS NEW BEAUTY FLOOR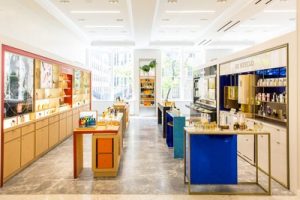 Saks Fifth Avenue's New York City flagship has officially opened its new, 32,000-square-foot beauty space on the second floor of its New York flagship.
The new space, which previously housed The Wellery, now houses more than 120 men's and women's cosmetics, skincare, fragrance and wellness brands —58 of which are new to the floor. It also includes 15 new dedicated spa rooms for such brands as Kiehl's Since 1951 and Chanel, along with areas for such services as mini-facials, manicures, brow services, a flower shop and more.  In addition, the store will host a series of beauty and wellness events in its 850-square-foot flexible event space with industry influencers ranging from noted doctors to fitness empire founders, and will also host master classes, public appearances, small private gatherings and visual installations.
The new beauty floor is the latest step in the New York flagship's major renovation, which includes the redesign of various floors, the addition of a new restaurant and more. The design of the second floor focused on opening up the space, creating broad sightlines across the floor and modernizing traditional finishes that complement the brand's heritage. The design team used custom agglomerate white stone flooring from Italy throughout and restored original windows facing Fifth Avenue, 49th Street, and 50th Street, allowing natural light to the floor and north and south facing views of the city. Meanwhile, the area of the first floor which previously housed the beauty section will be devoted to handbags and leather goods.
"As part of Saks' overall growth strategy, we continue to look for ways to innovate, create and disrupt. The bold decision to move Beauty to the second floor, from the traditional main floor model, allowed us to build a one-of-a-kind destination enabling Saks to create the epitome of an experiential beauty floor," said Marc Metrick, president, Saks Fifth Avenue. "We continue to apply the principles of what we call The New Luxury to everything we do.  What we've done with Beauty gives the customer a warmer environment, differentiated from what they can get anywhere else and creates a reason to come to Saks and experience our brand."
Added Tracy Margolies, Chief Merchant, Saks Fifth Avenue: "We curated the floor to represent the best innovations in beauty and wellness in a truly specialized space. By offering beauty and wellness workshops and panels, Saks is taking a holistic approach to make our clients feel great both inside and out."