SAKS OPENS DOWNTOWN MEN'S STORE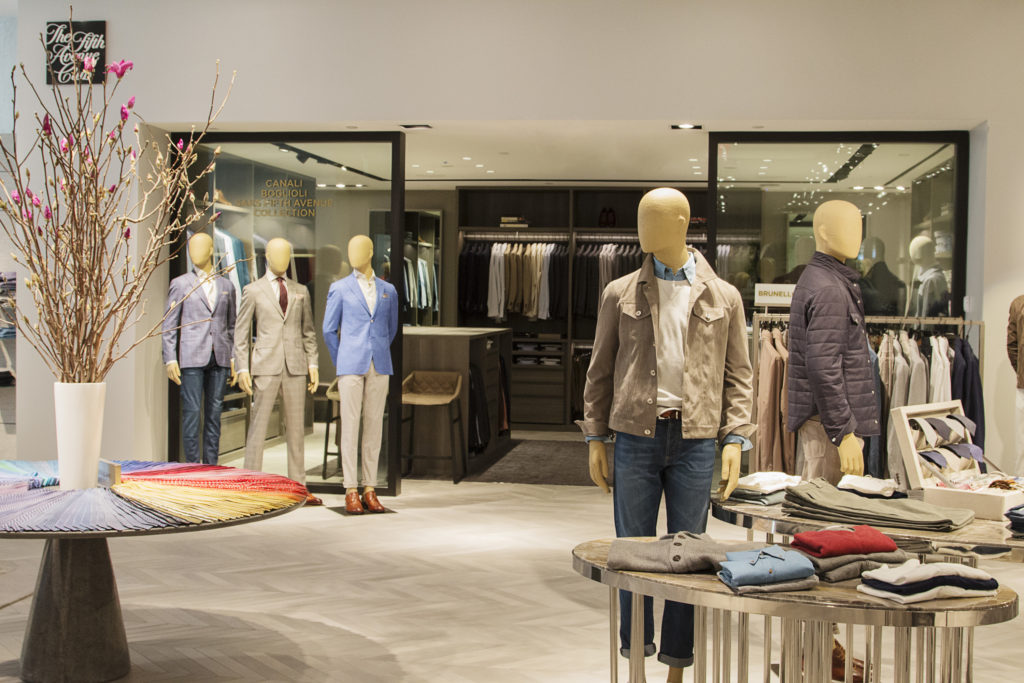 Saks Fifth Avenue has announced the completion of its newest store and third New York City location, Saks Downtown Men's.
The 16,000-square-foot store is located at 250 Vesey Street at the northern end of the burgeoning Brookfield Place in lower Manhattan, and is dedicated to men's categories with a strong focus on modern fashion along with a premier shoe and accessories assortment. Exclusive brands and capsule collections are featured in celebration of the opening. A dedicated Saks women's store opened at 225 Liberty Street on the south side of Brookfield Place in September 2016.
The new location features a truly experiential shopping environment, including bespoke services. Situated near the store's southern entrance is a wall dedicated to technology showcasing the latest trends in designer electronics and accessories, alongside designer shoes, handbags and sunglasses. Advanced designer, contemporary and luxe ready-to-wear collections appear side-by-side, with apothecary and fragrance brands nearby. At the store's northern entrance is the reimagined Fifth Avenue Club for private styling consultations.
"Saks knows fashion, and our customers look to us to discover must-have trends and brands," said Tracy Margolies, Chief Merchant at Saks Fifth Avenue. "Saks Downtown Men's carries more than 100 brands, including a dominant assortment in designer footwear. This distinct Saks edit, paired with our exceptional service and bespoke offerings solidifies Saks as the downtown shopping destination."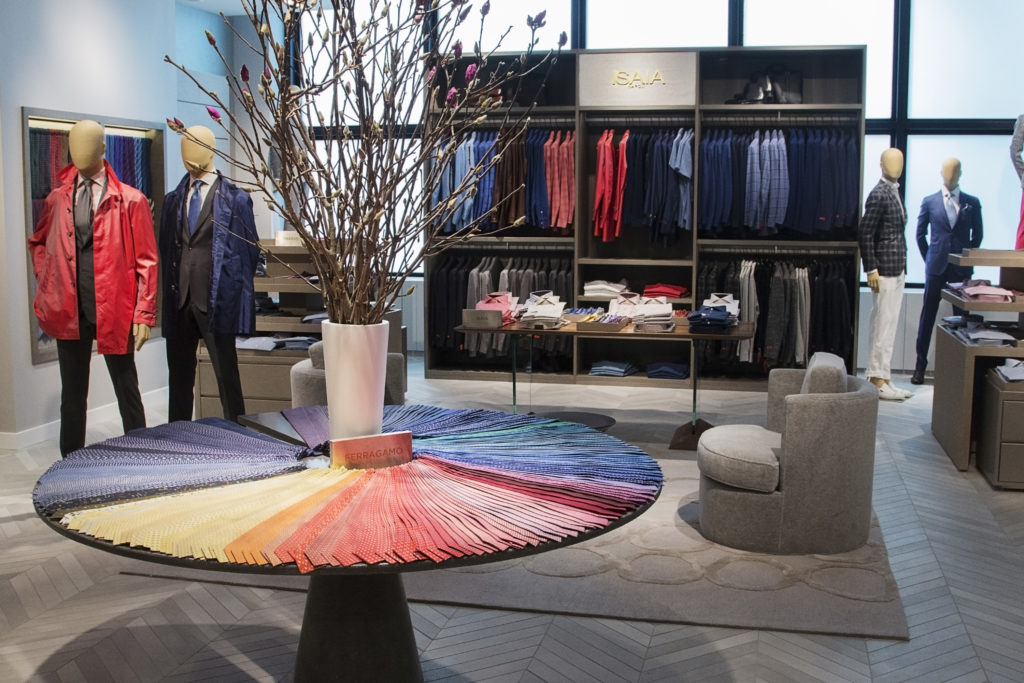 Saks Downtown Men's boasts a permanent space which will exhibit a monthly, rotating mix of designer collaborations, exclusive collections and unique visual displays. "World of Sneakers", available through March, kicks off the pop-up series, and showcases more than 200 styles, including designer brands such as Fendi, Givenchy, Alexander McQueen, Maison Margiela, and more.
The store's understated design palette, featuring a mix of gray, silver, white, black and taupe tones, unites the many brands and departments yielding an effortless but inviting shopping experience. A wall of windows spans the length of the southern wall of the store illuminating the space with natural light, as well as providing spectacular views of the Statue of Liberty. Chevron–patterned porcelain flooring, Phillip Jeffries hand-crafted woven wallcoverings, and an eclectic mix of found and custom furniture, fixtures and accessories create the signature and timeless style Saks is known for.
Designed to call to mind a gentleman's walk-in closet, the Fifth Avenue Club includes three private rooms where expert stylists can provide the renowned Saks styling experience. The Club features interactive mirrored screens which allow customers to view their own made-to-measure, suiting and shirting designs using an intuitive new digital interface to instantly select fabrics, linings, buttons, personalized embroidery, and more. Sport coats will have labels bearing the name of the customer/collaborator (Saks Fifth Avenue x YOU). The program debuts first at Saks Downtown Men's but will expand into additional Saks locations throughout 2017.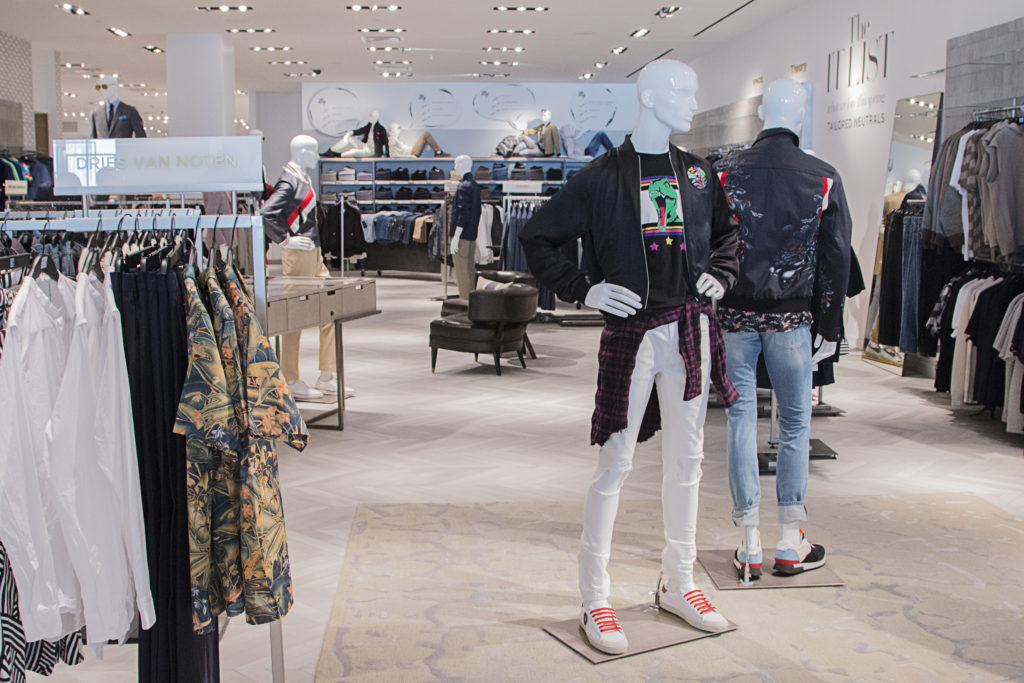 Saks Downtown Men's also offers Saks' best-in-class luxury service offerings. Leather Spa at Saks provides on-the-go services for clients seeking immediate repairs for their shoes and leather accessories, as well as offers an array of leather care products and drop-off services. The Fifth Avenue Club offers an experience, customized for the downtown shopper, called the "Power Lunch", which provides customers with a fully-styled suite, private style consultation and an express grooming option. The Saks Save Me hotline [646.344.6400 or sakssaveme@s5a.com] helps customers with quick solutions to fashion emergencies like a broken sole or ripped seam. The Saks at Your Service Mercedes-Benz sprinter—the ultimate mobile shopping experience—serves the New York Metro area and brings Saks' personal styling directly to a customer's home, hotel or office.
Coming in spring 2017, SHARPS Barber and Shop will open in-store with a FIKA Coffee Bar, providing high quality barbering services, handcrafted coffee and award winning refreshments.
Saks Downtown Men's is open Monday through Saturday 10 a.m. to 8 p.m., and Sunday 12 p.m. to 6 p.m.