SLEEPY JONES RELEASES DAVID COGGINS CAPSULE COLLECTION ON MR. PORTER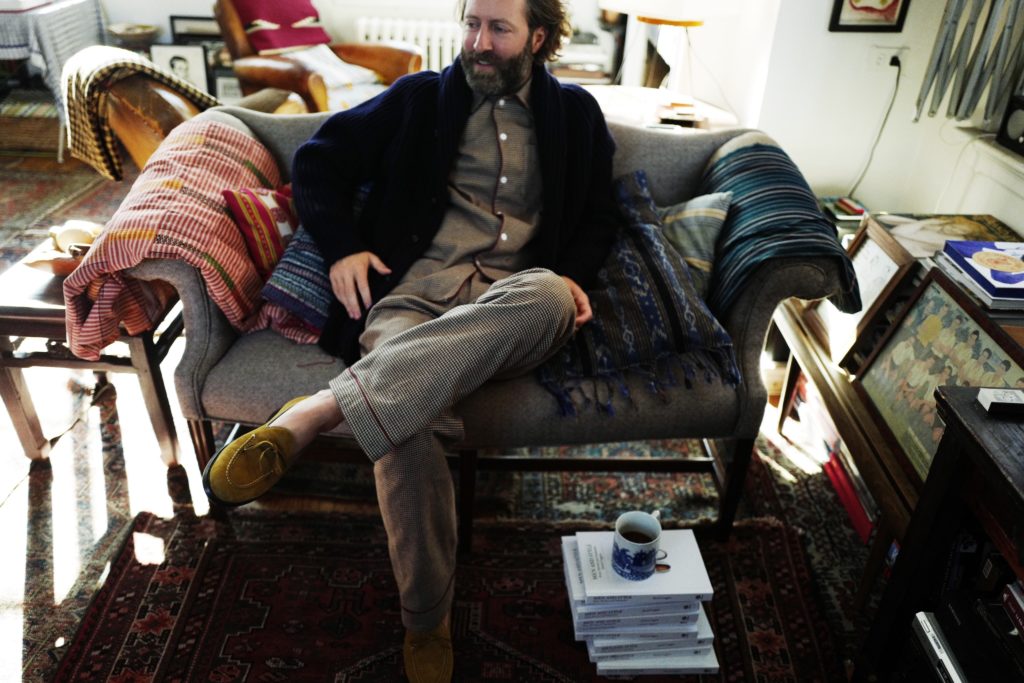 Luxury pajama and loungewear brand Sleepy Jones has partnered with men's style writer David Coggins on a limited-edition capsule for men, exclusively available at Mr. Porter.
A longtime collaborator, Coggins first met Sleepy Jones co-founder Andy Spade many years ago as a young writer when interviewing him. The pair met at the Carlyle hotel in New York City and left with what Coggins describes as a "monster" tab.
For the capsule, they started first with a classic PJ set in a plaid flannel with burgundy trim. Wanting an alternative to a robe, they then added a thick "Granddad" sweater, complete with shawl collar. To finish the look, a traditional PJ shirt was cut in goldenrod corduroy and outfitted with patch pockets— something one would toss on their way out of the house.
"I've been friends with the good people at Sleepy Jones since the beginning," said Coggins. "Back then it was just a mood board, a mattress and a dream! We've done a lot of photo shoots and our style seems to fit well together. So we talked about doing a little collection to celebrate the publication of my book Men and Style. We thought it would be cool to do an entire look that I would wear. That meant pajamas and then a big shawl collared cardigan. And then we thought it would be cool to do a pajama top in the least likely pajama fabric: corduroy. We all love corduroy so this felt like an outdoor jacket that was cut like a pajama shirt. It turned out really well. The perfect thing to wear on Sunday while you're trying to do the Acrostic in the Times without resorting to Google."
This comes at a busy time for Coggins. The author just celebrated the launch of his book, Men and Style, which explores the history of men's style and lessons learned from some of the most notable tastemakers in the industry and beyond. Additionally, Coggins has also teamed up with leather goods company J.W. Hulme Co. on an exclusive leather tote as well as with UK-based sartorial furnishings and clothing brand Drake's on a new capsule collection.
The Sleepy Jones + David Coggins capsule collection, which retails between $140 to $395, is now available at MrPorter.com.