SO YOU THINK YOU WANT TO BE A MENSWEAR DESIGNER?
MR magazine recently hosted a seminar for menswear design students at FIT featuring successful designers from various segments of the industry: Brian Mims, EVP/Creative Director at PVH, Jeffery Diduch, VP of Technical Design at Hickey Freeman, and David Hart, an independent designer who helped launch New York Men's Day. The conversation was lively, with students asking provocative questions of the team. What follows are excerpts from the evening.
Q: How did you get started in your career and what do you actually do?
Hart: I graduated from FIT, then worked for a few companies, including Ralph Lauren, where I designed a small collection of neckwear. That grew into a full collection that I began showing in 2013 with a group of other menswear designers to pull in editors and buyers. This was New York Men's Day, a predecessor of Men's Fashion Week. I'd say 15-20 percent of my time is spent actually designing; the rest is working with factories, chasing piece goods, dealing with customs, financing, et cetera.
Diduch: My mother taught me to sew at age 7; I soon started to sew clothes for myself and my sister. I had intended to go into Haute Couture in Paris but got sidetracked; I've been designing men's clothing for about 25 years, both luxury and mainstream. Hickey Freeman was founded in 1899 and my job description was probably written in 1899: I do sketching (now on Adobe Illustrator), pattern design, sewing, a lot of technical stuff. I had no idea when I started how much math is involved!
Mims: I was supposed to be a lawyer, as decided by my parents, but I secretly applied to design schools. I chose the women's design program at FIT and was determined to work for Calvin Klein. I started as an intern and refused to leave. I got involved with everything from CK to Collection. This was before PVH bought Calvin and he was very much involved at the time. Today, PVH has 35,000 associates in 40 countries. I manage 40 brands in the Heritage Group: it's a creative team of 60 and my main job is to ensure the product is aligned with market trends while maintaining the DNA of the brand. Michael Kors should not look like Tommy Hilfiger.
Q: How does your actual job differ from what you thought it would be?
Mims: I thought I'd be telling Calvin which shade of grey would best complement beige but instead I spent much time at the copy machine and picking up pins.
Diduch: You must be open to picking up pins: as you move up the ladder, if you don't understand what happens at the bottom, you won't be successful.
Q: Can you compare designing for a big corporation vs. staying independent?
Mims: I had my own business at one point: designing luxury travel accessories; I sold to Barneys, Takashimaya and other stores. But I realized I wanted things like a regular paycheck and health insurance.
Diduch: I never aspired to have my own business: If you start out on your own, the mistakes are expensive.
Hart:  I started out working for big companies but didn't feel I was growing; I wanted to explore my own vision rather than argue over which shade of navy… But being an independent designer is not easy today: we started out in Bergdorf Goodman, Saks Fifth Avenue, and Bloomingdale's but many big stores today are reluctant to work with younger brands as they know the chargebacks can put us out of business… And it's tough to find factories that will do small quantities.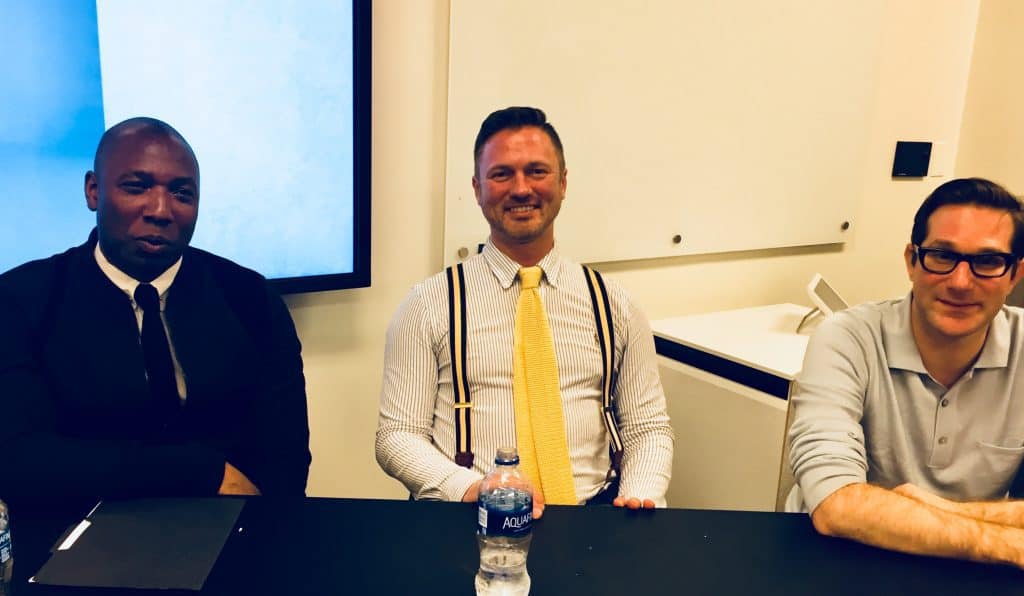 Q: So how do you handle working with the major stores?
Mims: We try to be ahead of the curve, to lead in terms of innovation. We have an innovation lab that takes a scientific approach to textile development. We've also streamlined to eliminate overlap: from 58 to 40 brands. Better to have a few winners than too many ordinary items. So it's not about selling more units but rather increasing AUR. And we do much more planning today: we're much more strategic about what's next.
Q: What's the best way to market your brand these days?
Hart: We're lucky to work with an amazing agency—Agentry PR—so we're embraced by media like GQ. There's still something fantastic about print media: we're covered by all kinds of digital and bloggers but the guy who reads print actually shops and buys.
Q: What would you have done differently in your career? What's your best advice to students?
Hart: I would have taken lots of business classes. A fashion show is an expensive way to get started: better to create a great lookbook and call buyers. One great idea is better than many mediocre ones.
Diduch: Get to know as many people as you can. It's a small industry and it's important to cultivate relationships. And always be nice: you never know who's going to be your next boss.