SPONSORED PROFILE: SWIMS SECURES A GLOBAL FOOTPRINT WITH REINVENTED CLASSICS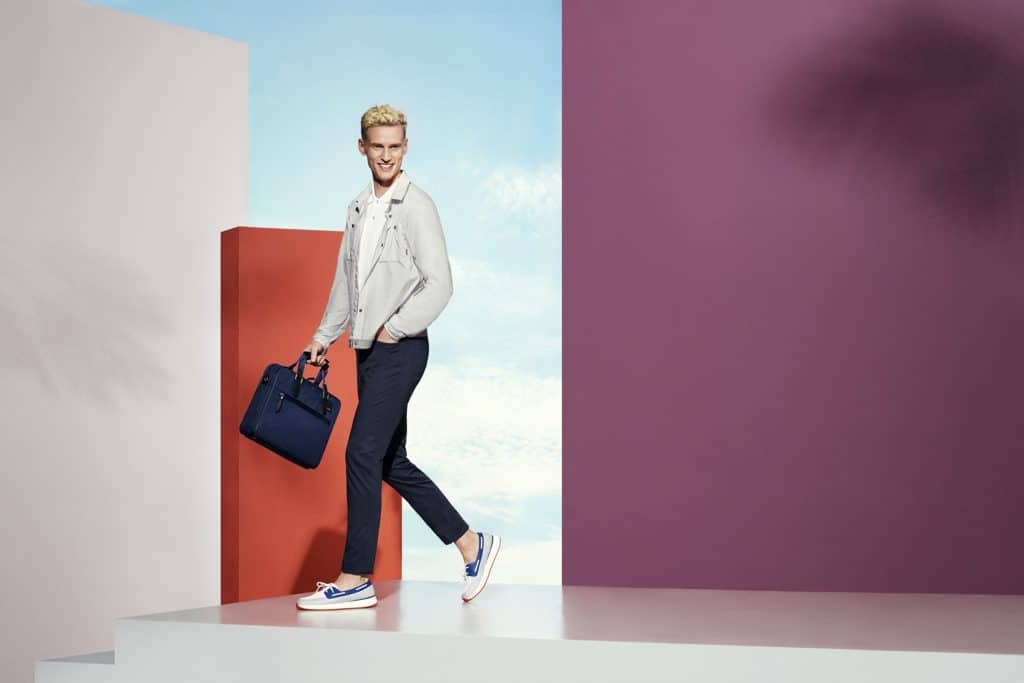 Thinking on one's feet is second nature to most entrepreneurs, and doubly so for those in menswear, an industry rife with fickle markets and stiff competition. No surprise, then, that Norwegian pioneer SWIMS has raised the bar. Since reinventing the galosh in 2006, they've steadily developed their weather-friendly lifestyle brand into a global vision for contemporary mobility. In practice, that means an impressive array of signature footwear accompanied by year-round apparel and a suite of ready-for-anything accessories. And with more than 30 markets worldwide—via such wholesale partners as Saks Fifth Avenue, Neiman Marcus, Nordstrom, Printemps, and KaDeWe—they're poised to secure top-of-mind brand resonance on a much larger scale.
"We've dedicated the past year to establishing a strong foundation for growth, refining all touchpoints from operations to e-commerce to procurement to quality control," says Global President Jake Brandman, "and I'm thrilled to report an extraordinary 26 percent increase in growth in 2017 as a result. That's largely thanks to the addition of great new members to our leadership team, each of whom will continue to build on the SWIMS brand equity we've cultivated over the past decade. Our largest growth opportunity lies in North America — where we've set our sights on expanding retail partnerships, enriching online customer engagement, and launching multiple SWIMS stores to showcase the  brand's world."
"We plan to grow global men's offerings considerably," continues Brandman. "I couldn't ask for a better environment in which to debut our first company flagship in our hometown of Oslo later this summer."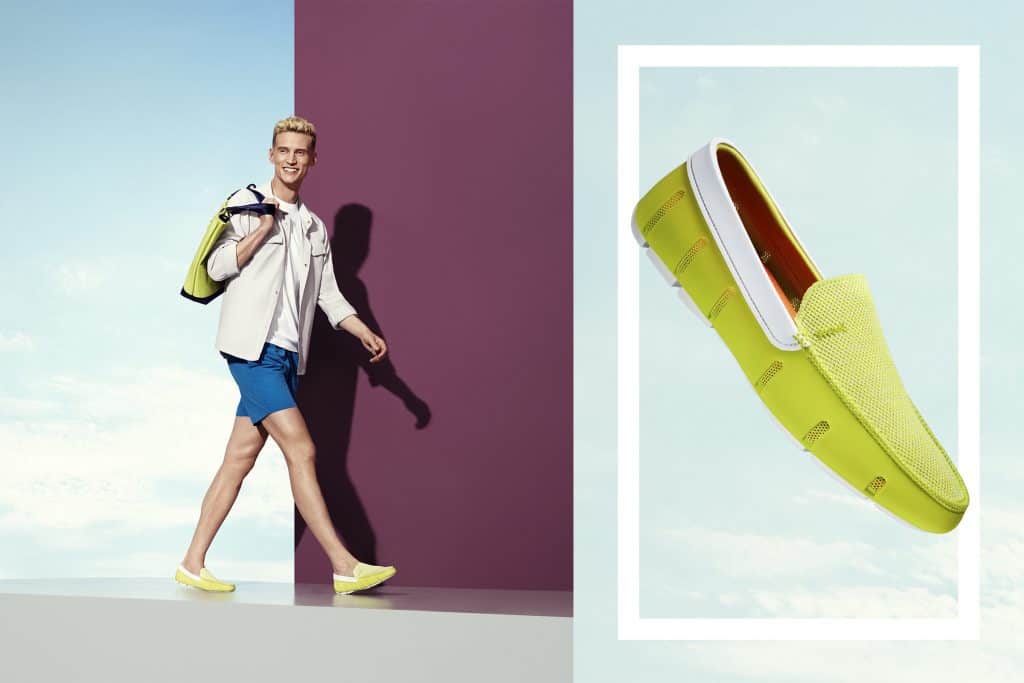 Brandman attributes SWIMS' ongoing success to the brand's unique dedicated look. "Our shoes build on classic design and construction with contemporary tech and boundary-pushing detailing, perfectly marrying elegance with utility to enable the modern good life," he says. "We sit on the floor in the company of great luxury brands, but we don't have competition in terms of similar style. Retail ranges from $130 to $300, perfect for the active, city-dwelling male who's driven and prefers to stand out on his travels. He means business with pleasure. His shoes are made to move, and so is his attitude."
Spring and summer 2019 are all about movement and versatility for SWIMS, exemplified by new additions to the Breeze and Motion footwear families with best-in-class airflow, smart knit uppers, and sneaker-level support. And speaking of support, SWIMS shoes pair naturally with new Breeze and Motion sportswear, each complementing the other for an active look to reflect a lifestyle on the move. The company has also retooled a handful of their landmark loafers, infusing these perennial classics with iconic, day-to-night style. Bold colorways—Red Alert, Seaport Blue, Alloy, Limeade—tie it all together, evoking the hues of Nordic ports and sailboats with the brand's signature, clean-lined geometry.
"That balance between the casual and the sophisticated is our sweet spot," says Brandman. "These aren't showpieces meant to be admired from afar, yet they turn heads even as everyday wear. That's what we mean when we call them solution; they solve that eternal problem by giving you the best of both worlds."
Adds Brandman, "Athleisure may be the hot ticket in fashion right now, but it's been built into our DNA from day one, and for good reason: the very essence of SWIMS is resilience and adaptability. Being up for anything and ready to seize any opportunity, be it work, weekends, nights out, or trips. We reinvent indispensable classics to be smart, elegant, weather-friendly, and infused with utility—without compromising on comfort, protection, or impeccable taste."