TAILORBYRD IS FLYING HIGH: SPONSORED PROFILE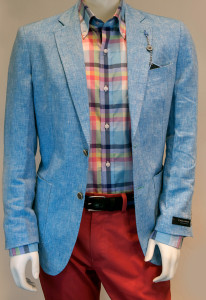 TailorByrd is going strong and bigger than ever, with soaring sales, and a lifestyle collection spanning several key categories.
In 2009, the brand was purchased by apparel virtuoso and CEO, Larry Stemerman, and ex Morgan Stanley investment banker Jennifer Walker, who currently serves as CFO/COO.  Bright and colorful, with distinctive details, Tailorbyrd has just enough personality and fun to achieve great shelf and hangar appeal. Positioned as opening price luxury, it has produced surprising sales and profits for better specialty retailers and upscale chains alike.
Stemerman, along with SVP of sales and marketing, Traci Young, have combined their skills and produced one of the few standout winners in a season of sameness. By building on Stemerman's expertise as a sourcing and product development guru, and Young's marketing know-how and retailer relationships, they continue to expand the brand presence in numerous great stores. But that's just the beginning of the story. TailorByrd has performed way beyond expectations.  Originally considered a woven shirt resource, the company has exploded in growth into a lifestyle brand with a full collection of knits, sweaters, bottoms, dress shirts, tailored jackets and dress pants and a boy's collection with international distribution in several countries.
Stemerman and Young say they are working hard but having lots of fun. "What a thrill to be experiencing huge sell-throughs, in this stagnant market," says Stemerman. "We seem to have found the right formula to attract that regular guy who wants distinctive style that is wearable and a bit more updated."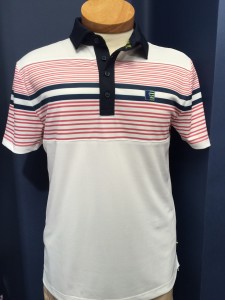 "Tailorbyrd is a growing business for us. Classic casual is a space we are trying to build, and their wovens, pants and polos are the big driver. The combination of working with good people who make good product has made TB a business success that I am very happy with." –David Fisher, EVP/GMM men's & young men's, Bloomingdale's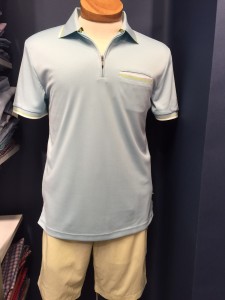 And, their success has spawned even more innovation as the label and the company evolves. Next up is TailorByrd Sport, the more contemporary, younger sibling of the TailorByrd brand.  Inspired by the "mobility lifestyle," it is a younger, more active line with performance features and tech fabrications combining splashes of streetwear with an infusion of color resulting in a TB attitude all its own. This newest addition is a collaboration with Ino-tex, whose parent company, Lianfa Textiles, is a $3 billion giant and the second largest maker of wovens worldwide. Clement Leung, CEO of Ino-Tex sees tremendous potential with the brand both domestically and internationally. Men's sales pro Chris Champlin has come on as VP of sales and is showing the line consisting of knits, tees, board shorts, pants & sweatshirts and hoodies for spring '16 deliveries.
The recently added tailored sport jackets, dress pants and select suitings are sold by industry maven Stewart Golden as part of a unique licensing arrangement between TailorByrd and a high quality clothing manufacturer represented by Greystone, a division of a huge Chinese hedge fund.  The line premiered for fall 2015 to tremendous success and is shipping to stores this month.  It is housed in the TailorByrd offices, and is designed with a point of view that complements the color palette and styling of the sportswear, and features unique, luxurious fabrics on a new, slim, soft shoulder model.
We hear that at least one more new category will be announced shortly, and rumor has it that several other initiatives are in work– retail stores, international expansion, accessories, women's and home furnishings–all areas that Stemerman and Young see as tremendous potential for the iconic Byrd.
As you can see, TailorByrd is flying high, but it's still early in the cycle. Check it out at MRket in Las Vegas and at TailorByrd.com to see if it might be that something different your store could use for spring '16.