TEVA RELEASES ARTIST SERIES SANDAL WITH STREETWEAR DESIGNER BENNY GOLD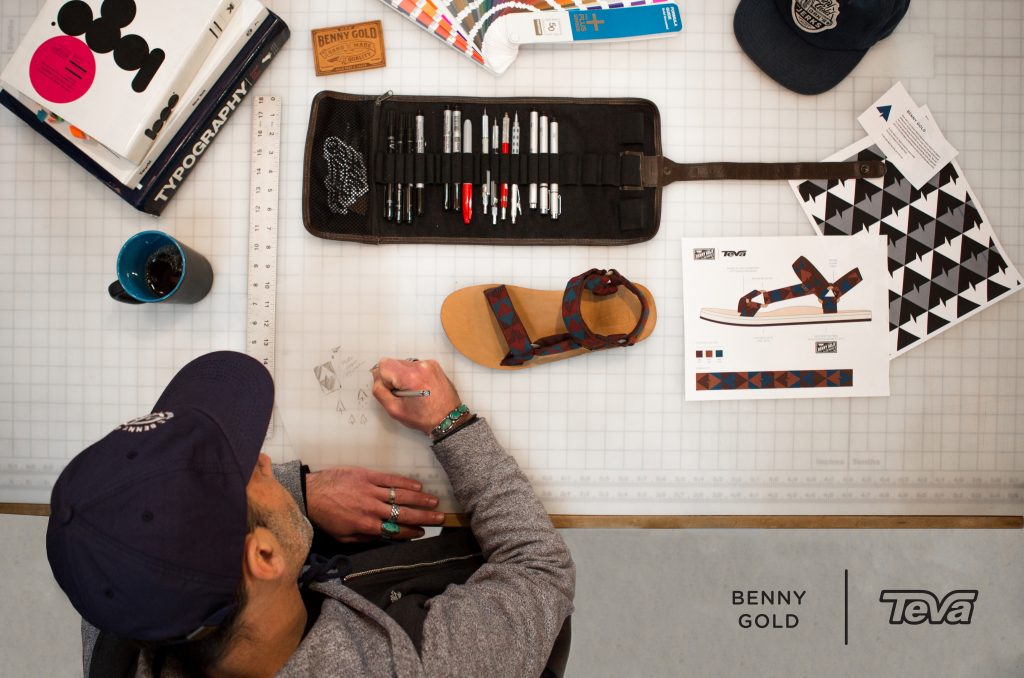 Footwear brand Teva, a division of Deckers Brands, launched the fourth iteration of its Artist Series collection featuring celebrated San Francisco-based streetwear designer Benny Gold. The new men's style showcases Gold's take on the iconic Original Universal sandal with a custom designed nylon webbing upper. The unique pattern is inspired by a geometric take on his paper airplane logo, a symbol of youth and to always keep moving. This exclusive design is available now at Teva.com and Huckberry.com for $60. Additionally, a limited-edition t-shirt, print, and two sock styles featuring the exclusive design will be sold for a limited time only at Huckberry.
The annual Teva Artist Series collection celebrates the true spirit of creative expression. What began as a side passion project for Gold – a graphic artist turned streetwear designer – grew into one of streetwear's most popular labels. The brand illustrates the importance of staying true to one's passions, growing up without growing old, and a DIY work ethic without taking oneself too seriously, which is synonymous with Teva's brand ethos.
"Benny Gold's unwavering sentiment for doing what you love and are passionate about in life made him a perfect collaborator for Teva's Artist Series collection," said Erika Gabrielli, senior marketing director at Teva. "Gold's independent spirit, visionary design and nostalgia for the brand are transparent in the final product of this collection and demonstrate our belief in the importance of true artistic creativity and individuality in any and all forms."
As with past Artist Series collections, this collaboration will also support the artistic growth of the next generation of creators by donating 10 percent of the retail price for all Benny Gold Artist Series sandals sold online to P.S. ARTS — an organization that aims improve children's lives by providing arts education to under-served public school and communities.
"When I was in high school one of my first jobs was at a shoe store where I sold a lot of Teva sandals," added Gold. "I've always had a soft spot in my heart for Teva, so when they approached me about partnering with them to design a limited-edition sandal, it felt like everything came full circle from my childhood."