THE UNMEASURABLE FOOTPRINT OF SNEAKERS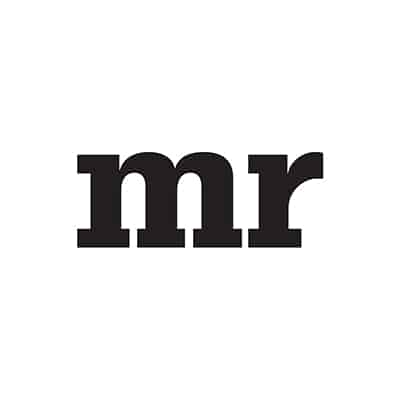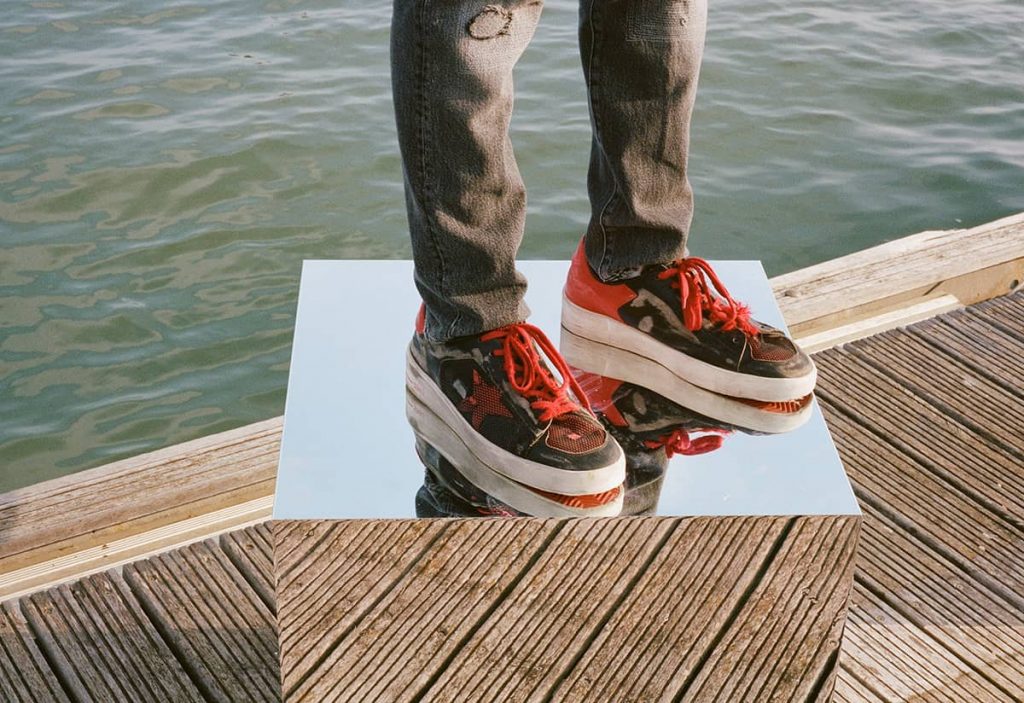 As the global market for sneakers is projected to reach $88 billion by 2024, consumers are jumping brand and category hurdles to land on the soft­er surfaces of comfort and inspiration. According to Matt Powell, sports business analyst with NPD Group, athletic footwear continues to outperform fashion [footwear] as three wardrobes (work, workout, and weekend) have been replaced with one that can take you everywhere.
"Today what's working is athleisure: people are buying athletically-inspired footwear with no intention of wearing it for sports," observes Powell, noting that for the past four years we've not seen a single performance category (referring to tennis, running, basketball, etc.) trending positively. What's more, while the shoe market, in general, is down, growth for this category, also known as "sport lifestyle," is up, comprising more than half of the total U.S. sneaker business.
Brand expert and strategist Simon Graj, CEO of Graj + Gustavsen, observes some new rules. "We're in psychographic times, not demographic times, with a 'mindset' vs. an 'age set.' We're now freer to express ourselves and to show how we're not cookie-cutter beings. We're a global community of individuals."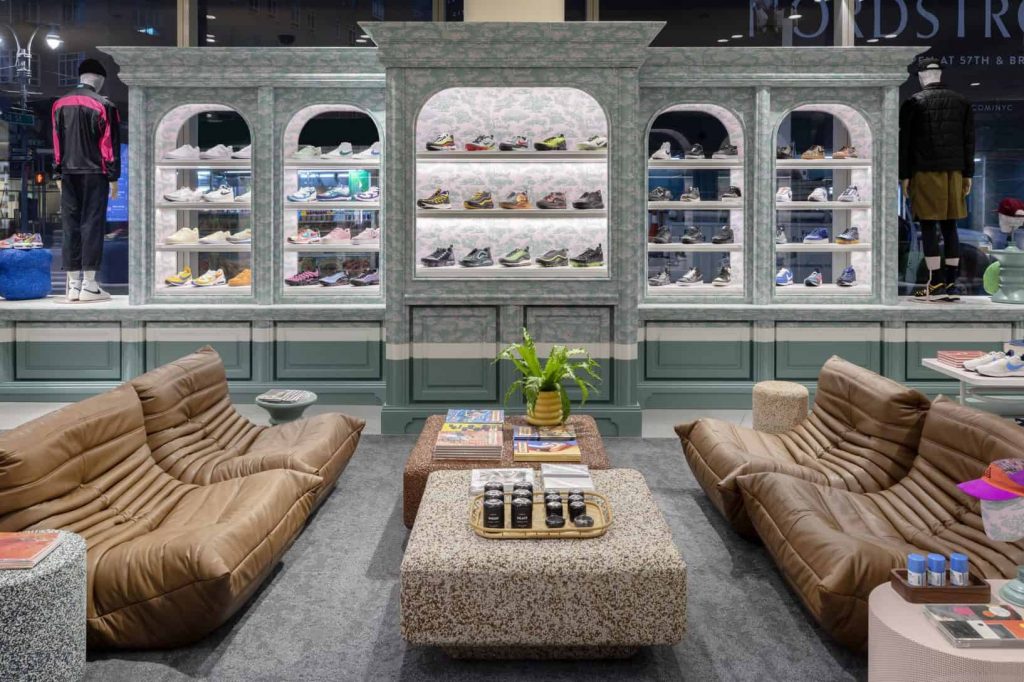 Many agree there's now space for every consumer on the sneaker spectrum, from the street-styled to the fashion-obsessed to the stuffed shirt. Isack Fadlon, the co-founder of iconic indie retailer Sportie LA, has ridden the sneaker wave since 1985. He says sneakers are now "part of the repertoire and we can't get away from them," recounting numerous wedding couples who bought sneakers for their bridesmaids and groomsmen. Fadlon predicts continued growth in specialty stores– although he acknowledges the difficulty for smaller independent apparel stores to access the major brands (Nike, Adidas, Puma). He emphasizes how sneakers can elevate the game for retailers who want to differentiate and recommends bringing in smaller brands and highlighting seasonal collections.
There's no need to travel far to find a specialty shrine near you. Check out the Kith lifestyle at various locations, walk through the sneaker tunnel at Feature in Las Vegas, get jiggy at Extra Butter on the Lower East Side – or meet your stylist at Dover Street Market in midtown. Not to be outdone, Nordstrom has stepped up its commitment with the Nordstrom x Nike boutique. If you don't want to leave your house – that's cool, because the hottest new drops can be found with online sources such as Flight Club, StockX, Eastbay, Stadium Goods, Grailed, and GOAT (specializing in the hard-to-find). Most of the aforementioned are secondary outlets that authenticate and resell to booming demand. And there's an app to mention – but it might explode the phone from market power: SNKRS (big surprise: it's Nike, rated the best brand app out there by Highsnobiety).
CHUNKY DAD IN FASHION…
Said no one ever, except possibly when referring to the fad that has encouraged some of the biggest luxury collaborations and the revival of oversized, '80s bulky soles and loud patterned uppers known as "dad shoes." Arguably one of the most beautiful, ugly trends in fashion, there's some debate as to how it (re)started and who wears it best – Balenciaga or Yeezy? Regardless, this has breathed new life into Fila, added to the Adidas assortment and attracted the attention of Gucci, Versace, and Louis Vuitton.
PLAYING THE MARKET
As if the primary sneaker market isn't big enough, resale (both underground and above), is set to hit $6 billion in the next ­five years. "I know people who have paid for their house with sneakers," shared industry insider Baffuor "B.A." Gyamfi­. He credits Kanye West (Yeezy) for invigorating the resale market and prompting people to buy shoes just to sell. He describes a movement propelled by a passion for streetwear and the growing acceptance of vintage and wearing everything old that's new again. B.A. has a sentimental connection to influencers like Sean Wotherspoon, a Nike collaborator and co-founder of menswear and go-to vintage destination Round Two. Designers like Louis Vuitton's Virgil Abloh (also an artist and DJ) of Off White and Jerry Lorenzo (founder of the label Fear of God and son of MLB coach Jerry Manuel) are blurring the lines of streetwear and fashion. But while resale and limited editions keep product and brands in demand, some predict the bubble could burst as supply can be a hard thing to control.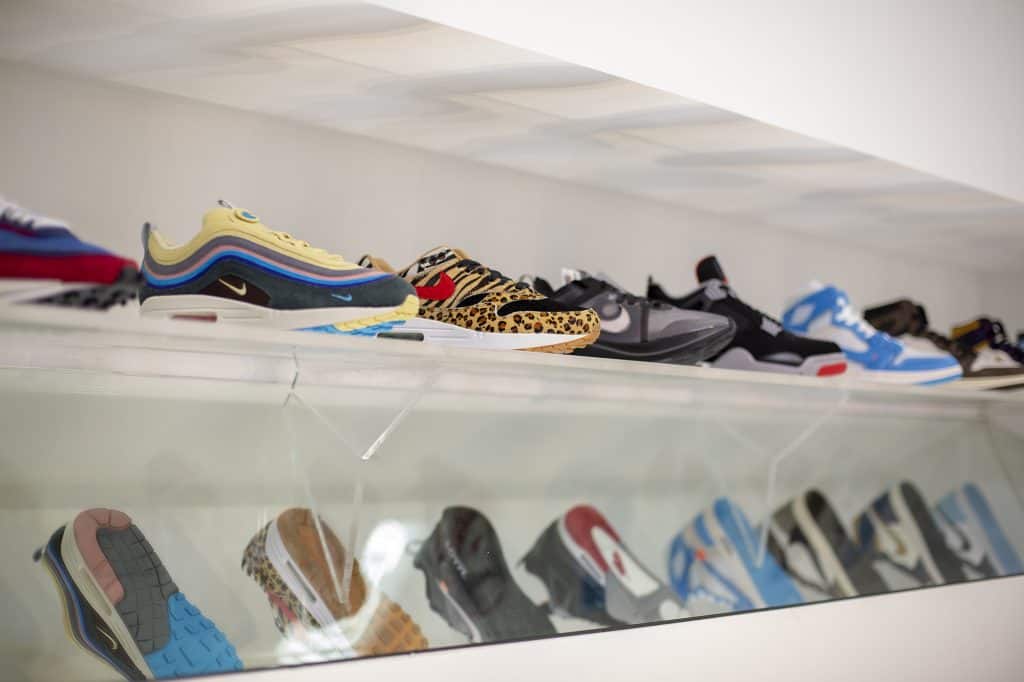 GENTLEMEN PREFER BRANDS
A visit to the men's shoe floor at Nordstrom can put things in perspective. Street (Golden Goose, Fear of God, Balenciaga…) meets sartorial (Magnanni, To Boot, Bottega Veneta…) or somewhere in the middle (Alexander McQueen) with an assortment to make a style match. Here we see the dress code shift in real-time with a show of designers who have found a way to make the sneaker look dressy. I eavesdropped on an expert, "The dress guy has collided with the sneaker guy. The kids who were collecting sneakers in the '80s and '90s are now wearing these." (He points to a table of Common Projects).
For those curious about merchandising sneakers in menswear stores, there's Porter T. Jones, who operates shoe departments in high-end men's haberdasheries. "Shoes are a different type of business within the clothing sector," says owner Christian Jones, explaining how the right mix and expertise can bring more profi­t to the store and compliment the clothing lines. The ability to identify and implement footwear trends [for men's stores] is a unique skillset; getting the attention of the wide variety of hard-to-access vendors (brands) is subject to relationships. According to Chris, "Sneaker growth is happening at the expense of driving shoes." He acknowledges that sneakers have not always been profi­table and what they lacked in margin needed to be made up by volume, noting that this dynamic has changed with higher-end brands. When asked which brand has taken off, Chris said it was On – the Swiss brand that has captivated and continually sold out due to their styling, limited quantities, and comfort.
As for what's trending, it seems that everything goes. According to men's fashion influencer Chelsie Ravenell, who sees it all from the retail floor of Gwynn's in Charleston, "Right now Golden Goose is hot in the world of high-end. I own several of them but I'm also a Jordan 1 guy – my all-time favorite shoe/sneaker ever. I wear them to the gym and with my suits." He predicts no slowdown to the sneaker craze. "They've always been a symbol of coolness, a way to express yourself. Forever young."