TIMBERLAND OPENS NEW POP-UP STORE ON FIFTH AVENUE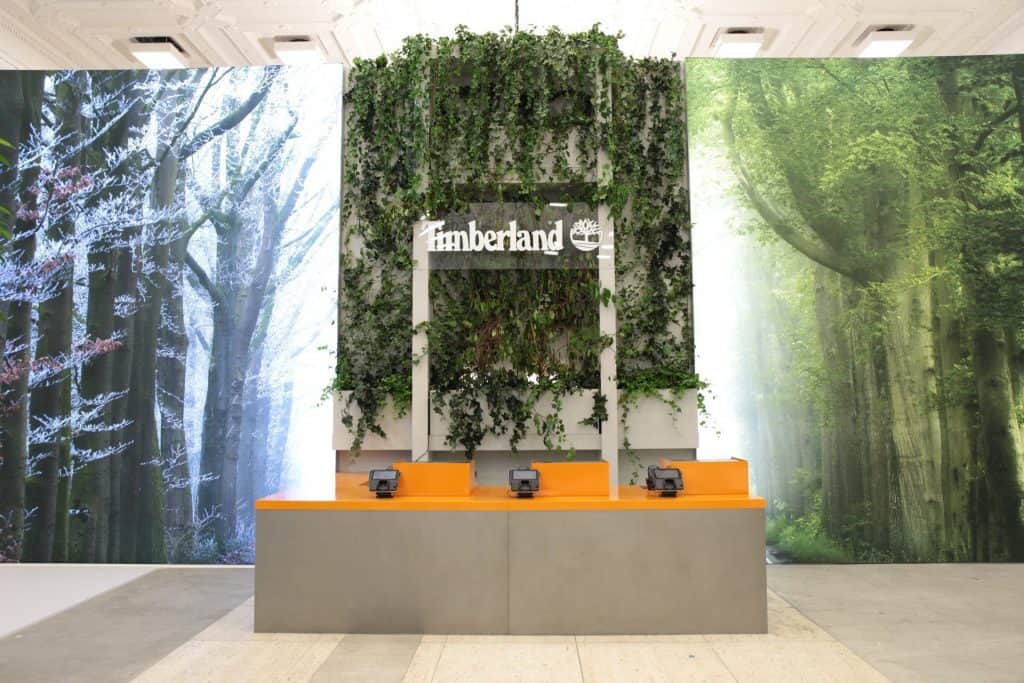 Timberland has opened the doors to its first experiential pop-up store on New York's famed Fifth Avenue, at 43rd Street. The concept store reflects the brand's 45-year heritage through the lens of nature – living trees, natural earth terrariums, an oversized living green wall – and experiential weather moments to inspire the community to embrace the outdoors in the city.
The 3,500-square-foot space at 511 Fifth Avenue aims to transport customers into the outdoors with ten full-sized, living birch and ficus trees throughout the space. Amid the trees, natural earth terrariums comprised of ferns, moss and other native New England plant species lead consumers along their retail journey, while a living green wall, featuring nearly 2,000 plants, blends with the stone architecture for a modern take on the outdoors. Engaging weather experiences – including an interactive digital rain room and a blustery, photo-ready winter scene – encourage guests to embrace the outdoors. Key product collections, reflecting Timberland's longstanding heritage of waterproof protection, warmth and style, are paired with each of the experiences.
Timberland on Fifth Avenue opens with a curated assortment of the brand's fall '18 collections, including special releases and designer collaborations, men's and women's outerwear, and accessories for the cooler months ahead. Special attention is given to the Timberland Boot Company and American Craft collections, which represent the brand's benchmark of modern craftsmanship and style.
"For 45 years, Timberland has inspired people to step outside – to pursue the outdoors with passion and purpose. Now we're pushing the boundaries of what that can mean," said Jim Pisani, global brand president of Timberland. "With this new space at Fifth Avenue, we set out to create a haven where the community can experience the beauty and power of nature, right here in the city. This is our vision for the future; whether in New York, Milan or Tokyo, this store design will serve as inspiration for Timberland stores around the world for years to come."
Timberland will celebrate the Fifth Avenue opening with a series of events starting October 16, including a larger-than-life Timberland Classic Boot and pop-up park in the Flatiron District; an Urban Greening event at the Thomas Jefferson Recreation Center in Harlem and a private VIP launch event. The celebration will culminate with a day-long celebration at the store on Friday, October 19, which will be open to the public and feature product giveaways, crafting stations, entertainment and more.
"Consumers today are looking for experiences with brands. They want to make an emotional connection, not just a transaction," added Argu Secilmis, vice president of global brand marketing for Timberland. "Whether they are visiting our Fifth Avenue store, pledging to take a small but meaningful green action, or rolling up their sleeves to help us create a living rooftop in Harlem, we are excited for the community at large to join the Timberland community this fall."
The Fifth Avenue store is one of seven "flex retail" stores opening across the U.S. for the fall and winter season, including three in New York, three in Los Angeles and one in Miami. In addition, this week the brand opens a permanent specialty retail store in Mall of America in Minneapolis.