TODD SNYDER AND TIMEX COLLABORATE ON THE BEEKMAN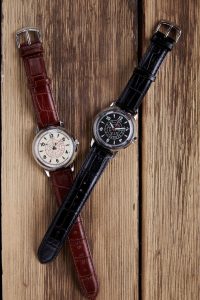 Designer Todd Snyder and legendary watch brand Timex have teamed up again to release the Beekman, a 1960s-inspired timepiece based on a racing watch that Snyder discovered while combing through Timex's 160+-year heritage. It is the latest release from the Todd Snyder X Timex collection.
The watch comes in two colorways: a classic cream dial with a brown, croco-pattern leather strap and a black dial with a tonal black leather strap. It retails for $158 and is available exclusively through ToddSnyder.com and at the Todd Snyder flagship store on Madison Square in New York.
Featuring a stainless steel case, an acrylic domed crystal and Timex's INDIGLO nighlight, the Beekman's outstanding feature is its tachymeter complication: a pleasingly analog way to measure speed. Meanwhile, the graphic swirl on the watch dial is a tachymeter scale that allows the wearer to calculate the time it takes for a moving object — say, a 1969 Ford GT40 — to travel a predetermined one-mile course. To prepare the watch for the speed measurement, the wearer must pull out the watch crown when the second hand is at the 12 position, which will stop the movement of the second hand.
"The Beekman brings together two things I really love: classic cars and classic timepieces," says Snyder. "I'm proud to continue the TIMEX + Todd Snyder partnership with the launch of our first co-created tachymeter watch, and to celebrate the values we both share: iconic design, impeccable craftsmanship and a commitment to innovation and functionality at a great value."