UGG CELEBRATES 40 YEARS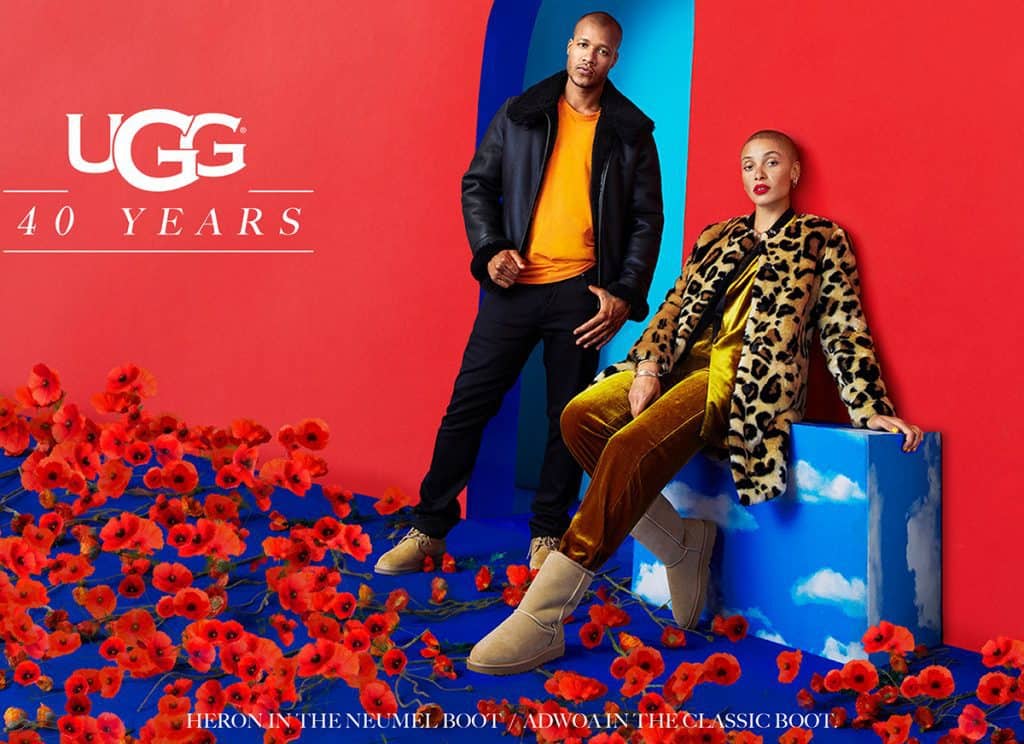 Ugg is celebrating four decades with its new global campaign out now dubbed "Ugg: 40 Years". From what started as a men's surf brand in 1978 and transcended into a fashion industry authority, Ugg continues to show what it means to live the California lifestyle by being bold, provocative and free-spirited. Adorned with boldly colored poppies, California's state flower, the campaign pays homage to the brand's legacy and features current ambassadors, model Adwoa Aboah and designer Heron Preston, who have played a role in the brand's success this year.
"From free-spirited surfers to provocative fashion designers and California creatives, Ugg has embraced bold, unapologetic individuality for 40 years," said Andrea O'Donnell, president of fashion lifestyle brands at Deckers Brands, the parent company of Ugg. "What the Ugg brand stands for is more important than ever and this year we celebrate who we are now and look onward with excitement to the next 40 years."
A genre-bending artist, creative director, content creator, designer, and DJ, Heron Preston carves his own path in the fashion industry through his commitment toward innovation, experimentation, and unpredictability. His unconventional style has led to collaborations with Virgil Abloh, Nike, Kanye West, and the NYC Department of Sanitation. His relationship with Ugg was teased during Coachella, when Preston put his spin on a limited run of Ugg Classic II Mini boots with the designer's signature pull tab and logo. The brand's full collaboration will launch in 2019.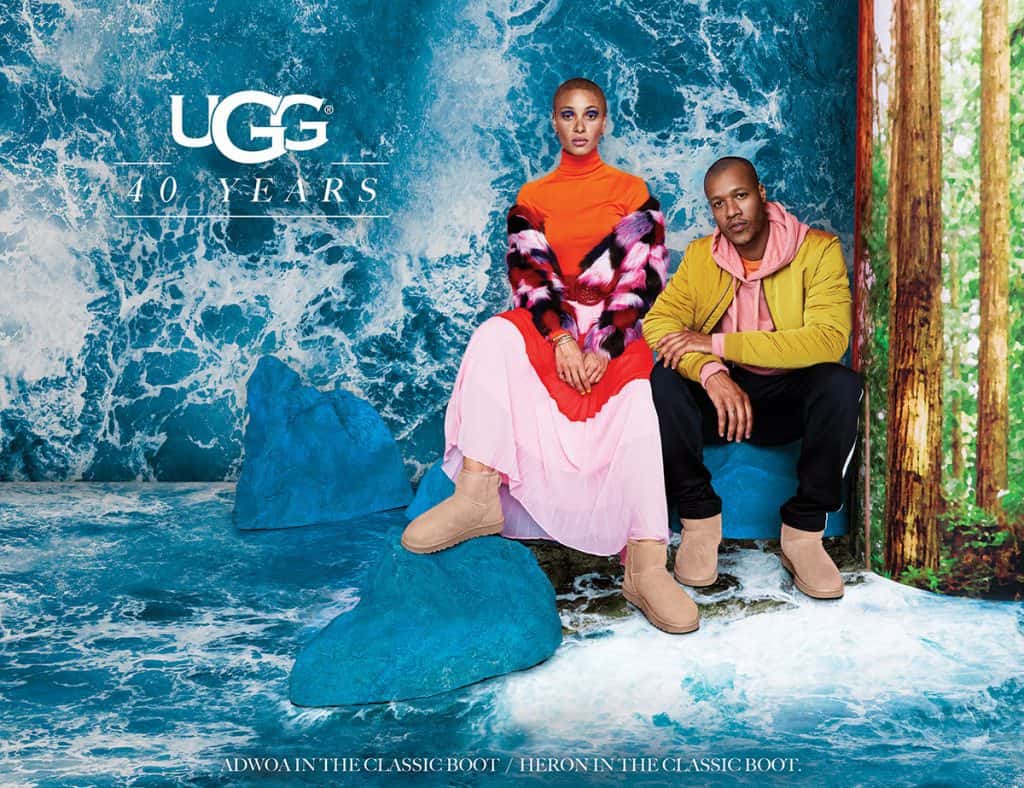 With her bold personality, Adwoa Aboah rewrites the script of what it means to be a modern woman. A model and activist who has fronted campaigns for Chanel, Burberry, and Revlon. She challenges traditional standards of beauty, champions unconventionality, and builds a safe space for women to discuss mental health, sexuality, and body image without stigma and shame through Gurls Talk, a platform she founded with her best friend.
"Ugg: 40 Years" was shot by photographer and visual artist Erik Madigan Heck, who is known for creating elaborate and surreal environments in his work. Heck brings a fine art sensibility to the campaign by reimagining iconic California landscapes, such as Big Sur and the Redwood Forest in saturated imaginative sets with vibrant colors and bold patterns, such as the sea of poppies, California's state flower.
Along with the campaign, Ugg has also ushered in its "40:40:40 Collection" to commemorate the milestone. The limited-edition collection reissues its most beloved styles in the brand's original colorway, sand. The capsule includes 40:40:40 branding in women's, men's and kids' with prices ranging from $55-$180.
The limited-edition collection is now available at Ugg stores worldwide, ugg.com, and Nordstrom in North America.