VEGAS MARKET – EDITORS' PICKS: RESTAURANTS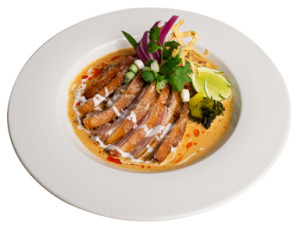 We've all been to Las Vegas a few more times than we'd like to admit and have become quite familiar with the scene in Sin City. Here's where you can find MR's editors this week during Las Vegas market week when we're not walking the trade shows or covering market parties.
ELISE: When I have any free time in Las Vegas, you can find me as far from The Strip as possible. My favorite spot is Lotus of Siam, a Northern Thai restaurant with lots of veggie options and an incredible wine list. Try the Nam Prik Hed, a spicy mushroom dip popular among vegetarians in Northern Thailand. 953 East Sahara Ave. Suite A5, The Commercial Center District
WILLIAM: I could definitely call out Lotus of Siam, that hidden gem away from the glitz and glamour of celebrity chefs and Michelin stars. But I like glitz and glamour, and celebrity chefs. And Michelin stars, so: if you're staying in the Palazzo or the Venetian, or even if you're not, Mario Batali and Joe Bastianich's B&B Ristorante is some of the best Italian food outside (or *gasp* even inside) Italy. If your expense account (or your host's) knows no bounds, Joël Robuchon's eponymous spot, with its two great big stars is the best food in Vegas. But if I'm honest, where you'll most regularly find me eating in Vegas is more modest (and Mexican): Cañonita in the Palazzo or Border Grill in Mandalay Bay. Pork Barbacoa or Yucatan pork respectively. And guacamole. And margaritas.
KAREN: If you can get in, try Firefly, a lively tapas restaurant and bar on Paradise. They don't take reservations and it's usually packed, but the food is unique and delicious. Tapas dishes include bacon wrapped stuffed dates, Ahi tuna skewers with mango, basil and pickles, and lamb chops with lentils and veggies. They also have burgers, salads and larger plates. 3824 Paradise Rd.