VEGAS MENSWEAR RETAILER STITCHED IS DREAMING OUT LOUD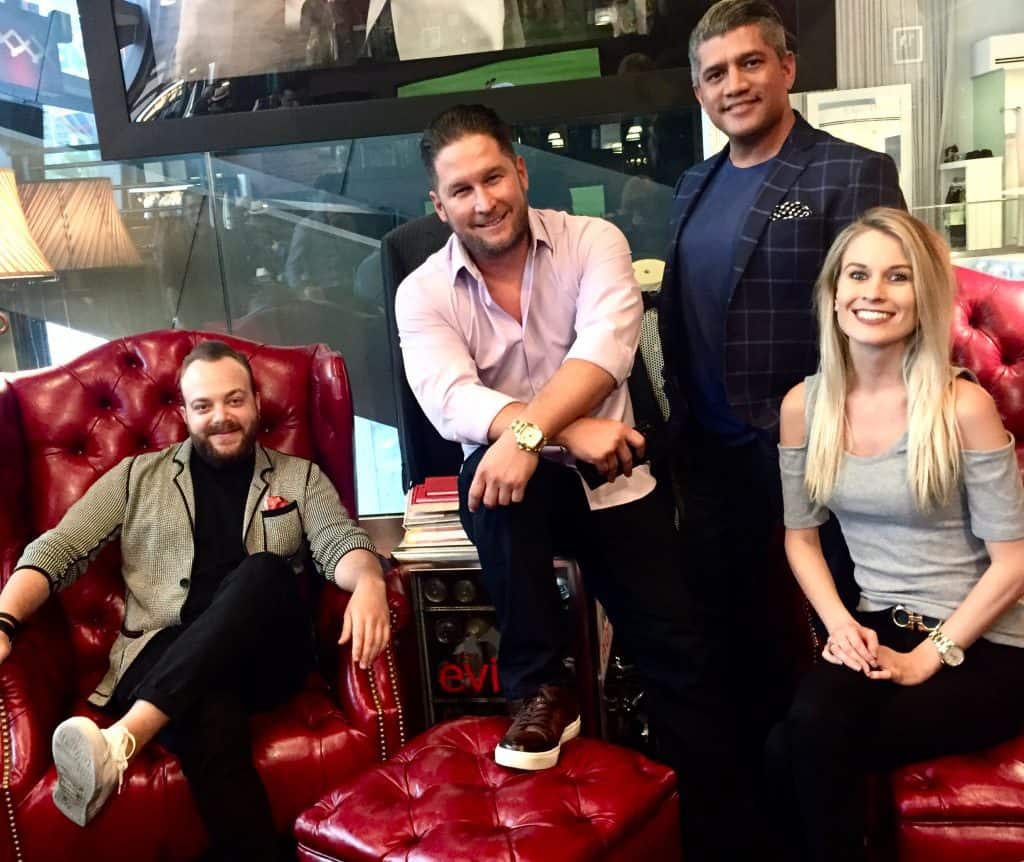 Next time you visit the Cosmopolitan Hotel in Vegas, be sure to stop in at one of the most exciting menswear stores we've discovered to date: a unique gentleman's emporium called Stitched.
Founded eight years ago in Las Vegas by entrepreneur Eamon Springall, Stitched has more recently opened boutiques in Washington, D.C. (with a barber shop) and in the new Brickell City Centre in Miami. The Vegas store is 3600 square-feet and features a fabulous private VIP lounge with lockers on the wall for bottles of preferred libations.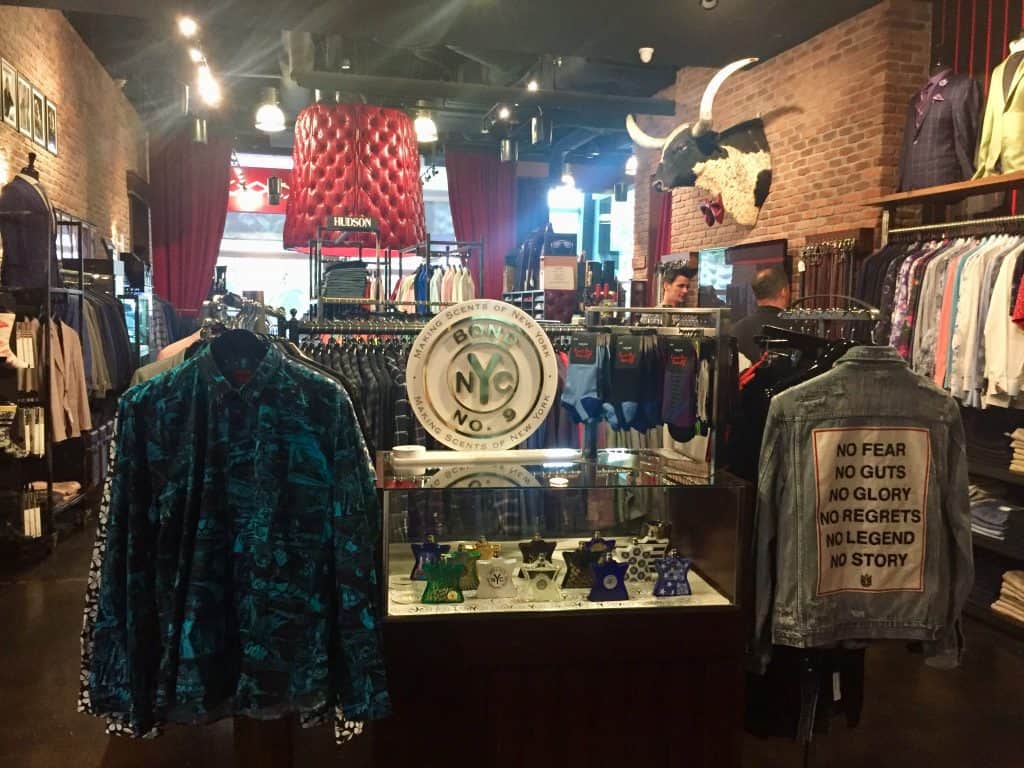 "I worked with top execs at the Cosmopolitan who wanted only unique luxury businesses (shops, bars, restaurants) that were nowhere else in Vegas," says Springall of the launch. "I imagined a menswear space that had a Savile Row feeling: old world elegance, weathered brick walls, comfortable tufted leather sofas, a place where Thomas Crowne or James Bond would shop and hang out… Since I couldn't find one that already existed, I created one myself."
The merchandise mix at Stitched comprises about 50 diverse brands; the overall look can best be described as "gentleman's elegance with a touch of irreverence" (think Rat Pack fashion of the 1960s…) Hot now, according to head merchants Sam Glaser and Ricci Lopez: technical fabric shirtings, stretchy jeans ("once you wear these, you never go back to rigid"), and tailored clothing in technical suiting fabrics. For spring '19, Stitched merchants project summer blacks, knit footwear(!) and generally more casual looks. They especially loved the Karl Lagerfeld brand at the recent menswear shows: dress joggers, printed tees, printed wovens, and digital camo outerwear.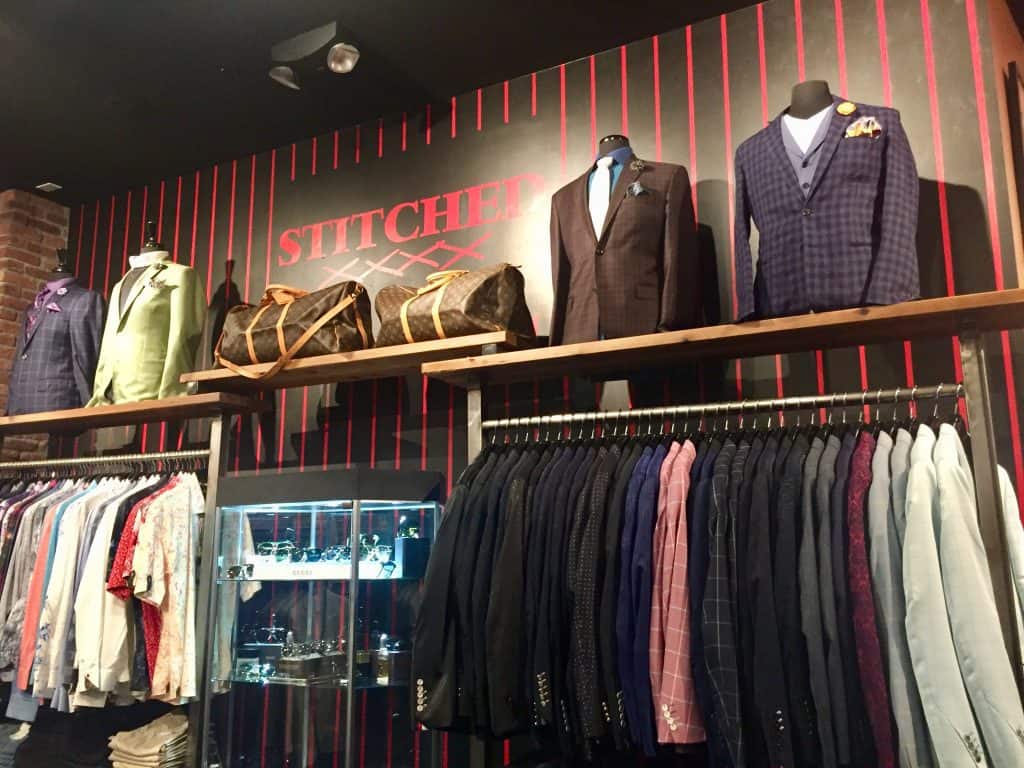 But more than anything else, Stitched is about custom/bespoke clothing. The process involves taking 36 measurements to make a pattern, selecting fabrics from the top mills in Europe and then sending all materials to their factory in NYC or L.A. Retail prices start at $1895; custom shoes, shirts and jacket linings are part of the package. (A hot trend: photo collage linings inside formalwear jackets and tuxes that can spell out an entire relationship from first date to wedding.) Delivery time for custom clothing is four to six weeks but rush orders can be shipped in two weeks. Lately, the customer base for custom has become very celebrity-driven, and most of the business comes from referrals. "We tell our clients to dream out loud," Springall says of the Bespoke concept.
Another interesting fact about Stitched: their fashion ambassador for the past several years has been 25-year-old Bryce Harper of the Washington Nationals, although Eamon Springall himself is a huge Yankee fan, obsessed with #7, The Mick, the one and only Mickey Mantle, a passion he inherited from his dad, also a major fan. "The number 7 is even incorporated into our logo for good luck. I hope you noticed the original Yankee stadium seats in our lounge."
Another great thing about Stitched, (in addition to getting voted "Best of Vegas, Men's Retail" for seven years in a row): their sellers are all knowledgeable, personable, and real. "Our sellers are not robots: we don't have a dress code or required uniforms; they're encouraged to express their personal style." And if you catch them on the last hour of their work shift, you might even find them sipping their favorite whiskey. This is Vegas, after all, and Stitched is not your ordinary menswear store.