VERSACE EXPLORES ITS WILD SIDE IN FALL COLLECTION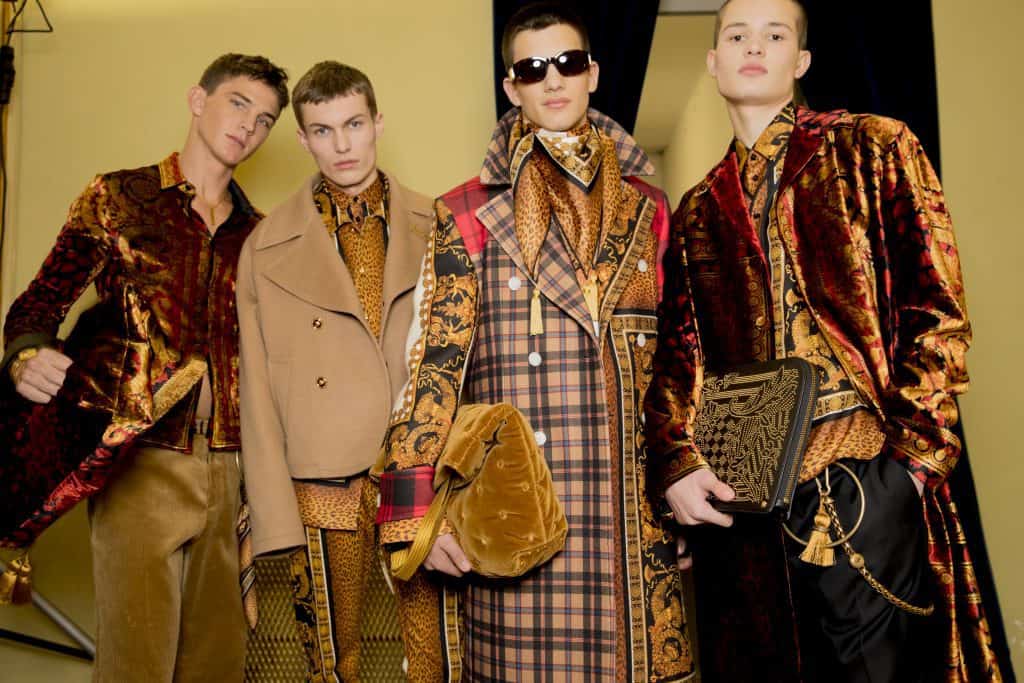 In its new fall/winter '18 men's collection, everything is so Versace that it will give you that familiar feeling of coming home.
A wardrobe for a man who isn't afraid to explore his wildest side – this collection is all about playing with the house codes and re-interpreting them, through younger eyes, through different subcultures, through that ironic yet comfy Versace twist. This collection aims to re-invent the rules, ignore boundaries and celebrate the art of individuality, with a look-at-me personality that's taken to another level.
Inspiration is taken from the intimacy behind closed doors at the Versace 'casa' where the only rule is that there are no rules. Pure anarchy reigns. That untamed part of a man that he has always known he had is released in equal parts bold and refined ways.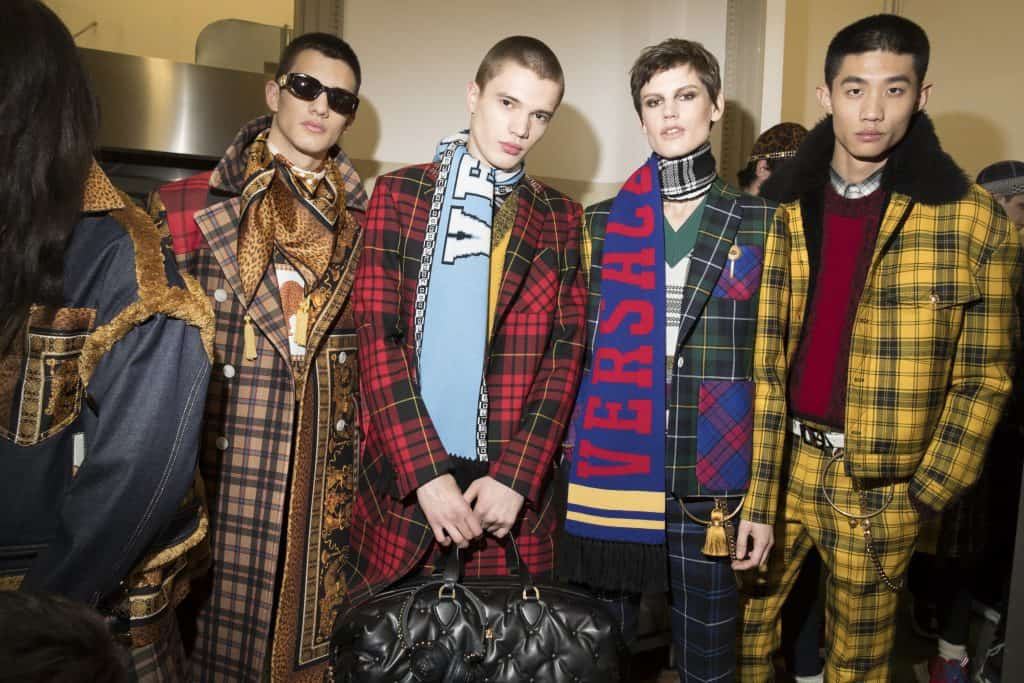 Prints are key – the 'Amore e Psiche' print which references ancient Greek elements on a vivid color palette, while the 'Sipario' print is found on velvet featured on outerwear and accessories.
Accessories are crafted from lush interior elements: heritage velvet prints on clutches and travel bags recall velvet curtains and drapes.
Homeware takes center stage in another theme this season. Bracelets are crafted from forks and knives. A chesterfield-style couch from Versace Home is re-born on outerwear and accessories featuring couch button details on leather and velvet. Retro Medusa headphones and phone covers, the new men's essentials, revamped with that Versace fun.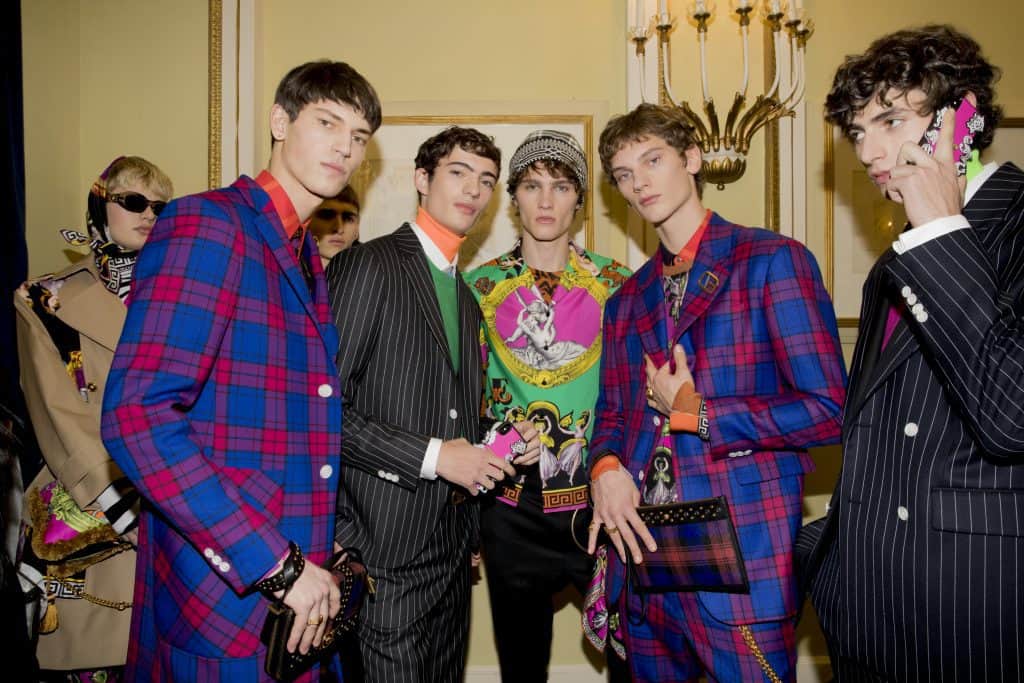 Looks blend elements that go from work to play: the Versace bathrobe becomes outerwear worn over sharply tailored suits. Mix and match tartan prints of different colors create unexpected new patterns in suits and coats, while pants are super tight or loose, but all cut short, way above the ankle.
Even materials don't play by the rules: basketball jersey are crafted from the finest silk, masculine tartan is complemented by flamboyant prints, silk cushion inserts are placed on cotton sweatshirts. This is the mix of elements that define subculture – the epitome of individuality let loose.
Launching in this show, the new iconic Versace sneakers with its unmissable chain-link sole that speaks directly to the millennial generation. An original design element reinforcing the link between the tailored and the casual – and the many different sides of the Versace man.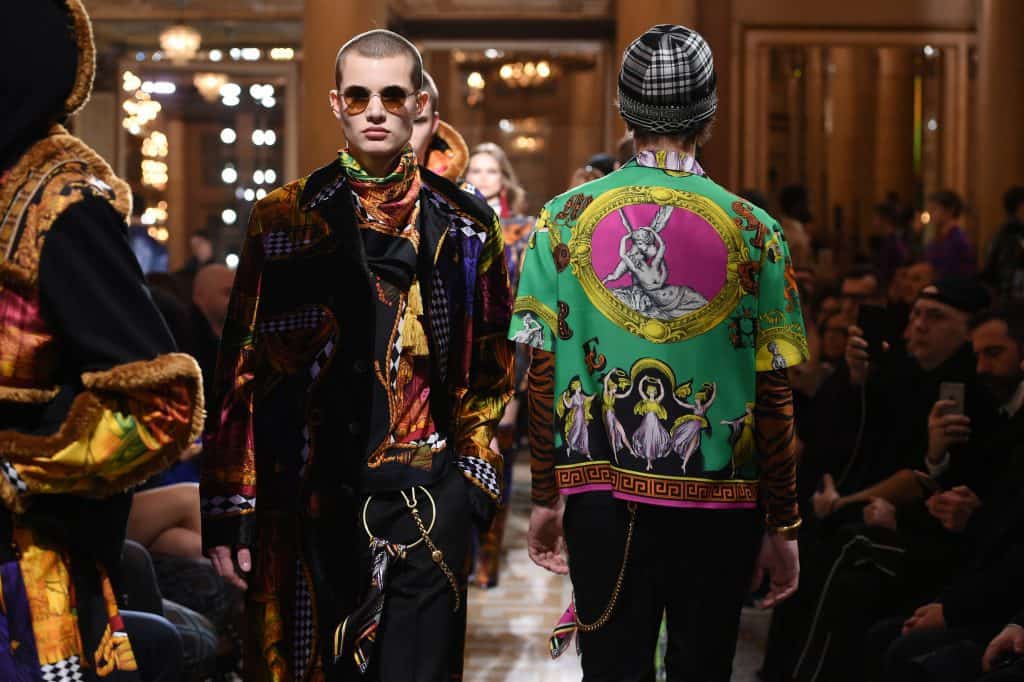 Photos courtesy of Kevin Tachman