VINEYARD VINES CONTINUES AMERICAS CUP PARTNERSHIP WITH NEW COLLECTION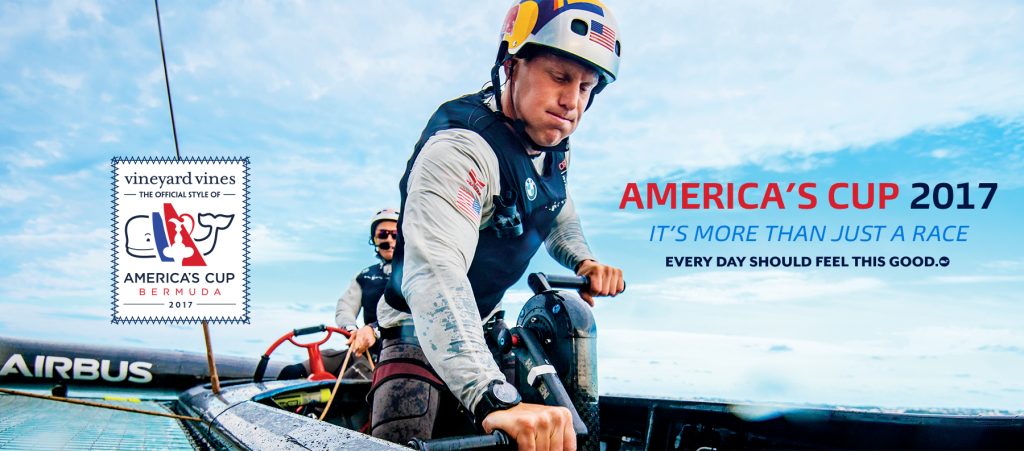 Prep lifestyle brand Vineyard Vines and The Official Style of the America's Cup are celebrating the America's Cup races with an exclusive capsule collection and guest experiences for those visiting Bermuda.
Vineyard Vines is currently operating multiple pop-up shops in Bermuda's America's Cup Village, in addition to their permanent storefront on historic Front Street in downtown Hamilton, Bermuda. Product is available on Bermuda as well as online and in the company's domestic retail stores.
The America's Cup Collection by Vineyard Vines features over 100 styles across multiple categories for men, women and children, ranging from technical sailing outerwear and performance active wear, to men's ties and jackets, women's dresses and rompers, as well as swim and t-shirts for children. Pricing spans from $12 for the America's Cup Sunglass Croakies up to $595 for the men's wool America's Cup Crest Blazer.
"It's truly an – 'Every day should feel this good' – day, each day you're down here watching such incredible talent compete with the thousands of spectator boats cheering them on," said Ian Murray, co-founder and CEO of Vineyard Vines.
"We worked very hard to make sure every sailing fan, at all ages, has something that they can wear, feel comfortable and excited to support the sport of sailing," added Shep Murray, co-founder and CEO of Vineyard Vines. "We grew up sailing and never imagined we would design product for the America's Cup – the pinnacle of sailing and tradition. To have our collection selling out at record pace is unreal. We are all hands on deck to meet demand and keep our customers and sailing enthusiasts happy. It's an honor and we won't let them down."