VIRGIL ABLOH AND NIKE TEAM UP ON NEW SNEAKER PROJECT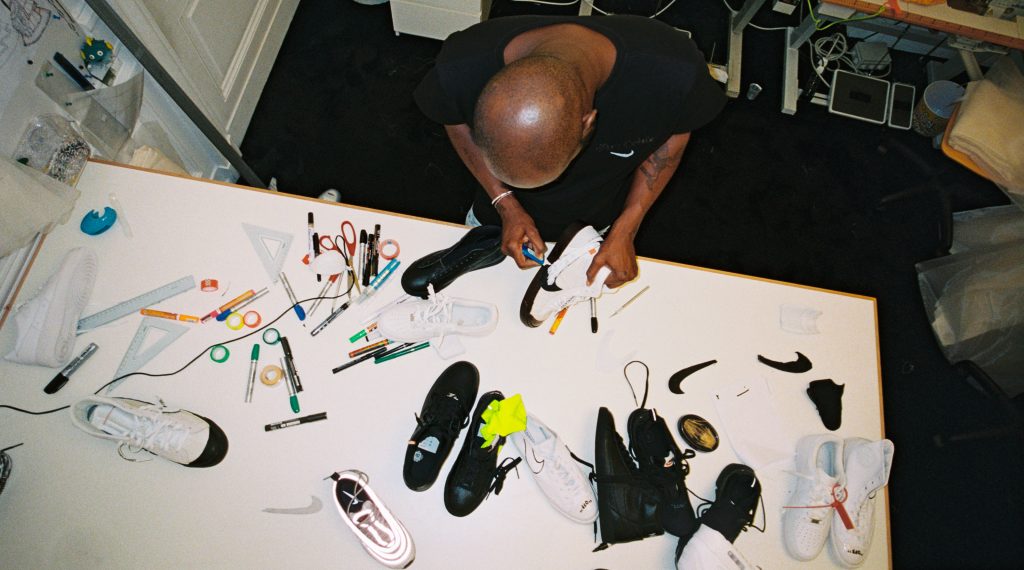 Designer and DJ Virgil Abloh has teamed up with Nike on a new design project dubbed "The Ten". For this project, the designer has reconstructed 10 Nike footwear icons.
The 10 shoes were divided into two themes. The first, "Revealing," was designed to look accessible: hand-cut, open-source and reconstructed. It includes the Air Jordan I, Nike Air Max 90, Nike Air Presto, Nike Air VaporMax and Nike Blazer Mid.
The second, "Ghosting," was designed with translucent uppers to further the idea of revealing and unite the second set of silhouettes through common material. It includes the Converse Chuck Taylor, Nike Zoom Fly SP, Nike Air Force 1 Low, Nike React Hyperdunk 2017 and Nike Air Max 97.
Abloh's relationship to Nike began long before he first visited the company's world headquarters in October 2016 to start a new collaboration. As a teenager, living in Rockford, Illinois, he and his friends sketched shoe ideas and mailed them to Nike. "We were enamored with Air Jordans," said Abloh, who is now 36 and based between Milan and Chicago. "Michael Jordan was larger than life — he was Superman to me. My entire design background and ethos came from the '90s."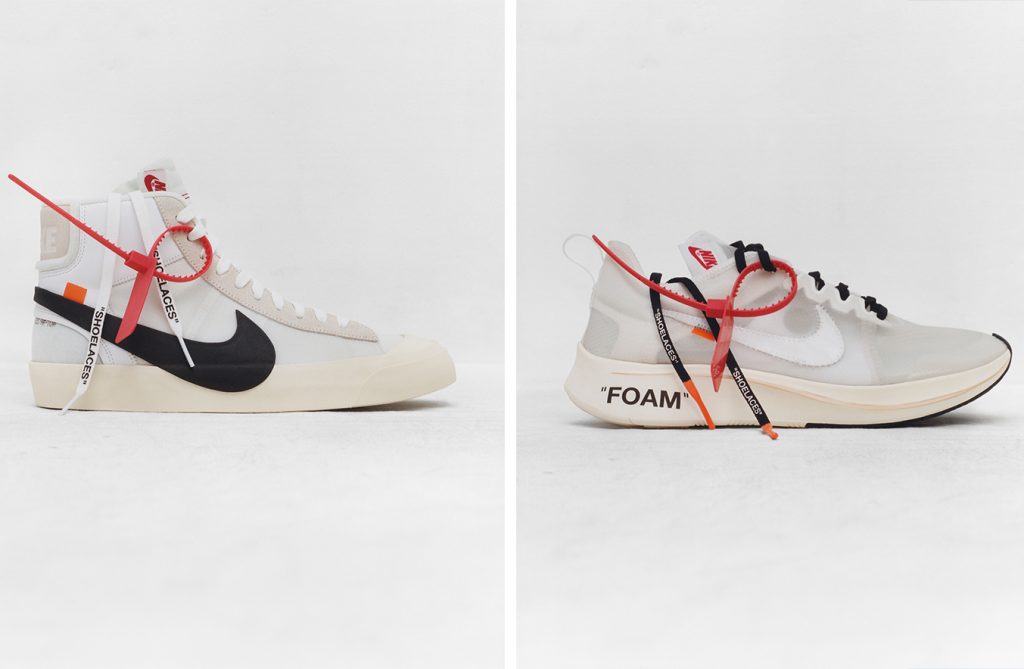 Abloh took his early design education — drawn from athletic footwear, hip-hop and rock album covers and graffiti, he says — and merged it with formal training in architecture and engineering. Now a successful creative director, DJ, designer and founder of the brand, Off-White, Abloh blurs the lines of various creative processes, rewriting the rules of fashion and design and injecting humor and DIY elements into his practice.
"By the time I made my first trip to Beaverton, I immediately wanted to make something," added Abloh. "I didn't wait all those years just to have meetings at Nike. What we're talking about here is larger than sneakers, it's larger than design culture. It's nothing short of state-of-the-art design. These 10 shoes have broken barriers in performance and style. To me, they are on the same level as a sculpture of David or the Mona Lisa. You can debate it all you want, but they mean something. And that's what's important."
Nike will host "Nike Off Campus" events in New York City and London to celebrate The Ten through presentations of the full collection and exchanges about the ideas that inspired it. "Nike Off Campus" will take place in New York City from September 6 to 8 at 23 Wall Street and in London from September 14 to 19 at NikeLab 1948 LDN.
The first five icons of The Ten — the Air Jordan I, Nike Blazer, Nike Air Presto, Nike Air Max 90 and Nike Air VaporMax — will be pre-released at NikeLab stores in New York City (September 9-13), London (September 18-22), Milan (September 21-25) and Paris (September 26-30).
The full collection including all ten silhouettes will be available in November at NikeLab stores and select retailers worldwide.