WARBY PARKER TO OPEN TWO STORES IN NEW YORK CITY THIS WEEKEND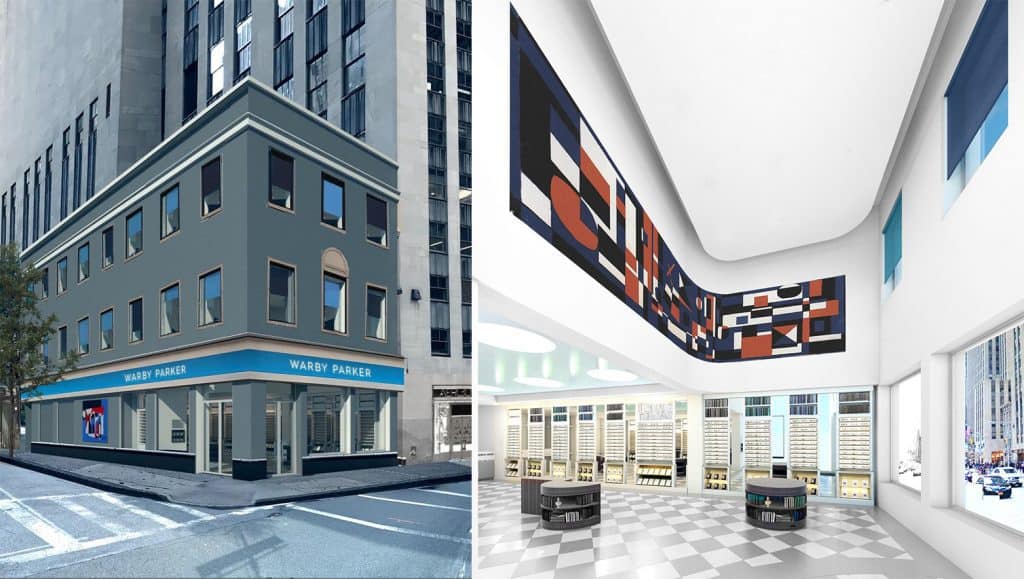 Growing eyewear retailer Warby Parker is opening two New York City stores, one in Rockefeller Center and one on the Upper West Side, on Saturday, December 2.
The Rockefeller Center store, located at 1258 Avenue of the Americas, was completed in 1933 and declared a National Historic Landmark in 1987. Inside, above the light-oak shelving that houses the company's full collection of eyeglasses and sunglasses, will be a reproduction of "Study for Allée, No. 2," a kaleidoscopic mural by modernist art legend Stuart Davis. On the store's exterior (facing Radio City Music Hall) will be another abstract Stuart Davis piece, titled "The Outside." There will also be free postcards of Stuart Davis's artwork at the store, as well as a specially designed tote bag.
The Upper West Side store, located at 185 Columbus Avenue, takes its design inspiration from classic libraries – including the use of brass detailing and suspended globe lighting. Behind this store's reference desk will be blue-tinted cityscape by Brooklyn-based illustrator JooHee Yoon. Wrapped around a column to the right of the desk will be another original work by JooHee, andto the left, there will be a rack of free postcards featuring vignettes from her larger mural.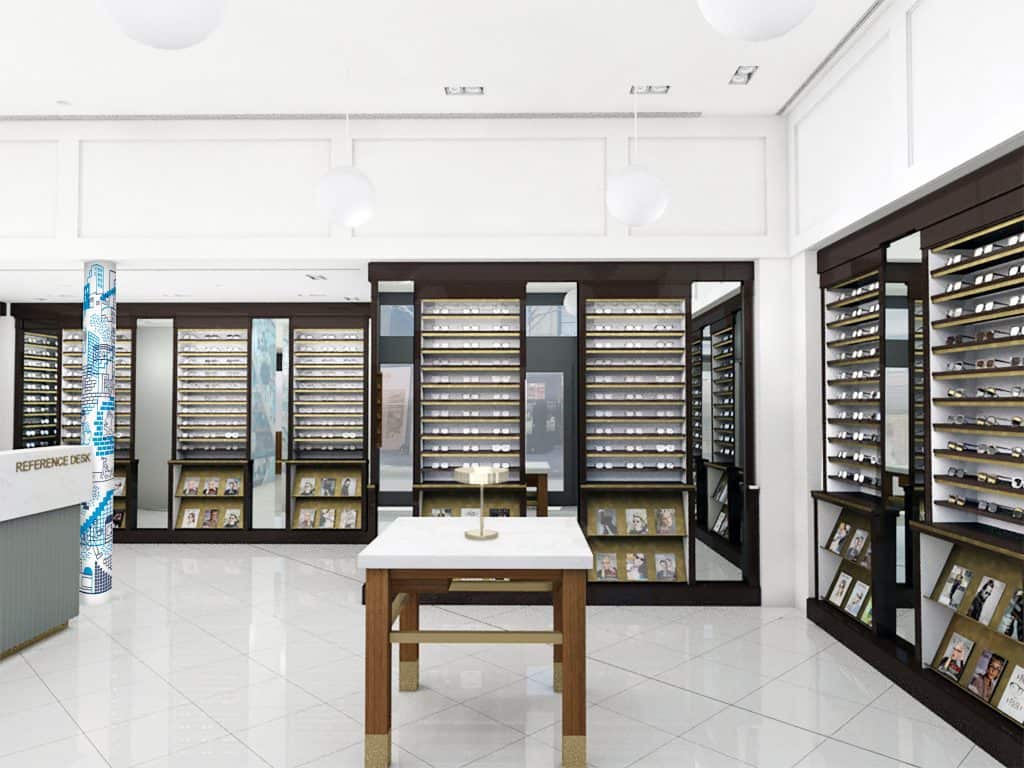 To celebrate the opening of these two shops, Warby Parker is releasing a style of sunglasses that will be exclusive to all of its New York City stores: Downing in Jet Black with Flash Mirrored Pacific Blue lenses. It features large, rounded lenses and a keyhole bridge that give it a distinctly vintage vibe. The stores will also include a selection of books from independentpublishers, like McSweeney's, 33⅓, and n+1; holiday gift cards that come with a miniature deck of illustrated playing cards; and a bounty of other gifts, such as a foldable geometric cases, zippered pouches, boldly decorated lenscloths and more.
"As a born-and-raised New Yorker, it's definitely surreal to be opening stores next to two of the greatest cultural landmarks in the city," says co-founder and co-CEO Neil Blumenthal. "Lincoln Center and Rockefeller Center are symbolic of the talent, creativity, and tenacity of New York City, from which we draw so much inspiration and energy."
Adds co-founder and co-CEO Dave Gilboa: "Rockefeller Center and the Upper West Side represent two of the most iconic New York neighborhoods—each with its own rich history and unique energy that contribute to making New York such a vibrant city. We can't wait to open these two locations to make it even easier for New Yorkers and visitors alike to experience Warby Parker stores for all their eyewear needs."