WHAT MEN'S RETAILERS CAN LEARN FROM JANE ELFERS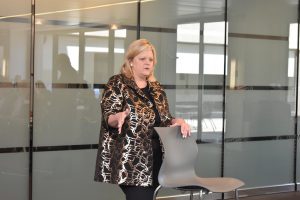 After spending a nearly two-decade-long career in merchandising and retailing, including a nine-year stint as CEO of Lord & Taylor, Jane Elfers decided to embark on an even bigger retailing challenge in 2010; turning around the then-failing chain, The Children's Place. This week, at the annual Retail Marketing Society's annual VIP breakfast at FIT, moderated by Robin Lewis, Elfers shared her winning strategy (the company's stock now sells at whopping $145 per share, a reflection of the company's extreme profitability in a difficult market), imparting lessons that any retailer should heed during these turbulent times.
First, Elfers made the tough call to replace almost all of the company's existing corporate staff, choosing to hire people who had the expertise and experience she needed in areas as diverse as real estate, technology, design, IT and more. "My basic philosophy of any company is that you need the right talent to overlay your plans, and the operational excellence to carry it out," she told the capacity crowd.
Product, she stated, should be any company's number one priority. "Ours had become stale, which is true of many other people in the market. So we analyzed the demographics we had on our customers and then created excellent product we knew they would want." In her company's instance, that has translated to a continued emphasis on basics over fashion, which most appeals to the company's target consumer (a 28-year-old mother of young children).
Real estate, Elfers noted, was one of the company's biggest issues, with the company owning too many stores in failing as well as stores that were unnecessary large (as big as 20,000 square feet) when she took the reins. Over the past few years, she has opened more stores in strip malls and outlets, which often out-perform existing in-mall stores, and renegotiated many of the leases for existing stores. "It's rare for any of current leases to exceed three years," she said. In addition, the company has expanded beyond its original North American presence and now has plans to open over 300 stores in China within the next five years.
Elfers also decided the company needed others alternate channels of distribution, choosing well before other competitors to wholesale its product through Amazon. She would not disclose what percentage of the company's profits come from those online sales, but assured the audience that it had proved to be the right decision for The Children's Place and that Amazon had not begun to knock off her product.
On the technology side, Elfers has implemented new CRM and other database and inventory management solutions (the company had none when she took over) and says her company now knows everything they need to about the people who shop at Children's Place, whether brick-and-mortar or online.  (It's one reason the stores now carry some larger sized clothing, because mothers of 12- and 13-year-old still want to shop there.)
Of course, the biggest piece of the puzzle, and one which Elfers is still solving, is e-commerce and digital personalization. While the company's e-commerce business has doubled in the last eight years, she expects it to become 35 percent (or more) of the company's sales by 2020. Further, she is determined to find better ways to interact digitally with all of the company's consumers, from sending them truly personal emails and coupons to increasing programs such as "buy online and pick up in store." Finally, she also has her eye on ways to ensure that the children of her customers eventually become the store's customers in the next couple of decades.
These improvements, among others, are just beginning to be put in place for a very good reason, says Elfers, "Building a business is like a building a house. You start with the foundation and work your way up to the roof. We're finally ready to put on the roof."