10 FUN FACTS ABOUT MALE MODEL JANIS OSTOJIC
Since Lifetime started running its 10-part reality series "Growing Up Supermodel" in mid-August, millions of Americans have become acquainted with model Janis Ostojic. The handsome 21-year-old, who was born in Italy and raised in Belgium, is the son of accomplished models and entrepreneurs Jadranko "JD" and Martine Ostojic (who are also part of the show). While Janis is now living in Los Angeles with his family, he is quickly gaining an international profile. During a recent visit to New York City, where he walked the runway for up-and-coming designers Tumbler and Tipsy, Janis took time to stop by the MR office for a freewheeling conversation about his life, dreams, and aspirations. Here are some revealing excerpts for our chat.
Were you always going to be a model?
Because of my parents, I modeled from the time I was five until I was 13. But then I really focused on soccer, which I would have loved to play professionally; but I had to stop after being injured in high school. I started modeling again a couple of years ago after my mother entered me in a modeling contest –and I won."
How do you feel you are you different from the other "celebrity children" on "Growing Up Supermodel"?
I think a lot of them really like to have a lot of drama in their lives. I don't really like drama; I try to stay neutral if there's an argument or something. But if I have to give an opinion, I will – although I often tell both people they're wrong."
What three designers would you most like to model for?
"I love working with Guess. And I would love to work with Giorgio Armani, and Dolce & Gabbana. I just think their clothes are really cool. I am planning to go to Europe in January and hope maybe I can get into some shows."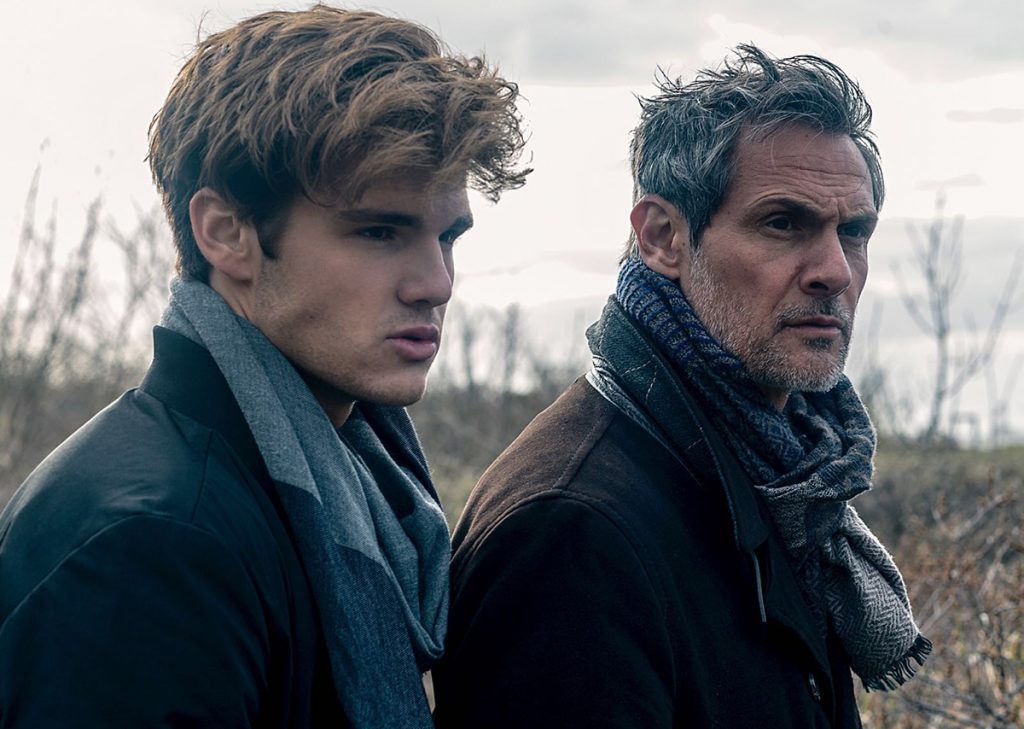 How strict are you about your diet?
"Very. Usually, I only cheat once a week, but I haven't cheated in a month. But when I do, it's definitely an In 'N' Out burger with fries. They are so delicious, and we definitely don't have them in Belgium."
How often do you go the gym?
"At least five days a week, but sometimes I also go on the weekends. I hate doing abs, though. Not only is it really boring, but I feel like it takes forever to see results."
What do you want to do other than modeling?
"I would like to get into acting. I am taking some classes in L.A. now. I think I'd like a career like Zac Efron. I could do romantic comedies or adventure films. But I don't know if I could do comedy."
Would you consider becoming a fashion designer?
"I don't think so. But I am working with my family on a new line of jewelry, both men's and women's, that we're going to sell online. I give a lot of input into the colors; I really like black and gold."
What's the biggest thing on your non-fashion bucket list?
"I want to be able to race once against Usain Bolt, just to see how much faster he is than I am. It's part of my competitive nature."
What skill or sport do you still want to learn?
"I think I'd like to learn to surf now that I am in Calfornia, but I am a little bit afraid of all the sharks."
What is your biggest regret about your visit to NYC?
"I didn't get to see the Museum of Natural History. I've wanted to go there ever since I saw the movie 'A Night at the Museum.' But I just had too much to do.