BARNEYS NEW YORK PARTNERS WITH SAVE THE CHILDREN FOR HOLIDAY WINDOWS, CAMPAIGN
Luxury specialty retailer Barneys New York has launched its 2018 holiday campaign, "Make Change", in partnership with global humanitarian organization Save the Children. Presented by the Barneys New York Foundation, the campaign is driven by the message that even small change can have a big impact– all starting with a coin.
"Make Change" encompasses Barneys New York's famed window displays, interactive in-store experiences, a social giving campaign, and a Save the Children public service announcement video featuring actor and Save the Children trustee Jennifer Garner. With Make Change, Barneys New York is providing a fresh new take on holiday for 2018, revolving its full campaign around giving back to Save the Children for early childhood education programs across America.
"Giving back has always been an important part of the Barneys New York DNA, and education is one of the pillars of our Barneys New York Foundation" said Tomm Miller, EVP of communications and marketing at Barneys New York. "This holiday season, we are so proud that Make Change brings the spirit of change to everything from our window displays to our social media, supporting Save the Children's vital work with children across the country."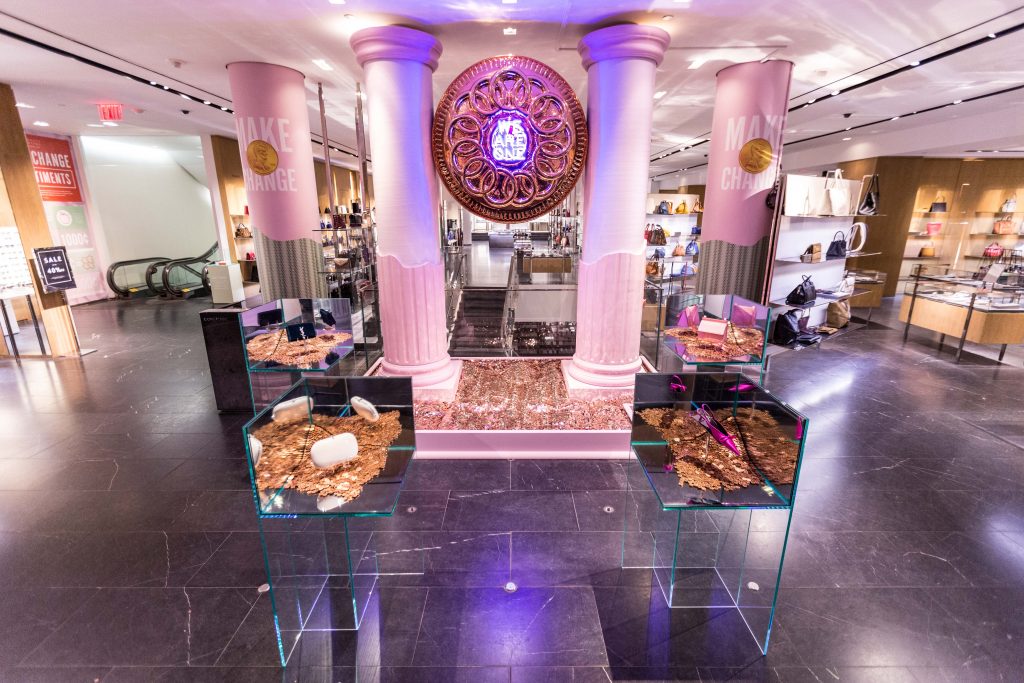 Opening on November 15, Barneys New York's famed window displays and in-store experiences will entertain viewers with an imaginative universe, all stemming from coins. To exemplify the message of looking within this holiday season, Barneys New York's iconic Madison Avenue window displays will feature the messages "Make Change" and "Change Matters" set against a wall of pennies. Window displays and interactive storewide designs are made from real coins, which will themselves become a donation, and invite customers to participate in the power of change.
At the Madison Avenue flagship, guests can interact with a mirrored infinity room that gives the effect of being at the bottom of a wishing well, along with an immersive lounge area featuring the Self Portrait Project to enable hands-free photos and digital sharing. Barneys New York stores nationwide will also have activations throughout the holiday season to encourage donations to Save the Children.
"With Make Change, we challenged ourselves to rethink our approach to our creative elements," added Matthew Mazzucca, creative director at Barneys New York. "By starting with the concept of a coin, which can seem small in the luxury world, we've created engaging experiences that show that small changes can make a big difference, and invite our customers to participate in the power of change."
Barneys New York's Make Change campaign supports Save the Children's efforts to reach America's most vulnerable children through its early education programs. Fourteen million children live in poverty in the United States, and young children growing up in poverty have a high risk of entering school ill-prepared to succeed. Barneys New York is proud to partner with Save the Children in its early education work helping children and families, by providing books, literacy and math programs, parent-child play groups and training tools for teachers, to give children the strong start they deserve.
Jennifer Garner is also helping to raise awareness for Save the Children's work by appearing in a public service announcement. Other supporters of Make Change include Tamron Hall, Joseph Altuzarra, Thom Browne, Cindi Leive, Phillip Picardi, Lyn Slater, Simon Doonan, and Kahlana Barfield Brown.
"Save the Children is excited to partner with Barneys New York for their Make Change holiday campaign this year," said Carolyn Miles, Save the Children president and CEO. "Early education provides the foundation for success and together, we are working to raise awareness and funds to support children in need across the U.S. Save the Children invites everyone to give back this holiday season – alongside Barneys New York – to ensure every child has a strong start in life and the best chance for a bright future."
To spread the positive spirit in stores and online, and encourage customers to give back, Barneys New York is debuting #centiments, a social media-driven campaign featuring positive and inspirational holiday sentiments and sayings. Some examples include: "centsational", "centsitive", and and "centilating". Starting today, Barneys New York will encourage followers to share their own #centiments with @barneysny, and the Barneys New York Foundation will donate $5 to Save the Children for every post. #centiments will continue through January 1, 2019.