BEST EMERGING BRAND: FAHERTY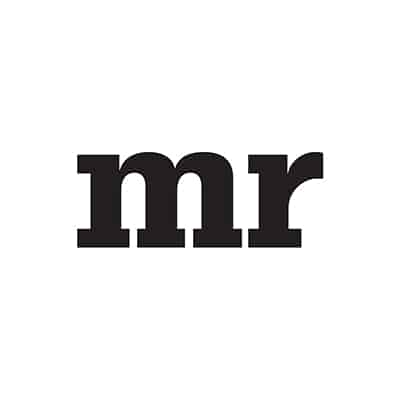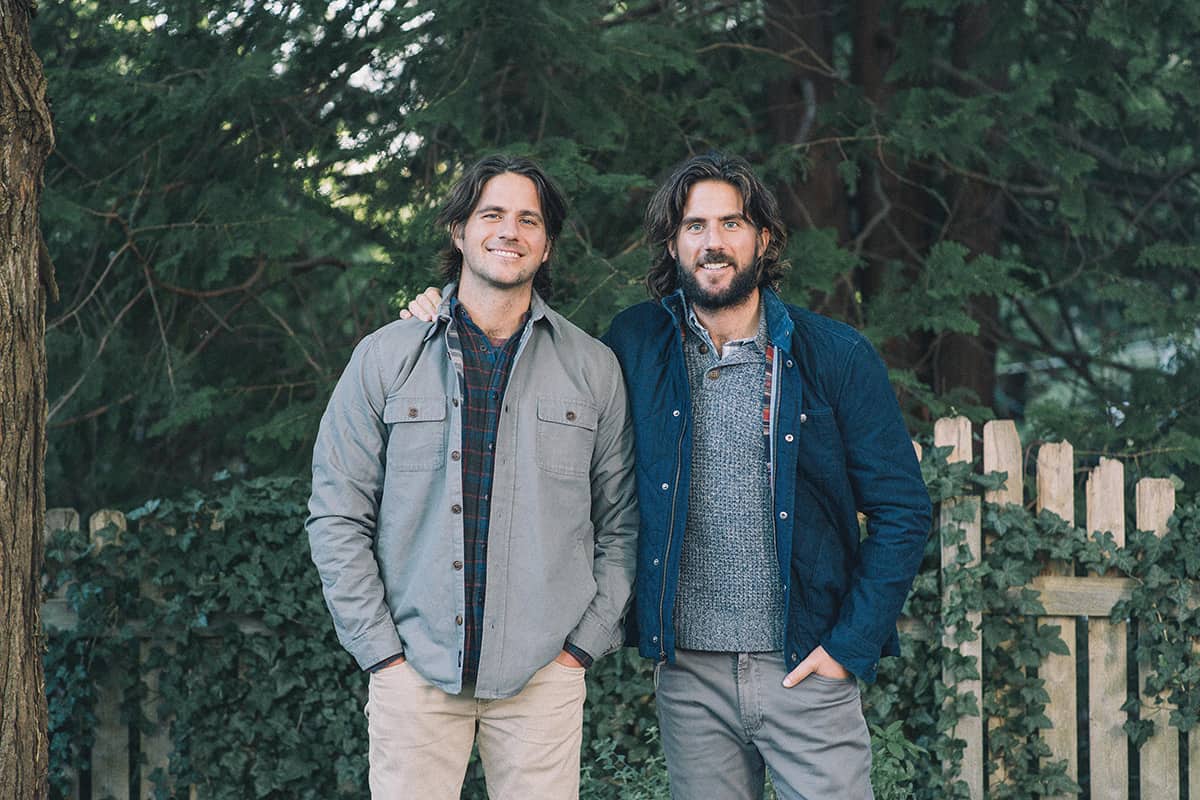 Just as young authors often use their own lives as inspiration for their first novel, then-30-year-old twin brothers Alex and Mike Faherty looked no further than themselves back in 2013 when they launched their namesake brand with an eco-friendly swimwear line.
Five years later, Faherty has evolved into a successful yet still-growing business with $25 million in gross revenue (almost all of which goes back into the company), split evenly between wholesaling, retailing at their own stores and e-commerce.
And while it's the more recently launched women's line that's growing fastest, menswear (shirts, jackets, bottoms) still accounts for 80 percent of the company's business. Retails currently range from $55 for a T-shirt to $400 for a cashmere sweater, with the average item costing about $120.
"There's no question the brand is an extension of ourselves," says Alex. "Mike and I think of ourselves as regular guys, so not only do we make clothes we want to wear, but we create clothes we believe our friends want to wear as well. Of course, we're always trying to give them a little extra style or a fresher color palette. Newness and modernity are definitely among our key words."
Adds Mike: "We definitely want there to be an inclusiveness in what we design. And that philosophy is necessary, because these days we're selling clothes in Venice, California (a shop-in shop at Stag), in Memphis, in Aspen, in Greenwich, CT, and in New York City, among other places. But while other new brands worry about being the coolest guys on the block, we're more worried about comfort. We know that's what the majority of guys comment on — not how 'beautiful' the clothes are. So we develop our own fabrics that are custom made for us in China and India. I learned a lot from working at Ralph Lauren about the importance of the right yarn, and when people feel our clothes, they immediately notice the looser, softer hand. It helps us to stand out."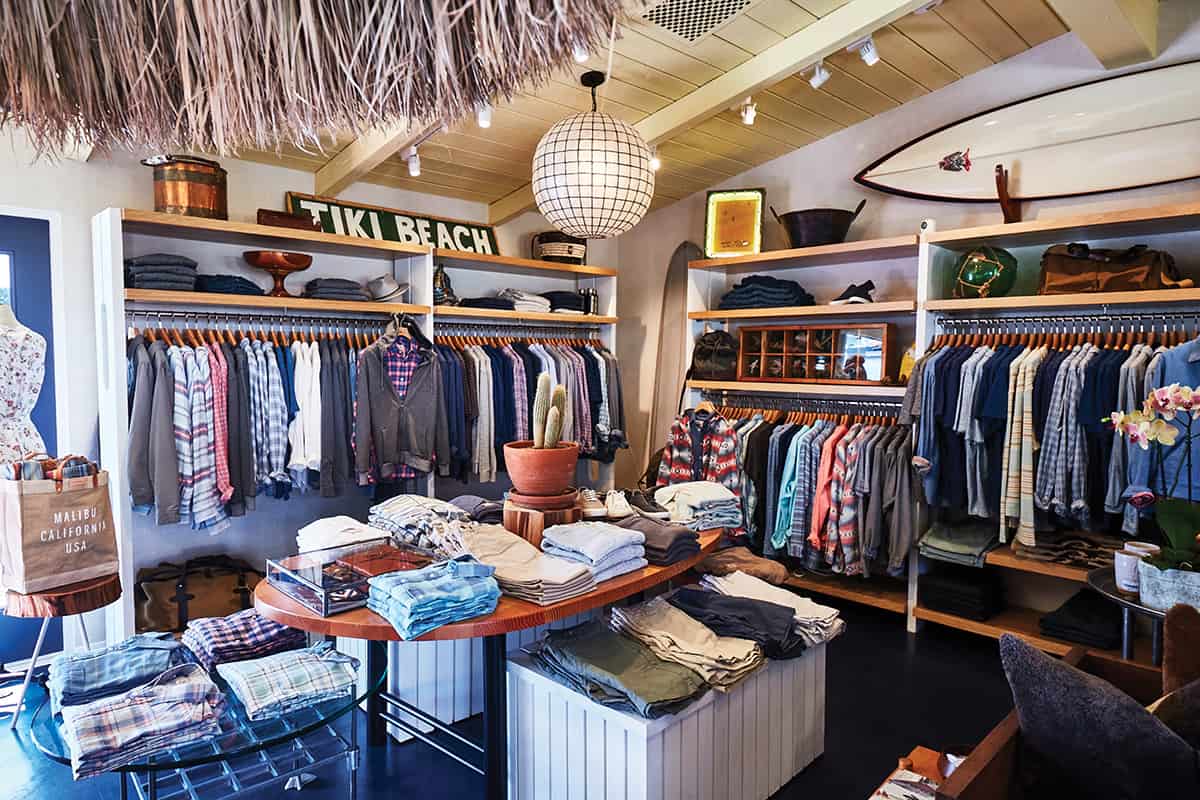 Indeed, standing out from the pack is of paramount importance to both Mike, who studied fashion at Washington University before designing for Ralph Lauren's RLL Line, and Alex, a Yale University graduate who worked in corporate finance. They were both top-notch student athletes — they grew up on the Jersey Shore and later New York City — and both claim their competitive natures, learned from their years in athletics, have helped guide them forward for the past five years.
"I want the brand to always be better," notes Alex. "It's a constant search for ways to improve what we do. We'll read whatever books are out there, we'll listen to podcasts, we'll ask whatever questions necessary to get it right. I think we both consider ourselves students of the fashion game."
That commitment is one reason the brand has done so well in the hard-to-crack wholesale business, where its customers range from department store giant Nordstrom to the country's finest specialty stores, including Mitchells, Oak Hall, Fred Segal and Stag. "Faherty is an incredible success story. The brand has captured all ages with great clothes that project a comfortable lifestyle," notes Bob Mitchell, co-CEO of the Mitchells Family of Stores. "Also, the family is fabulous and fun."
"We know the wholesale business is particularly competitive, which is one reason we work so hard with — and rely on — our retail partners," says Alex. "Our retailers have a long-existing relationship with their customers, so when they give us advice and information, we listen. But it's definitely been a challenge to overcome what I call the incumbency of the industry. As much as we realize that taking risks on new brands can be hard for retailers, we get frustrated when they expect new product to sell just as well as their established brands. I remember our first season we got picked up by Nordstrom — right after the Las Vegas trade shows – that meant a lot to us. I still recall sending samples to them over Labor Day weekend; we're thrilled they're still one of our major partners."
Says Mike: "I often say the biggest challenge we overcame was just getting in the door with our first little collection. I admit we had no idea what we were doing. We had our mobile store-cum-trailer that we drove around the country; we did a lot of in-store appearances; and we basically fought and clawed and scratched for the first two years to make our way in an industry that isn't always welcoming to new people and brands. We really had to keep pushing to get into some of these stores."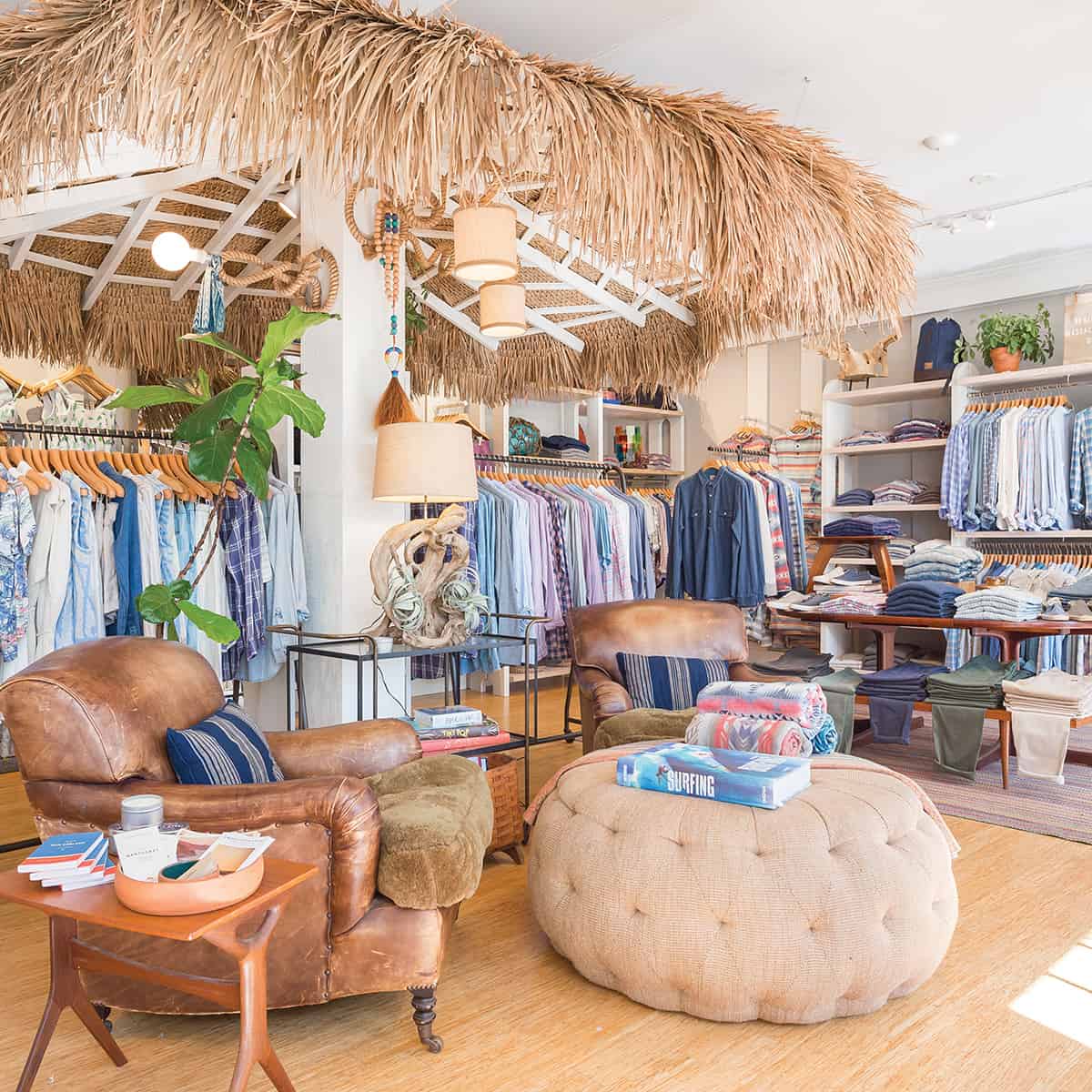 Is that why there are now six Faherty stores across the country? Not exactly, they say. In fact, having their own stores wasn't part of the duo's original game plan, but sometimes opportunity pops up when it's least expected. "Back in 2014, we stumbled upon this great spot on Thompson Street that had a kitchen, backyard, and a separate apartment. So, we carved out about 250 square-feet in the front for selling space, and soon it became our first store and our corporate headquarters, And because of that tiny store, more people began knowing who we were," says Alex.
"Our store in Malibu happened next, but mostly because we love the Malibu Country Mart. And then I started to go a little crazy and began signing on for more locations," he continues. "It really helps that our mother, Nonnie, is a full-time decorator, and we couldn't do any of this without our family friend, Ryan Lawson, and my wife Kerry (who is the company's president and heavily involved in its retail expansion, including its newest store, an 1,800-square-foot emporium on NYC's busy Prince Street.) But I think we're done with opening our own stores for now."
"We are so excited to graduate to a bigger store, one that can showcase more of our product line and lifestyle," says Kerry. "A huge part of our heart lies in SoHo, the local restaurants and coffee shops. We're thrilled to not be venturing too far away from the local community we've come to know so well."
Indeed, one major advantage of having their own retail stores, the brothers admit, is that it allows customers to see a wider assortment of the Faherty line. "At our Bleecker Street store, our men's bottoms business is as good as our tops, which is interesting since we don't sell a lot of bottoms at wholesale. Part of the issue with wholesale, as much as we love it, is that it cherry picks your line. So these stores are a great way to present our product expansion and show everything we can do," notes Alex. "In fact, I think we're primed and ready to become a more bottoms-oriented brand. It's a great seasonless business and we all know that men are loyal to their pants brand."
The stores also serve as a vehicle to reinforce Faherty's strong belief in the importance of customer service. "It sounds corny, but customer satisfaction is what we live for," says Mike. "It's why we offer a lifetime guarantee. Nothing eats us up more than when we get a complaint. And I think people respect the fact that we're still this very hands-on company. We spend time in the stores, we respond to our own Instagram account; there's a level of authenticity that our customers connect to."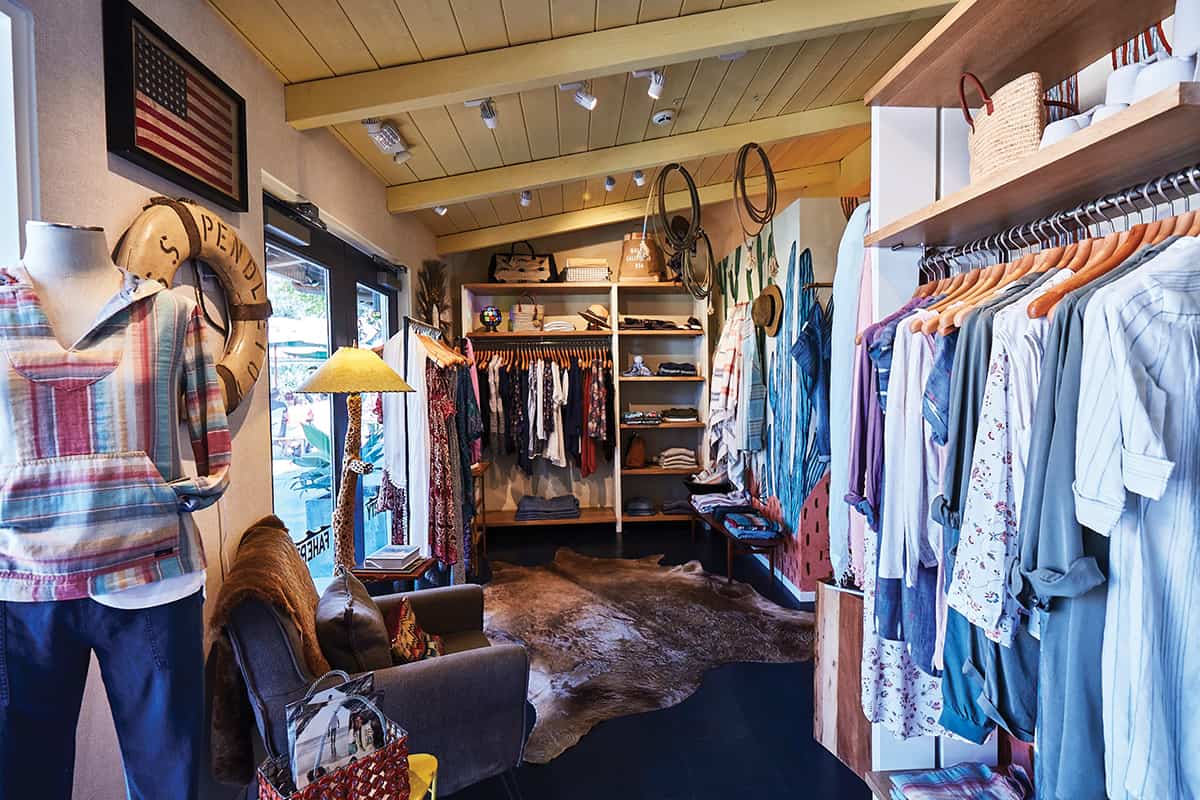 Given that "authenticity" is one of the watchwords that millennials seek out, you might think Faherty would be putting extra effort into attracting this age group. Think again. "We definitely appeal to the older end of that age range, but we are not focused on the younger millennial or even the older baby boomer, and that's because our demographic often seems forgotten and that's who we want to serve," says Mike.
"We have noticed a lot of traffic by 20-somethings on our website, but they're mostly just window shopping. Of course, we want them as customers when they're ready to move up to something more than fast fashion," he adds.
"When they're ready to buy their first house, then we want to be the brand they want to support. But the market is just too crowded for us to put our resources into chasing the younger millennial."
Still, fear not, when those customers are ready, Faherty will be ready for them. For example, the brothers are working hard on improving their website. "It's very important to us that our website has the right technology and the right tools for great customer service," says Alex.
"We grew up as e-shoppers, so we certainly understand its importance and yes, we know Amazon will be the winner in this market, but that's not something we really worry about. Our entire strategy is about highlighting quality over quantity and we think shopping on Amazon defeats that purpose. In fact, we consider ourselves more like a farm-to-table restaurant, except we're in the apparel business."
Most importantly, the Fahertys aren't looking to sell their company to their highest bidder (which isn't to say they wouldn't consider taking funds from the right investor) or to move on to another project. "We plan to do this for another 10 or 20 years, or maybe even until we're 65," says Alex. "We both like tackling hard challenges, whether it's an intellectual one or a physical one. To us, this business is like sports and we thrive on the adrenaline we get from being part of it."