DENIM'S NEW HORIZON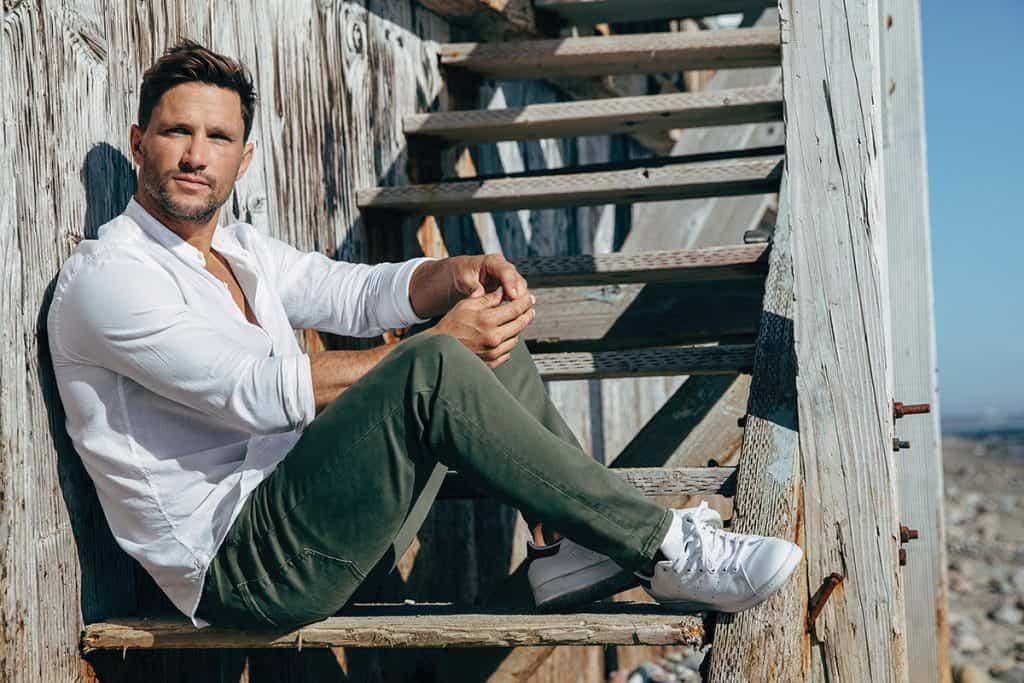 It doesn't seem that long ago that we were watching the denim market race (along with the rest of menswear) to see how skinny silhouettes could get. Then the focus shifted to watching the pendulum swing between rip-and-repair vs. clean denim. The result was some market stagnation and a fear that denim's best days were behind us.
Moreover, while it seemed that a return to stricter office dress codes was possible just a few years ago, the workplace now seems to have settled into a more casual environment — especially with so many individuals spending their days at coworking spaces like WeWork or The Wing –where denim is readily accepted as everyday attire.
That's one reason why so many brick-and-mortar and online retailers remain bullish on denim, even expanding their offerings for fall. "Denim is having a resurgence and we have seen a great demand for it from our male customers," says Bloomingdale's men's fashion director Anya Deweerdt. "We have definitely seen an increase in the demand for jeans that can be worn to work, including more tailored fits, cleaner washes, and darker colors, as well as black denim."
That sentiment is shared by Macy's GVP/fashion director of Men's, Durand Guion. "Denim is now appropriate and an accepted part of many corporate dress codes," says Guion. "In fact, it is often the case that the style component goes way up when denim is worked into a tailored look."
Adds Beth Zinman, general manager of e-tailer ShopExecutive: "It's definitely a different world and the evolution of what defines our workspaces now has clearly had an effect on business attire. We used to sell a lot of tailored clothing, but these days, denim makes up about 70 percent of our overall sales."
Guion stresses that fashion, fit and color details are among the biggest factors men use in choosing what denim to purchase. "For fall, we'll continue to see tapered silhouettes doing well," he says. "We'll also see more athletic-inspired side taping, repaired details versus ripped, and, especially, the emergence of color."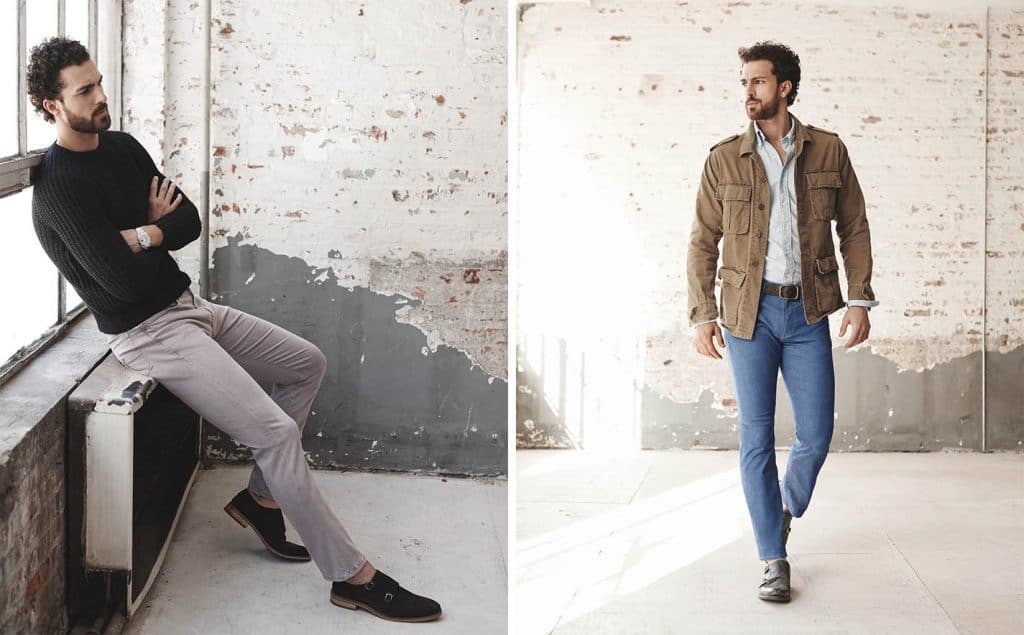 Color has been a strong selling point lately for California-based Liverpool Jeans, which sells both online and in stores. "The real news for us is in color," says Ron Perilman, the brand's president and co-founder. "We're selling as much color this fall as we did last spring; incorporating highs, lows, and texture. We're presenting dark olives, burgundies, a tobacco color, as well as a graphite gray in dark washes."
Adds Rian Buckley, co-founder and CEO of Fitcode, "Black and gray jeans will be an important staple in any man's wardrobe."
The color story is similar at Mavi, notes Ardie Ulukaya, the company's vice president of sales. "The palette is a little more vibrant in men's than before, mostly distressed and washed out, with dark greens, khaki, gray, navy, olive and brick selling well. In our 34 Heritage line (targeting the 55-year-old guy) we are also selling color, including dark, earthy colors for fall '18. They are elegant and soft."
Los Angeles-based Cotton Citizen, which recently entered the premium denim market, is finding great success by preaching the color gospel. "We're all about very saturated color," says founder and creative director Adam Vanunu. "We see the need for a strong focus on content, teaching people how to wear bright colors. We're also seeing stores be more experimental and bold with bottoms."
Similarly, Raleigh Denim Workshop's founder Victor Lytvinenko says his brand has benefitted by the greater acceptance of color in men's bottoms. "We started using a stretch fabric with color a few seasons back and sales of it have grown every season since we introduced it. We are now at 50/50 stretch color with traditional denim, and we introduce a new color palette every season," he says. Color is a way for men who have not been in touch with fashion to have permission to play. People are seeing it more and more and getting positive feedback when they wear it."
Indeed, stretch is a key factor in driving denim sales. "There has also been an increase in the offering of innovative fabrics like denim with better recovery, moisture wicking, and temperature-regulating fabrics," says Deweerdt.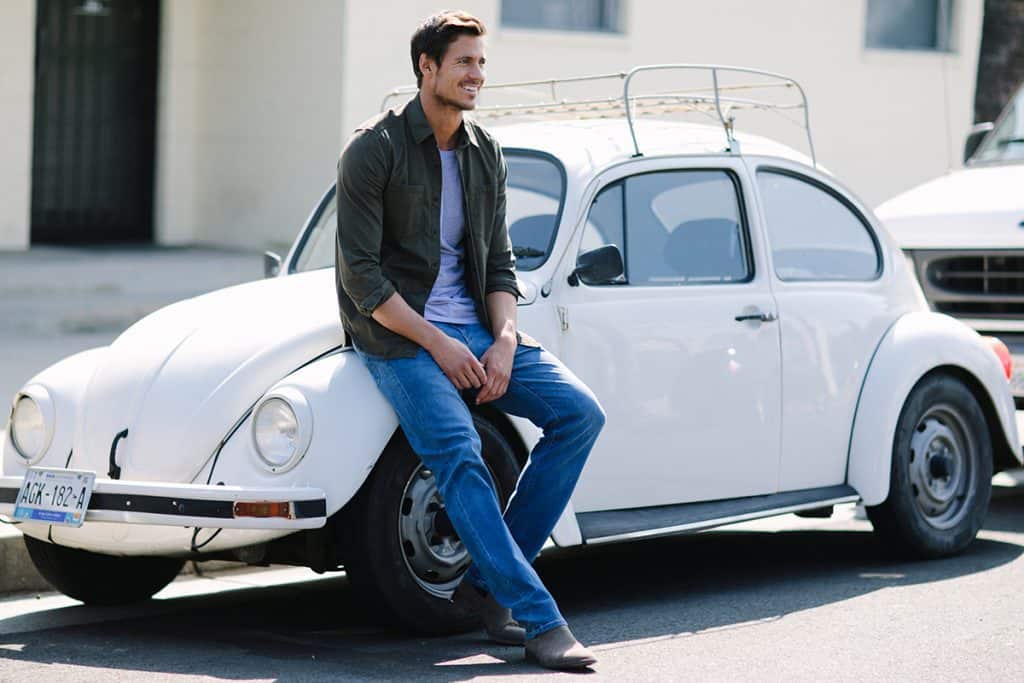 Adds Liverpool's Perilman: "We're introducing a nylon/rayon stretch pant for fall 2018 and a luxury knit stretch jean. They are both great for work."
Of course, many men are still picky when it comes to fit, say some experts. "The slim, tailored silhouette is still going to dominate in 2018," says Buckley. "Fit is the number one purchase driver for men (and women!), and consumers want the guesswork taken out of denim shopping. Our partner integration data shows that if they like the style and they know it will fit-consumers are at least three times more likely to buy."
Adds Lytvinenko: "We are evenly mixed across our three main fits, with maybe 10 percent taken up by a new skinnier fit we sell."
Finally, there's the factor of price/value. Premium denim pricepoints still set the standard at high-end retailers such as Barneys, Neiman Marcus, and Saks Fifth Avenue, along with many better specialty stores.
"Our stores are becoming more interested in what we make and people are willing to spend $200 or more on our product," says Lytvinentko. "We've built a core business in that area, and people keep coming back for more. We think about the word luxury a lot, how it has changed and what it means to today's consumer." Still, for much of the denim sector, price is the biggest factor driving the business. Indeed, the high prices denim once commanded are being eroded across the market, driven down in part by fast-fashion retailers like H&M and Zara.
"There's been a ripple effect throughout the market. It's like the way we want comfort food when times get difficult," notes Cult of Individuality founder and director Ron Poisson.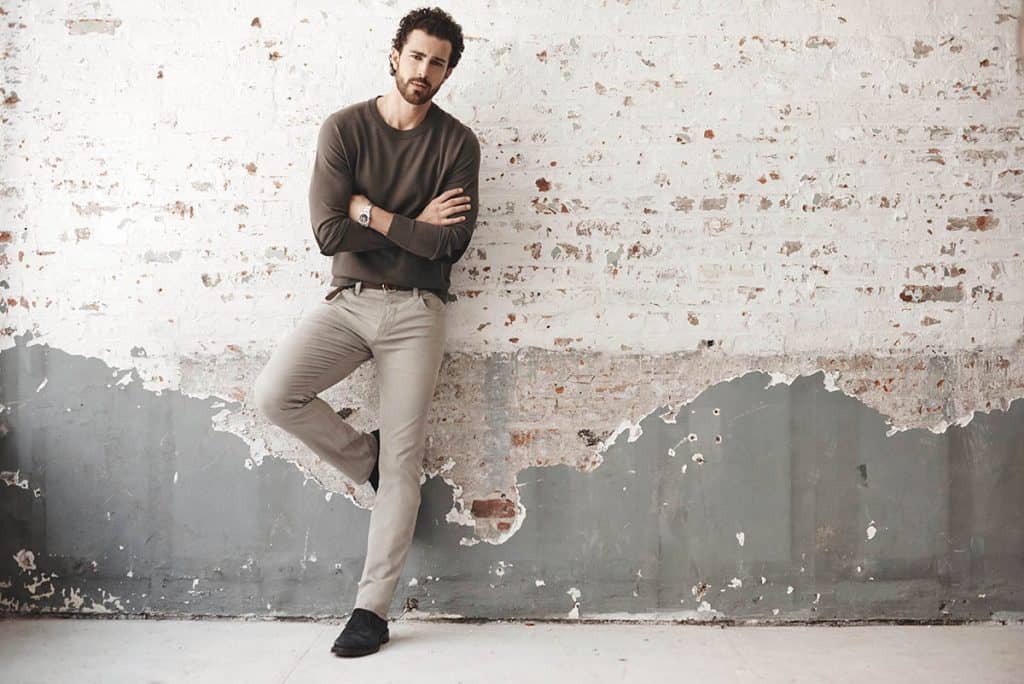 In addition, an increasing number of mainstream brands are catering to the customer who simply doesn't want to shell out three figures for their jeans anymore.
Adds Ulukaya, "There's more growth than ever at the less than $98 price point. We're doing great with Nordstrom as well as with Nordstrom.com and Amazon."
"We launched Liverpool with a focus on value," says Perilman. "The consumer still wants the hottest fabrics and the newest washes, but the magic price point is now below $100. In fact, we've identified an $89 sweet spot. But, again, he still wants value. He won't wear inexpensive looking or feeling denim."
As the saying goes, there's something for everyone.