ARE DEPARTMENT STORES DESTROYING THEIR CREDIBILITY WITH THEIR EXPANSION INTO OFF-PRICE STORES?
To get a sense of just how much the off-price retail landscape and the consumer and industry-insider perception of this sector has changed in recent years, consider this anecdote that a longtime outlet buyer, who cannot be quoted on record due to confidentiality agreements with her previous and current employers, shared as I researched this story: "At the beginning of my career I was in Seattle for Preline [a former trade show that folded in 1992]. They used to get limousine shuttles to take us between the different offices. I got into the limousine with some buyers from a Midwest department store – I don't even remember the name – and we were just casually chatting and they asked me where I worked. I told them [the name of a famous national discount chain] and you could have cut the air with a knife. They froze and became so rude. You could almost see them looking down their noses at me."
Chuckling aloud at that memory, she adds: "Today, that would never happen. Consumers shop across all channels and most are just looking for the best deals. So department stores really need to adapt to that."
And they have! Despite bleak overall financial reports and the forthcoming shuttering of many mainline branches, such as the 100 doors soon getting axed by Macy's, there has been a proliferation of off-price spinoff expansion in the department store world. Majors from Nordstrom and Saks to Bloomingdale's and Neiman Marcus all operate a web of seemingly very successful brick-and-mortar – not to mention online – outlets.
Nordstrom Rack stores, for instance, which were first launched by the Seattle-based retail giant in 1973 as a clearance center, now outnumber the full-line doors by 215 to 123 and Nordstrom says it plans to rapidly expand the number of Racks to 300 by 2020.
Likewise, Hudson's Bay Co.'s Saks Inc. is also in the midst of growing its Saks OFF 5TH concept, especially in Canada. "In 2016, we entered the country and opened nine stores. We've announced plans to open up to 25 stores across Canada in the coming years, which includes the nine we opened in 2016," says Jonathan Greller, president of Outlets at Hudson's Bay Co. "The stores are located in malls and outlet shopping centers. In 2017, we will continue to open new locations across Canada, including our first stores in Quebec."
And that's not even mentioning the fact that Macy's recently added its Backstage discount concept inside its full-price locations and said in an otherwise depressing January 2017 press release that it will insert 50 more to extant Macy's branches. Or that Neiman Marcus now operates two off-price models: 29 Last Call stores, which carry overstock from the mother shops, and 13 Last Call Studios, which sell merchandise that vendors make specifically for these outlets.
Walter F. Loeb, the head of retail management consulting firm Loeb Associates Inc. and a frequent writer for magazines, prognosticates that this trend of department stores diving into the discount pool will only increase.
"I believe the trend to shop outlets will continue: existing stores will expand and new stores will jump in," he projects. "Many customers today are on a budget and value-oriented, particularly the millennial customer who doesn't want to own very much and who spends less money on clothing. This trend is causing the success of these stores."
Vendors certainly share this assessment. For example, Nathan Romano, co-owner of the swim, active and RTW brand Onia, which sells to both "regular" Nordstrom and Nordstrom Rack (it sells its higher-priced contemporary label Onia to the former and supplies the latter with exclusive prints and designs from its mid-tier Trunks brand), agrees with Loeb's prediction.
"I definitely see a rise in the off-price department store world," he says. "They are creating innovative ways of marketing and special product to target younger shoppers. And they're both developing their own product and buying designer product made specifically for their stores, all at value pricing. So it's a win-win. They get the status brand and they get the great pricing."
But this rising tide still begs serious business questions about the fates of these retail giants. Are these burgeoning discount business models a practical, permanent salve that will ultimately benefit the beloved yet often beleaguered matriarchs? Or are they a kind of tourniquet that will stem the bleeding for now but ultimately cut off circulation to the treasured "nameplate" stores?
Robin Lewis, author of "The Robin Report," suggests the latter in an article he published in a January 2017 called "The Great Department Store Meltdown? Or a Bumpy Transformation?" about this phenomenon and how it is a result of the ongoing imbalance of supply versus demand: "This [over-supply], of course, forces the counter-productive path of least resistance: price promoting and discounting of all types – including the opening of outlet and off-price stores. The insane 'race to the bottom' not only adds to the over-supply, it accelerates price deflation and devaluation of the nameplate brands."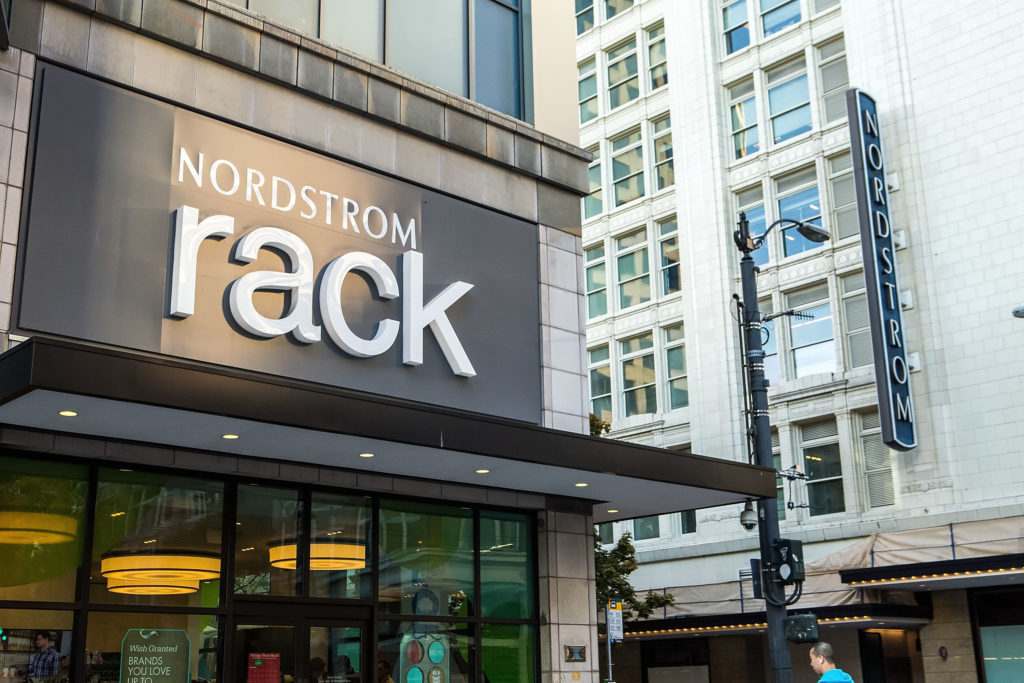 Lewis isn't the only person in the retail world to approach these off-price appendages with some skepticism. "Of course a 'poor man's' Saks, Macy's or Nordstrom will attract bargain hunters, but their purchases will be missing the added value 'experience' you should get at the mothership," adds renowned "retail futurist" Howard Saunders, who pens the retail blog 22and5.com.
"Worse, most of us know that an increasing number of the products are 'outlet only,' in a sense displaying the 'poor man' badge from day one, rather than the savvy 'loophole' one," he adds. "And with the transparency that social media brings to everything it touches, one has to ask how long this can last."
However, Greller of Hudson's Bay disagrees with these views and says that Saks OFF 5th shoppers rarely overlap with Saks Fifth Avenue ones. "The Saks OFF 5TH customer is focused on the thrill of the deal. Our off-price shoppers are looking for designer brands at a great value. They come to Saks OFF 5TH to find the latest trends while looking for that special deal they will tell their friends about.
Loeb believes that coexistence between the two models is ultimately symbiotic, which is one of the reasons why these off-price spinoffs are no longer limited to outlet malls. Indeed, they are now more likely to appear within walking distance of a regular store, much like the Bloomingdale's Outlet flagship that opened on Manhattan's Upper West Side (not far from the company's world-famous 59th Street flagship) in November 2015.
"In the case of Macy's, [Backstage] has added to the traffic in their stores. In the case of the Rack, Nordstrom feels that even if it is close to their main store that the sales have been enhanced for both locations. If there is more foot traffic in the area, more customers come and visit them," says Loeb.
Sandi Jaffe, a sales rep for the men's sportswear brand Tokyo Laundry, notes that the appeal or shunning of outlets – whether by end consumers or vendors – ultimately comes down to, like almost everything else in fashion and retail, perceived image. "Sometimes it's a positioning thing," she says. "It's a lot better to be in a Saks OFF 5th as opposed to Marshalls."
Perhaps. But try telling that to Wall Street!