HANES MAKES MAJOR DONATION OF UNDERWEAR AND SOCKS IN HONOR OF #GIVING TUESDAY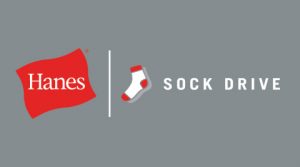 In honor of #GivingTuesday, which takes place on Tuesday, November 28, Hanes has donated 225,000 pairs of socks and 18,000 pairs of underwear to organizations fighting homelessness across the United States as part of its eighth national sock drive. Since the program began in 2009, the brand has provided more than 2 million pairs of socks to help people experiencing homelessness.
This year, Hanes is partnering with The Salvation Army, Delivering Good, Covenant House and nearly 30 other community-based relief programs to distribute the apparel to those in need. The initiative is part of Hanes for Good, the corporate responsibility program of Hanes' parent company, HanesBrands (NYSE:HBI).
"Most of us take new socks and underwear for granted, but we know these items bring great comfort to and make a dramatic difference in the lives of those experiencing homelessness," said Sidney Falken, chief branding officer, HanesBrands. "Access to something as basic as clean, dry socks can literally save lives within our country's homeless population."
In addition, in order to focus attention on the subject as part of the national sock drive, Hanes is collaborating with Invisible People, a nonprofit organization dedicated to changing the story of homelessness in the United States. Working together, the two companies provided smartphones to three people experiencing homelessness and asked them to document their personal stories during a 24-hour period.
Mary, a single mother, award-winning artist and college student; David, a widower with a Master of Fine Arts degree who is pursuing teaching opportunities; and Manda, the victim of a traumatic brain injury who now takes care of others in her tent have all committed to sharing a compelling, first-person account of what a "day in the life" of homelessness really entails.
"It may be surprising for many to learn that those who are homeless today were much like the rest of us not so long ago," said Mark Horvath, founder of Invisible People. "I never planned to live on the street, and neither does anyone else. It is only by getting up close and personal with the veterans, mothers, children, those impacted by job loss and others who have been forced to the streets by a variety of circumstances that we can truly understand the real challenges of homelessness, as well as possible solutions," he added. "And that's why our joint effort to educate the general public about this issue is so incredibly important solutions. And that's why our joint effort to educate the general public about this issue is so incredibly important."