IN CONVERSATION WITH RETAILER RICHARD DERWIN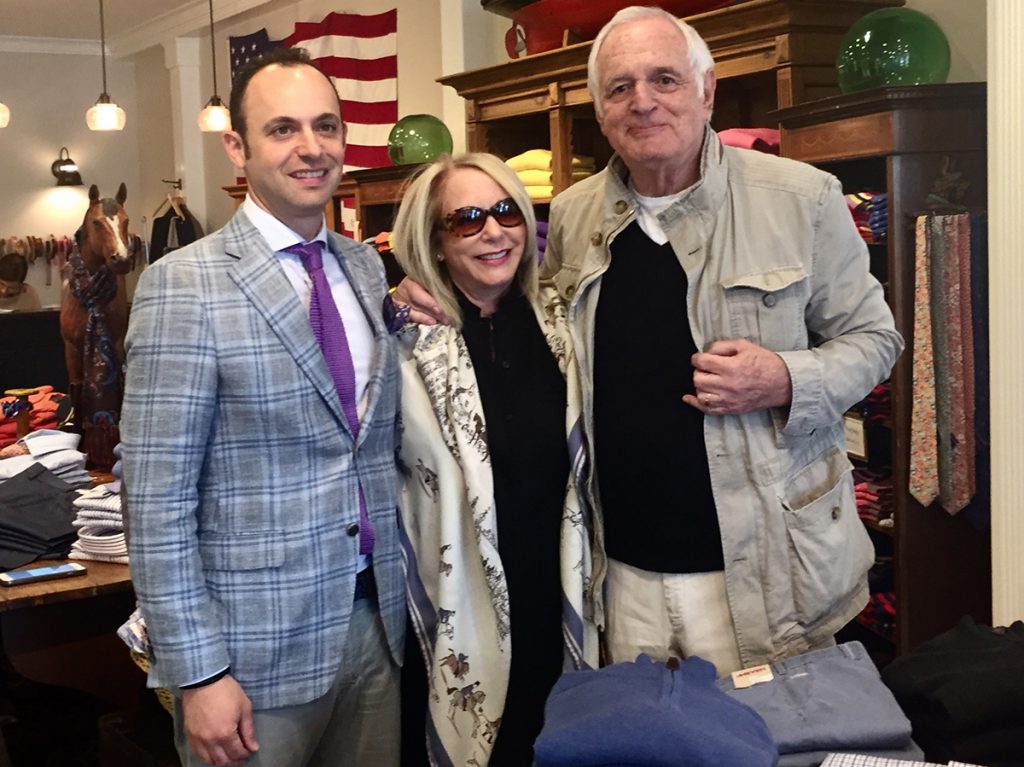 Back in the day, when retailers were merchants, there was a handsome charming young exec by the name of Richard (Dick) Derwin, famous for his upscale taste level, his ability to build relationships, and his rather outrageous personality. Today, Derwin directs merchandising for his two apparel specialty stores, R. Derwin Clothiers (one men's, one ladies) in beautiful Litchfield, Connecticut where he was one of the first "Jewish weekenders" in the 1970s. I was lucky enough to meet him last week, and hear some of his enchanting tales from the past, as well as talk about his continuing success.
Derwin's retail career started in the 1950s, when he worked at a college clothing shop while attending Syracuse University. When he graduated and went looking for a job in New York City, the first place he investigated was Bloomingdale's, hoping to work for their famous menswear GMM. But they offered him a position on the "fly squad" which didn't guarantee a specific department, so Derwin declined. Instead, he took a job selling space for a directory in Harlem. "I sold only full page ads," he boasts, "because the girl I was dating was the credit manager and she cleared everyone. I was the company's leading salesman until nobody paid their bills."
From there, Derwin headed west to Los Angeles and worked for a small independent chain of upscale menswear stores that wardrobed Hollywood film and TV stars. He was 25 and quickly became the top seller, ultimately buying into the business. His customers included Fred Astaire, Cary Grant, Robert Wagner, Rock Hudson, and the stories he tells about some of these celebrities are priceless.
To share just a few: When he was wardrobing the TV show It Takes a Thief, he worked with Fred Astaire (who was then in his 70s and playing the father of Wagner's character). "Astaire had more taste than I did, more than anyone ever, and we developed a friendship. He called me one day and wanted to take me out to lunch. So he pulls up in his Rolls Royce convertible and we go to Chasen's for a wonderful lunch. He told me I reminded him of him at my age (then 30-ish) and asked if there was anything he could do for me. All I could come up with was 'dancing lessons' and so he gave me one, right in the middle of this crowded restaurant. The whole place stood up and applauded."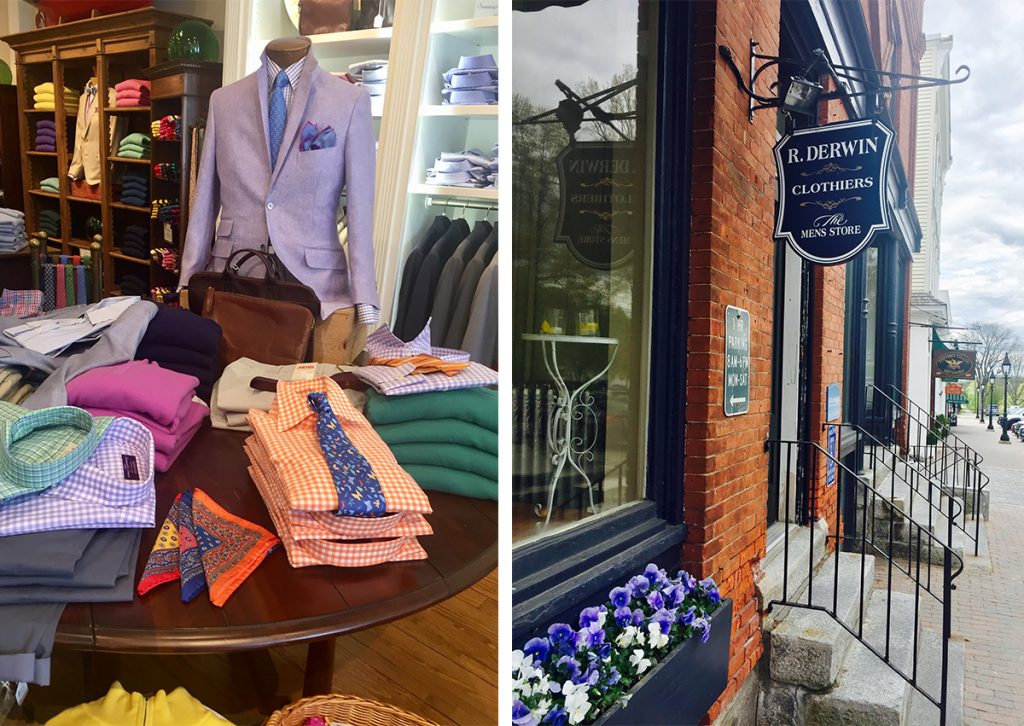 Years later, Derwin was shopping at Ralph Lauren's NYC townhouse and recognized a guy who'd been a customer a good 20 years previously: Robert Wagner. "He's looking at me and I could tell he was trying to place me. He was wearing a blue blazer with no pocket square so I reached down, grabbed a pocket square from the display table and put it in his pocket, saying  'Wagner, how many times do I have to tell you?'  Then he yelled 'Derwin!' and we hugged."
After his stint in LA, Derwin got offered a big job at Bloomingdale's, ironically replacing the menswear exec he'd always wanted to work for. His claim to fame was bringing Ralph Lauren into Bloomingdale's after Paul Stuart dropped the designer's ties because Ralph refused to do private label. "Ralph had come in to see the tie buyer, but I followed up with him about a week later and we connected due to our similar taste level," recalls Derwin. "So I told Marvin Traub that this is a really talented designer and he agreed that we should support him, even paying him in advance and all sorts of crazy things. It was the beginning of a new fashion era."
Another major Derwin move was with Lacoste. At one of his first meetings with the brand, he asked them why they did their famous polo in only four colors: he wanted them in 30 colors. They told him he was crazy but eventually agreed to it. The rest is history.
My favorite story from the Bloomingdale's era involves Cartier, a brand the store had been trying to get for ages, to no avail. "I thought it would be great to have a Cartier shop in the store but Cartier didn't do shops in stores. So I sat down with Marvin Traub, who suggested I meet with them in Paris. I made an advance appointment with the top New York guy and flew to Paris for a 10 a.m. appointment which did not go well: they simply weren't interested. But they invited me to stay for lunch and over a very elegant meal that included the CEO, I tried to convince them how great Bloomingdale's is and how much it would help their business to be there (all the while playing with the peas on my plate: I don't like peas and I was trying to hide them). Then after the meal, this guy comes around with cigars and offers to light mine with this giant Cartier lighter. I declined, pulled out my 98-cent Bic lighter and proceeded to light my cigar. Well the CEO just stared at me and burst out laughing, ultimately telling me that I got the deal. 'Anyone with that kind of balls, I'm happy to work with,' he declared."
Derwin could go on and on with these fabulous stories, including ones from his years at Federated Department Stores, living in Europe (Istanbul, London, Paris) and developing private label for all their stores, and his years running a few national specialty chains that sold young men's and junior apparel (a job he hated since his passion is luxury).
But now we bring the discussion into the present: specifically, to how he's managing to maintain a profitable boutique business in the Connecticut countryside. (His women's store is now expertly run by his wife Andrea, and his men's store by his talented son Jonathan.)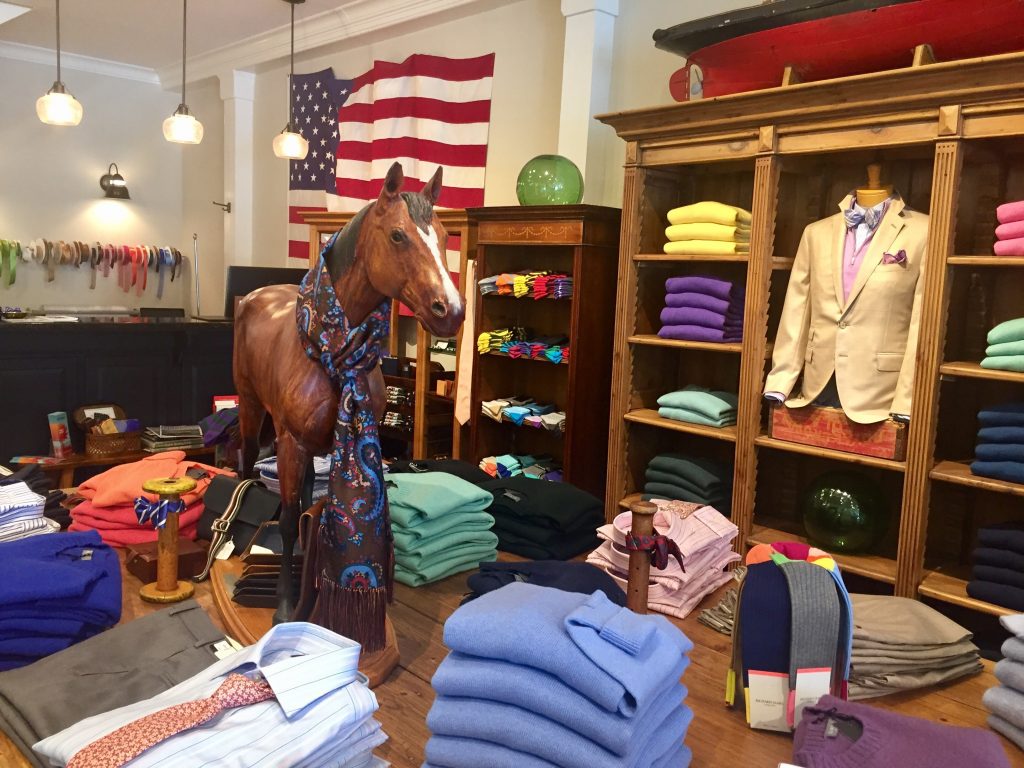 Among Derwin's success secrets: a strong focus on private label (that he, Andrea and Jonathan design with their mills and factories), made possible by his many decades of connections with the best sourcing in the world (particularly for cashmere). Cashmere is a good 25 percent of R. Derwin volume in both men's and women's, and while they offer some opening price out of China for promotional purposes, most of what they sells is luxury out of Scotland and Italy.
"We really pay attention to quality, which becomes more apparent after you've owned the item for a while," he notes. "Whereas Chinese knock-offs wear out and fall apart, our product lasts forever (although I'm not quite sure how smart that is.)"
Other success secrets include carefully curated assortments, broad color ranges and frequent store renovations. Currently, Derwin is moving his women's store so it's directly adjacent and connected to the men's store (each is 2,500 square feet) for maximum synergy.
"Still, business is at a crossroads," he confides. "There's no direction in women's and vendors are increasingly going direct to consumer. When Litchfield was first discovered by New Yorkers, everyone shopped and spent lots of money. But now that they've been here awhile, they've all become Yankees. Men shop annually or once every two years and then they've had enough. And we still haven't found the vehicle to appeal to millennials. We're not their style; we're not their way of buying. So that's now become our ultimate challenge."