ITALIAN STYLE SIZZLED IN DALLAS!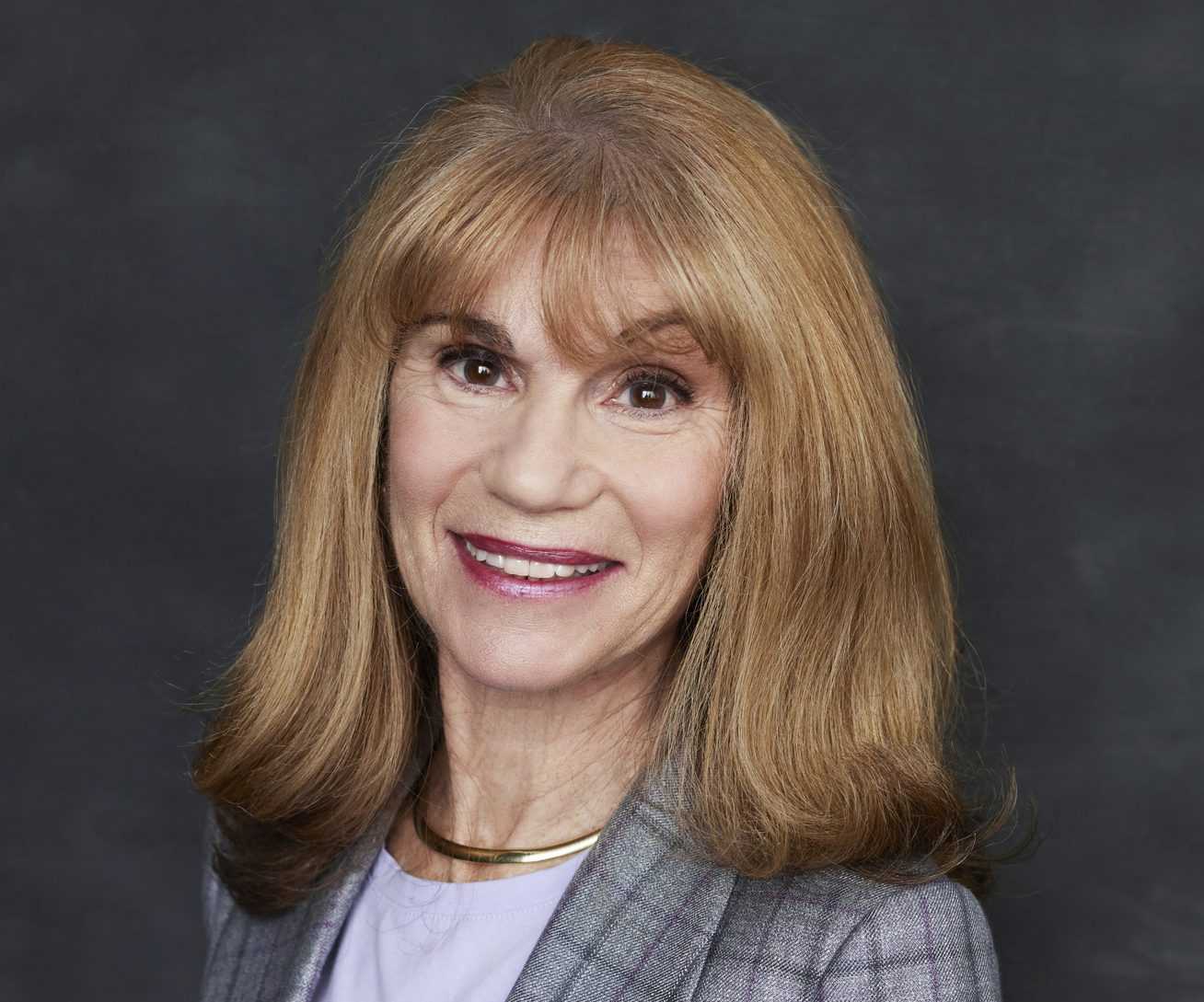 Inspiration and innovation were the themes of the unique and fabulous menswear collections that the Italian Trade Agency brought to the Dallas Market Center last week. And while 'Quiet Luxury' is what's touted throughout the menswear market these days, one can fall asleep when things get too quiet. Leave it to the Italians to add a flash of color, unexpected details, the perfect accessories (belt, bag, shoes, scarf, tie, lapel pin) and of course hand craftsmanship in the most luxurious fabrics imaginable. Here, just a few of our favorite offerings, many of which you can re-discover at the Chicago Collective, August 6, 7, and 8.
Piero Gabriele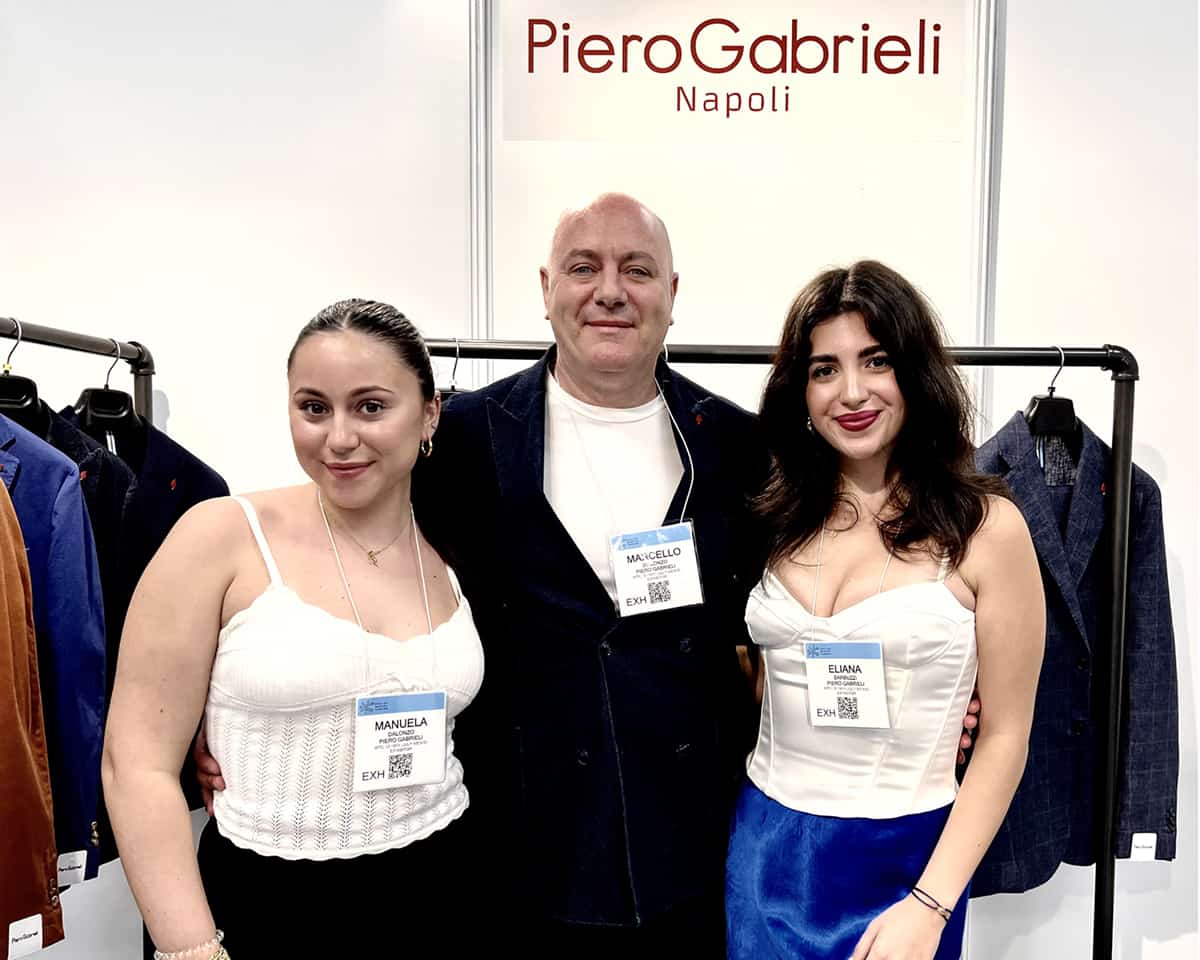 Representing this 50-year-old family business, Manuela, Eliana and Marcello showed exquisite cotton/linen shirts handcrafted in Napoli, also available in made-to-measure. Retails from $300-$400.
Artico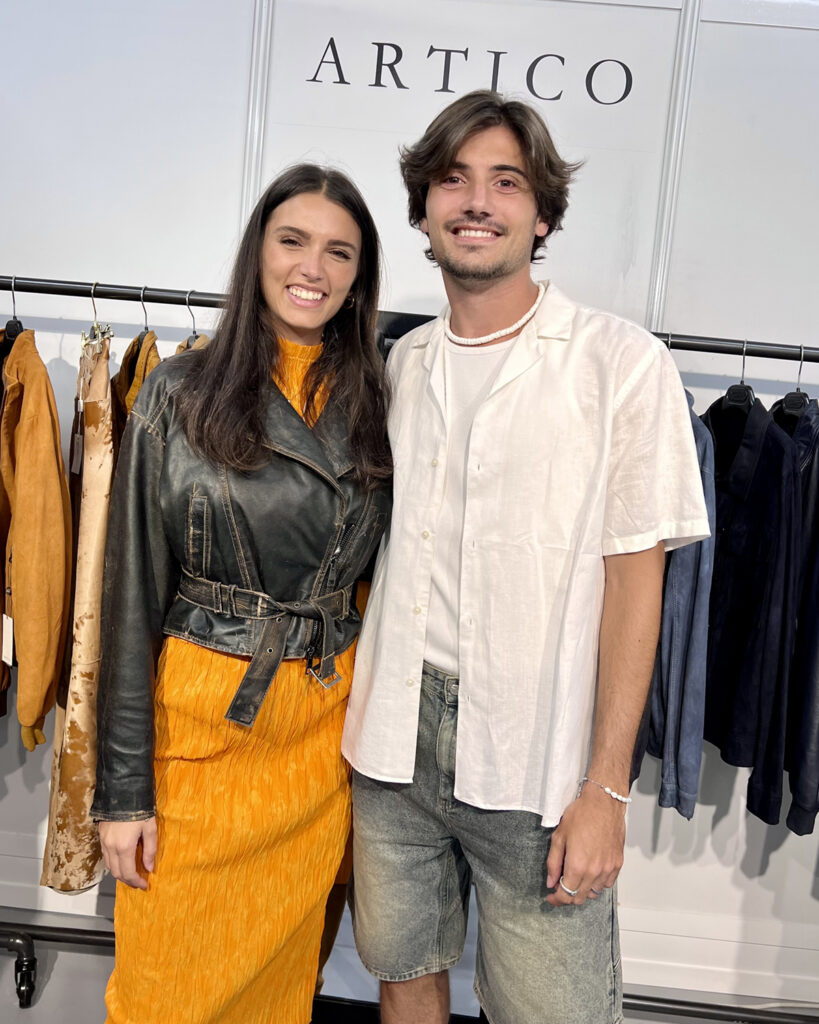 Valentina and Federico showed a show-shopping collection of fine leathers and suedes, ranging from the thinnest skins imaginable to hand-tooled designs that are true works of art. (These third-generation siblings noted that the business was founded in 1979 in Bologna by their grandmother, Elsa, who is 86 years old and still working!)
Alta Moda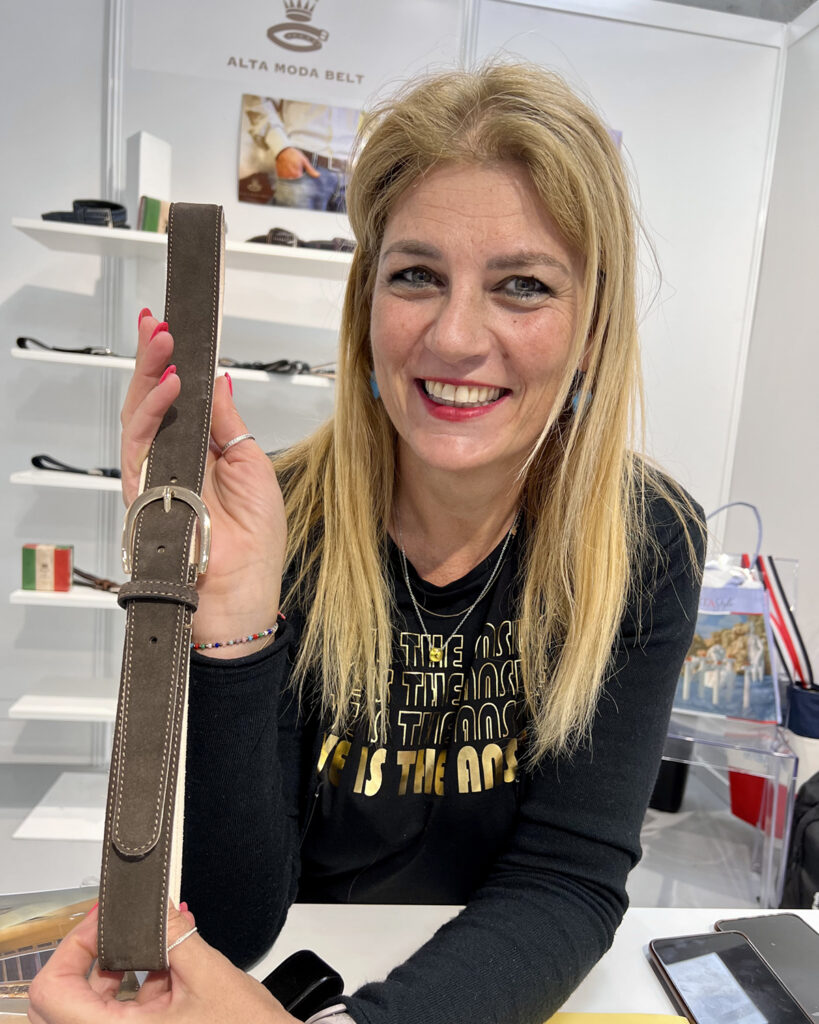 Stefania Pellicioli, export manager, explained that these handmade full-grain leather belts can be customized with special buckles, linings, details, etc. The business was founded in 1970 by Renato Giaconia and now includes his son Manuel. Beautiful product at salable prices.
Italo Ferretti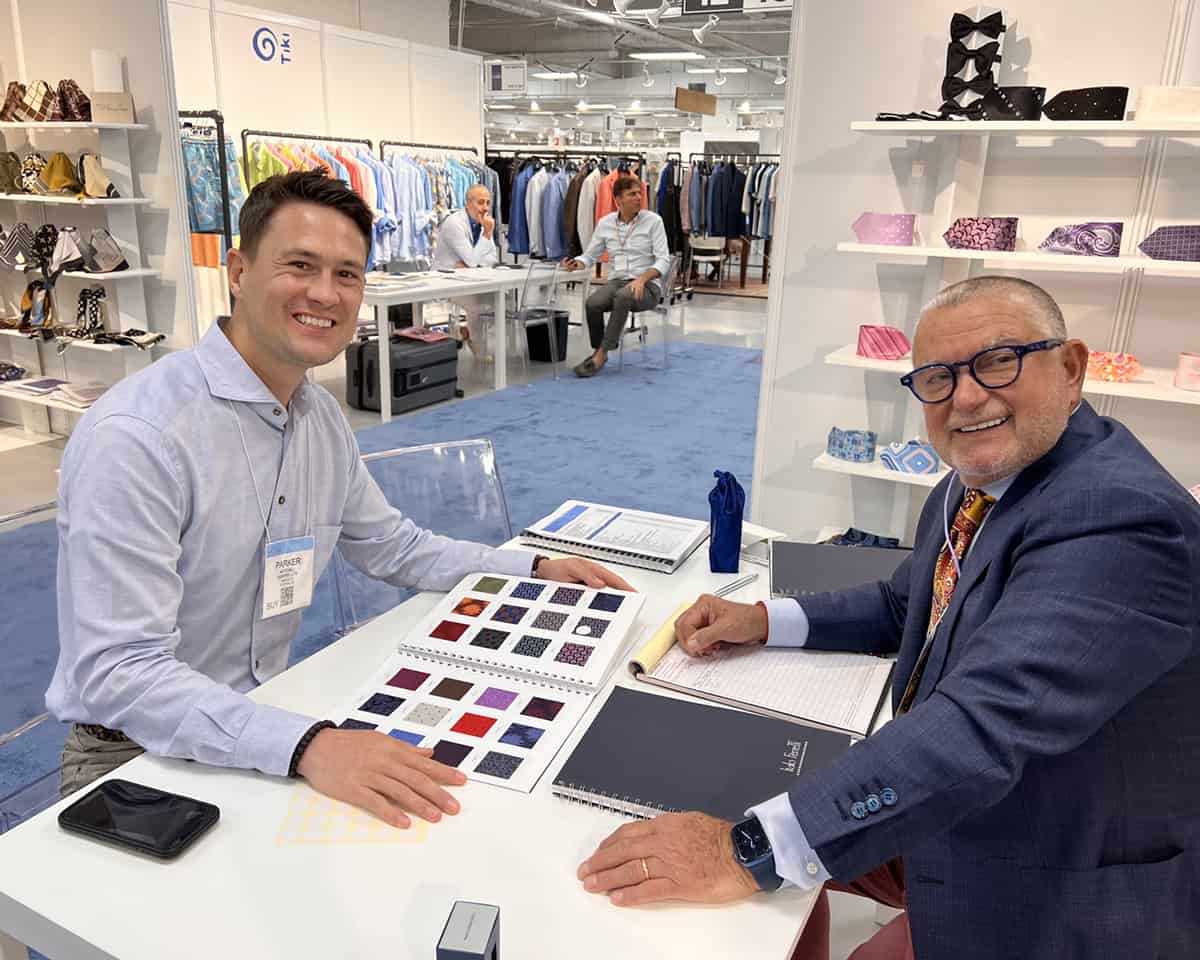 "There's no better neckwear than Italo Feretti," says retailer Parker Mitchell, who was working the line at the booth. "Tie business is steadily increasing; we position it front and center on a round table and customers gravitate to that table as soon as they enter the store."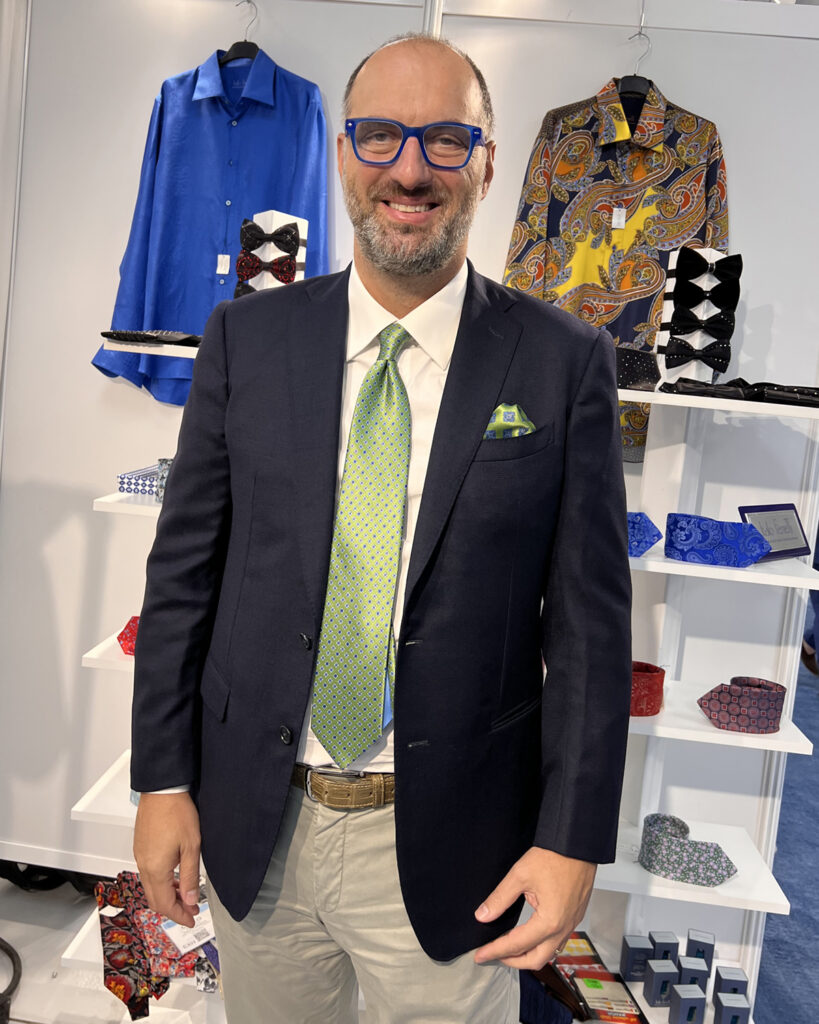 A master of Italian neckwear, Carlo Feretti believes in neckwear that makes a statement. Crystal studded ties and pocket squares sell well for formal occasions, vintage looks are also strong. Tie widths have settled at 8-8.5 centimeters. The company offers a fabulous gift box patterned in the same design as the tie, $425 suggested retail for the set. There's also a beautiful new fragrance in a striking bottle, $160.
Stefano Cau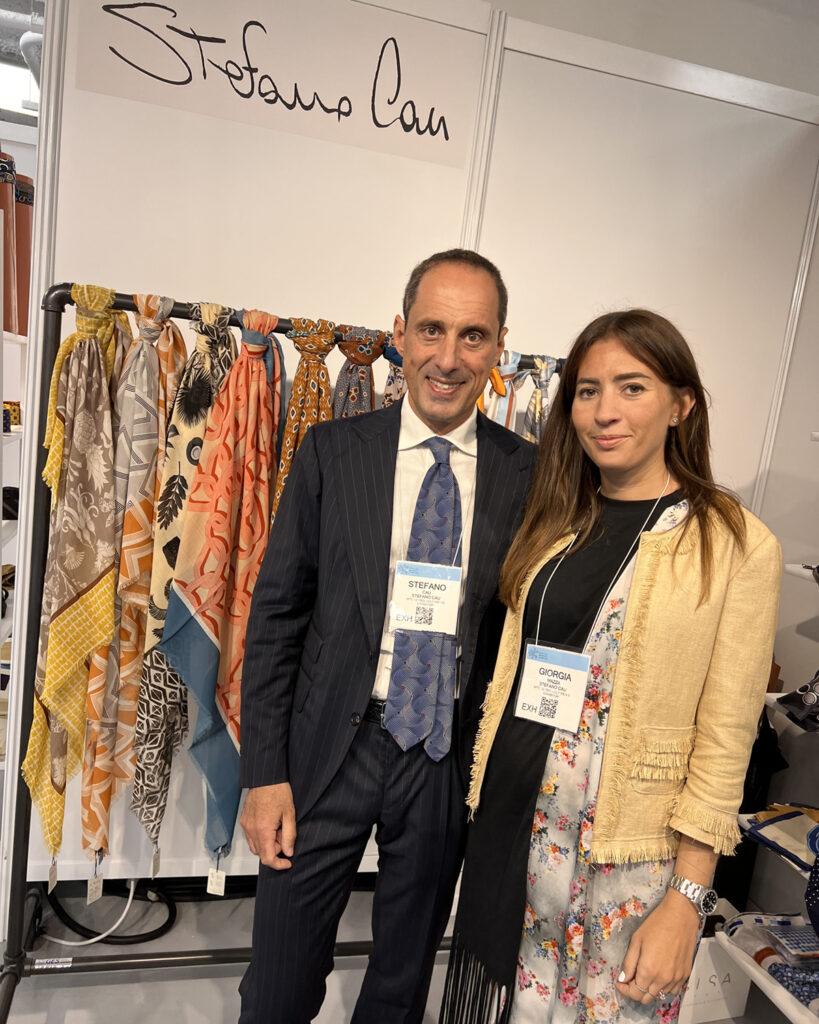 This talented designer, presenting with his wife/business partner Giorgiana Mazza, added a women's scarf collection to his offerings. The printed scarfs are exquisite, $80-$100 landed. Ties are 8 centimeters wide and include styles from classic to formal to vintage, and even a fabulous seven-fold.
Tiki Napoli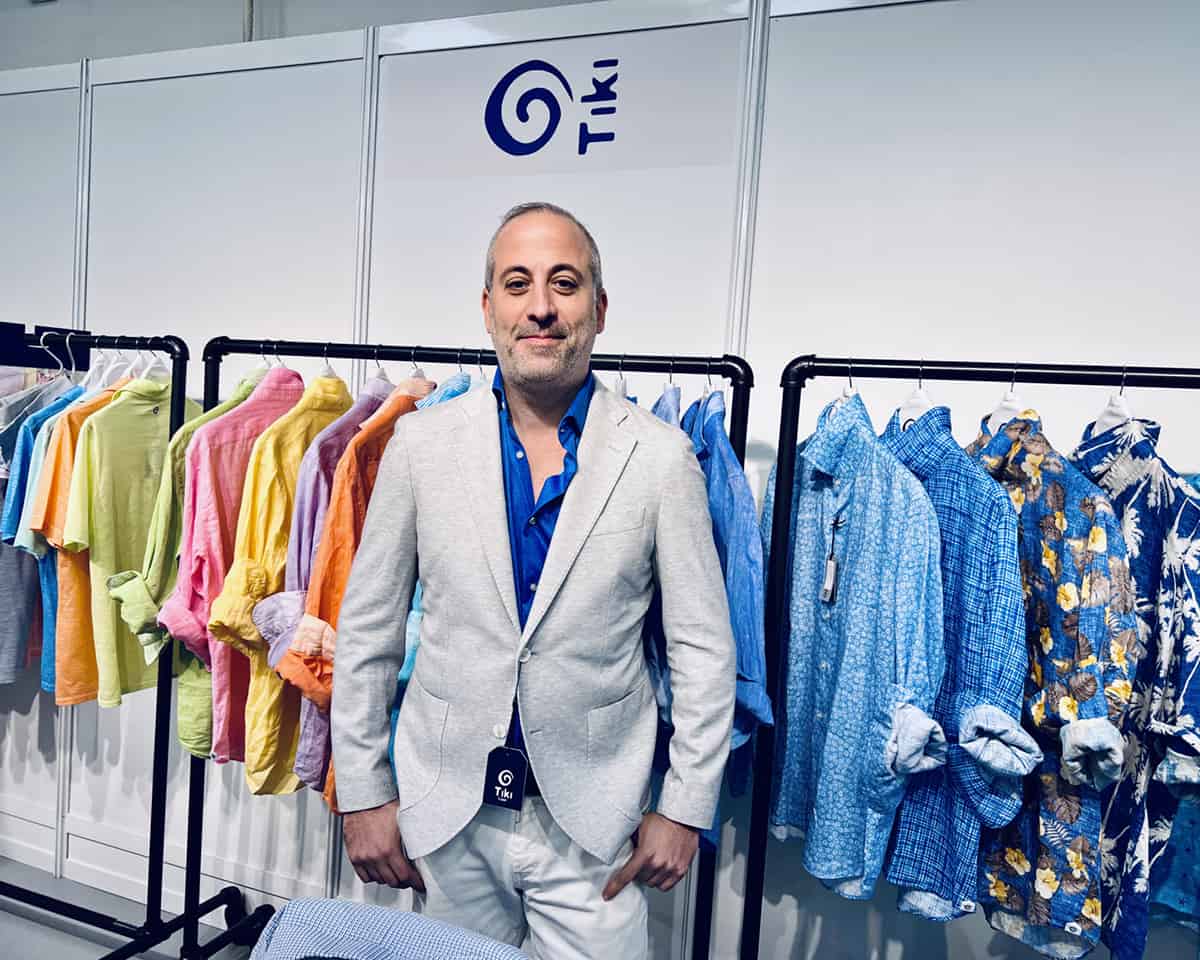 Famous for its swimwear, the company is moving toward a full sportswear collection including lightweight polos, cotton/linen tees, single pleat Bermuda shorts, terry polos, woven linen shirts (in 50 colors!), and sport coats made in Naples ($199 landed for suggested retails $495-$695). Giancarlo notes that the best-selling swimwear in the U.S. is a 5.5 inch inseam; they're not even offering the four-inch inseam here, although it's quite popular in Europe.
Pasotti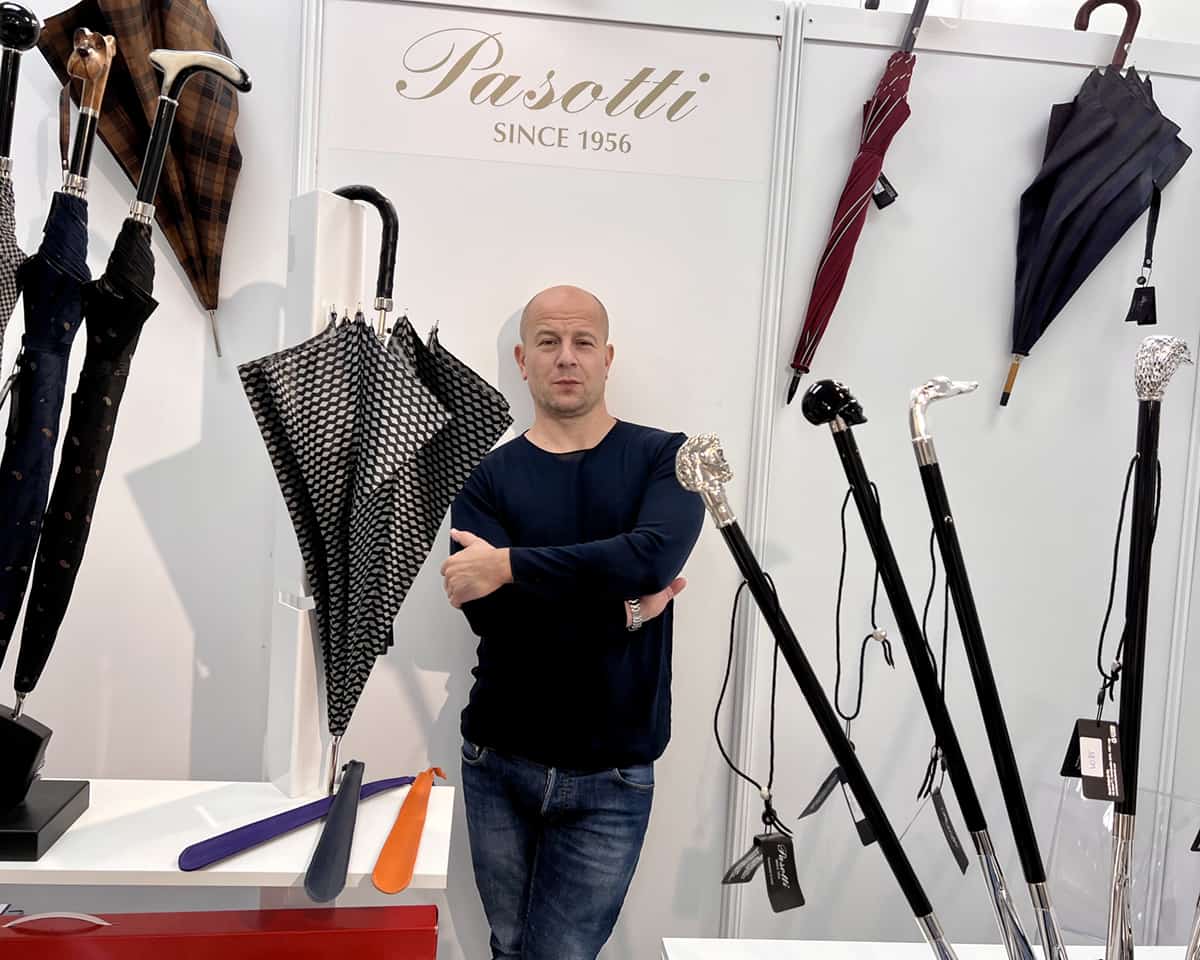 I love this collection and think all upscale stores should carry these handcrafted umbrellas and walking sticks: the perfect gift for the man who has everything! The company is 70 years old, founded as an umbrella company by Ernesta Pasotti after WWII. Nicola Begotti is Ernesta's grandson and carries on the collection as it expands to various art forms from rock star crystal-studded skulls to hand-carved wooden animals. Retail prices range from $200 to $500 and as Nicola puts it, "This might sound expensive for an umbrella but for art, it's a bargain!"
Bencivenga Alta Sartoria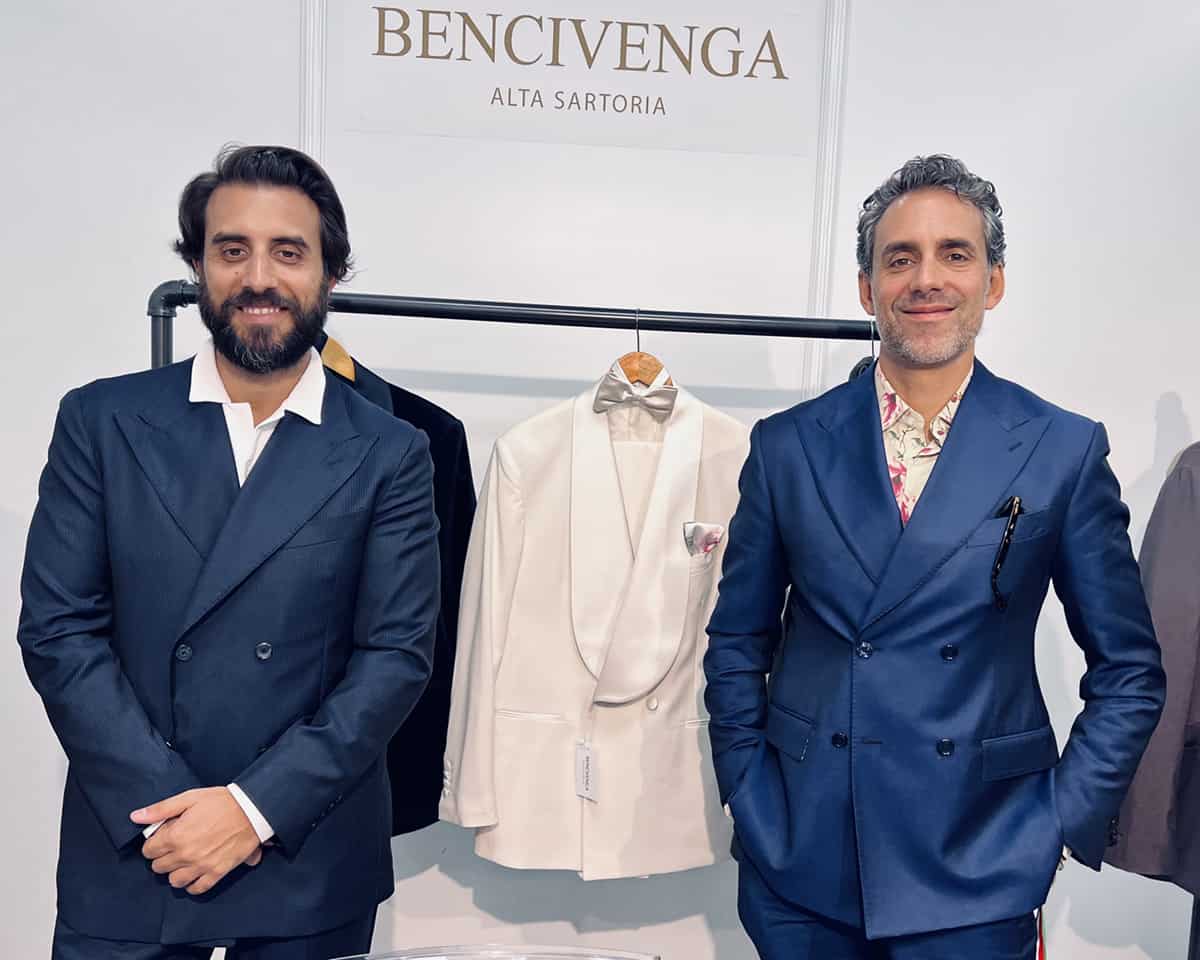 This fourth-generation family business, founded in Naples by Giuseppina (Giusie) Bencivenga, focuses on magnificent wedding attire. Best-selling men's styles this year, says grandson Oscar Bencivenga: a DB shawl collar lapel and a DB rounded peak lapel. The full MTM process generally requires two to three fittings. Everything (fabrics, linings, buttons, details) can be customized. The retail price for such luxury: 2500-3000 euros. Another component of the business is uniforms for luxury hotels and upscale restaurants.
Martorana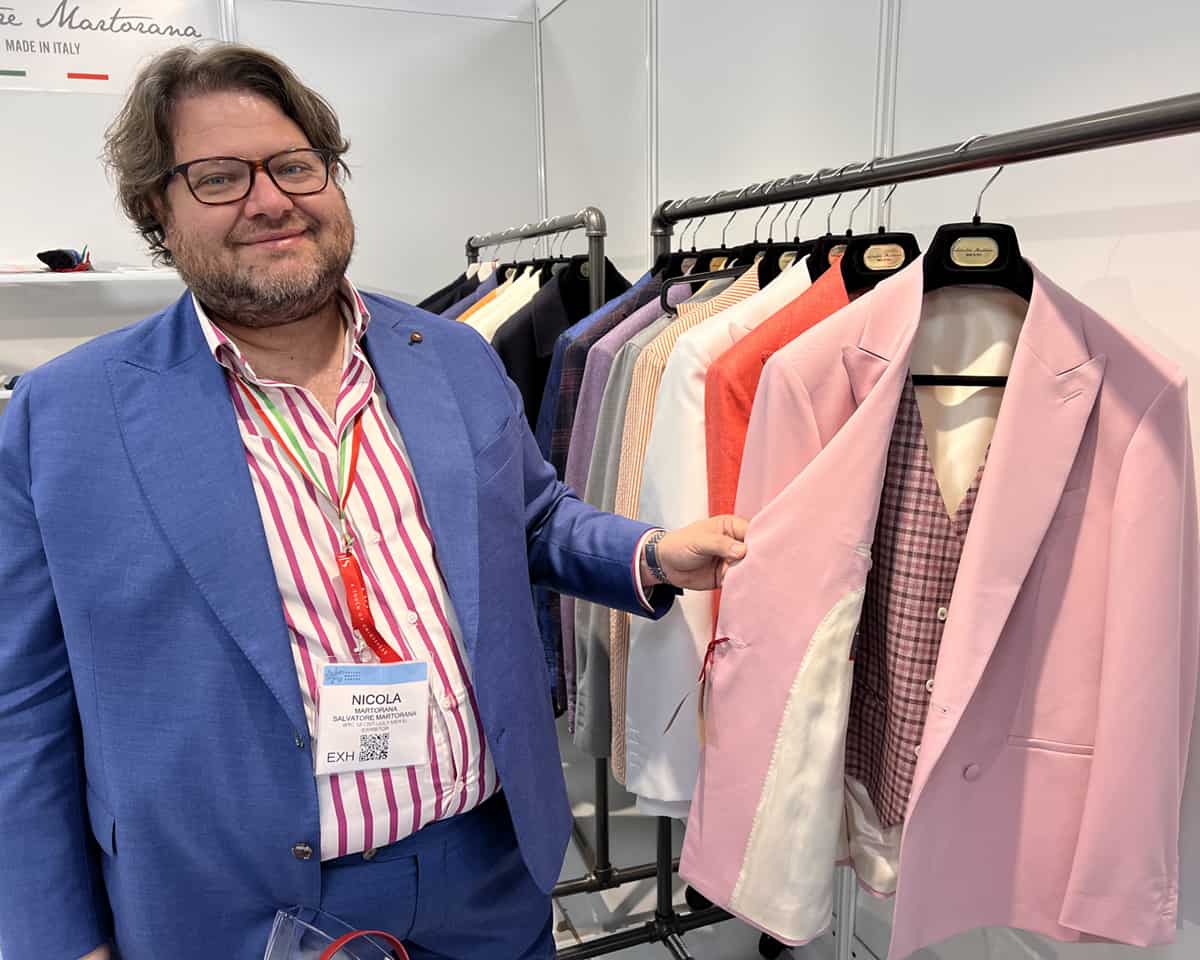 The finest fabrics and attention to detail go into the making of this exceptional tailored clothing collection. Nicola (son of company founder Salvatore Martorana) explains that much of the workmanship is inside the garment, created not for show but for the customer to know he's wearing the best. An insider secret: many of the special fabrics come double-faced from the mills; they are then split and refined by hand using a special technique. A full 18 meters of hand-sewing go into the making of a Martorana jacket. A special flower worn through a buttonhole is hand-embroidered by Nicola's mom Cettina.
Jo Ghost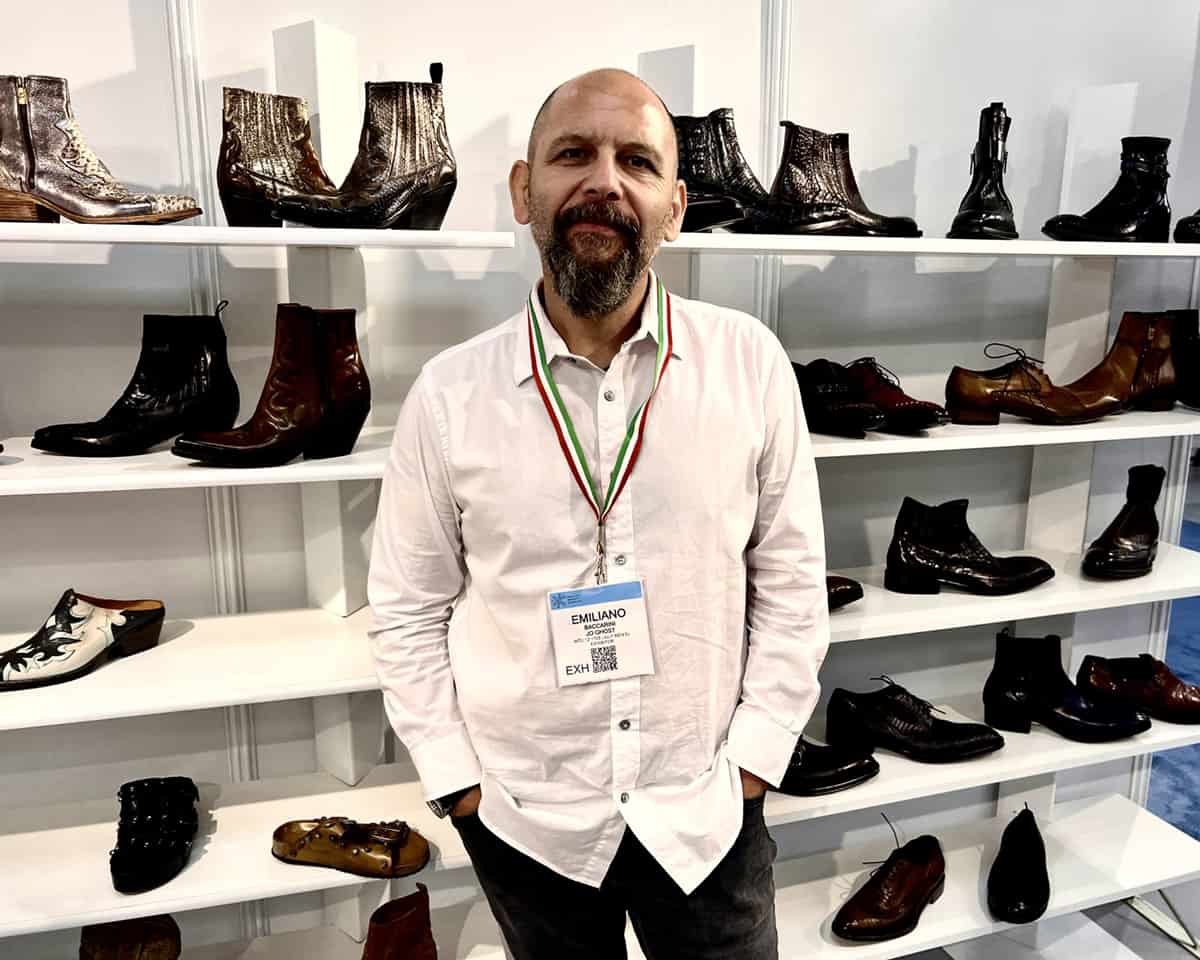 A rockstar collection of fabulous Italian-made footwear, this artisan company was founded in the 1960s and is well known for its use of mixed materials. Python and metallic, embossed croc, dip-dyed leathers, all sorts of cool combinations are available in boots, shoes and sandals. Retails are mostly in the $395-$695 range. Notes Emeliano, who is also a photographer, "This is a well-recognized brand for a specific customer." [Also top image]
Vitaliano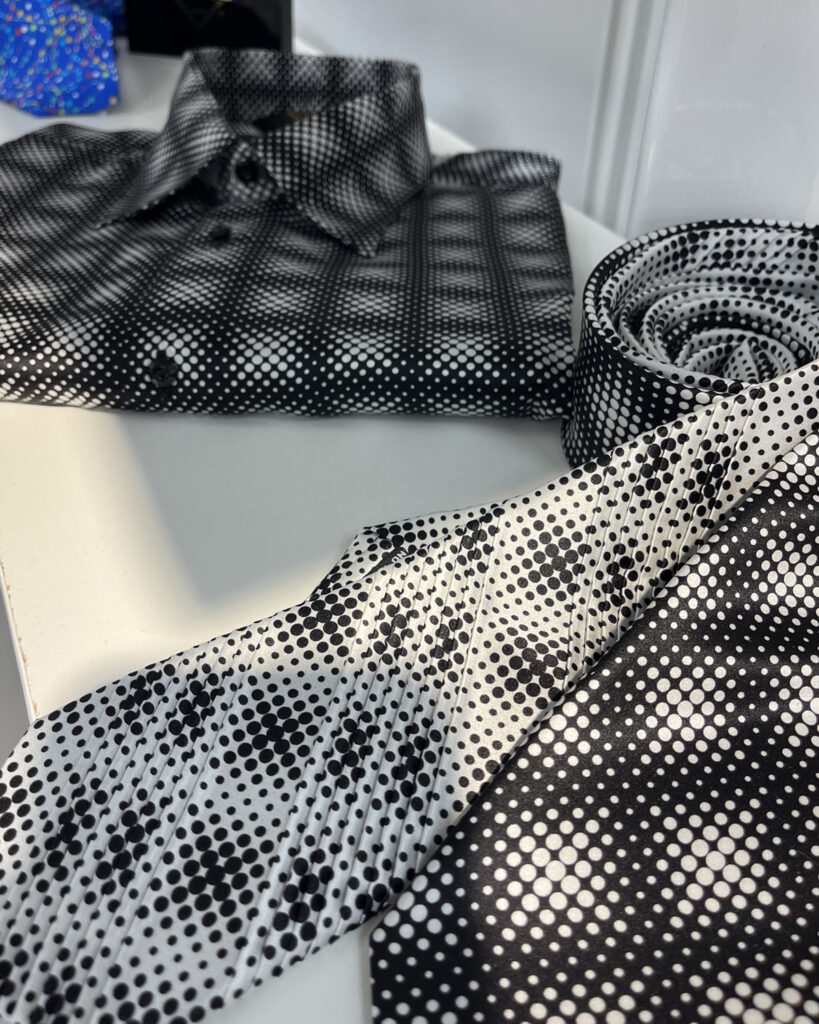 Ronn Harris reps this iconic Italian neckwear brand, founded in 1947. Ever the optimist, he views the current state of tie business as an opportunity, not an obligation, and one of the best ways for men to get compliments and/or moved up to first class. The brand is known for its brightly colored embroidered and pleated neckwear; the 12-color Limited Edition collection is priced at $220 cost.
DIS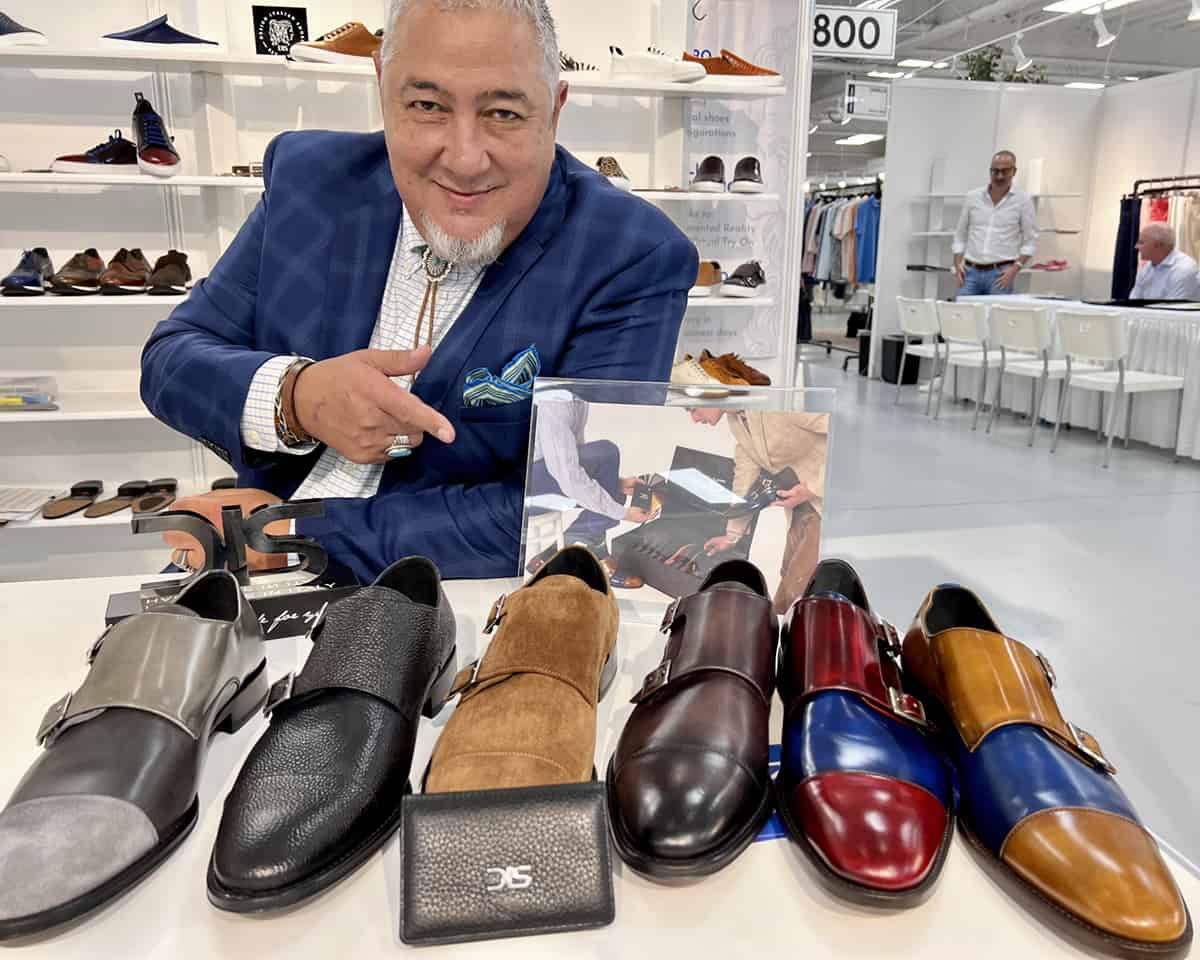 This innovative company, repped by Vince Gonzales, has discovered an easy way to combine handmade-in-Italy footwear with digital technology. All orders are sent directly to the factory via a digital platform. The site scans the foot, offers three different lasts, shows material, style and monogram options, makes recommendations, and delivers a luxuriously packaged finished product. So many beautiful shoes, zero inventory, made to order in 10 days!
Pashmere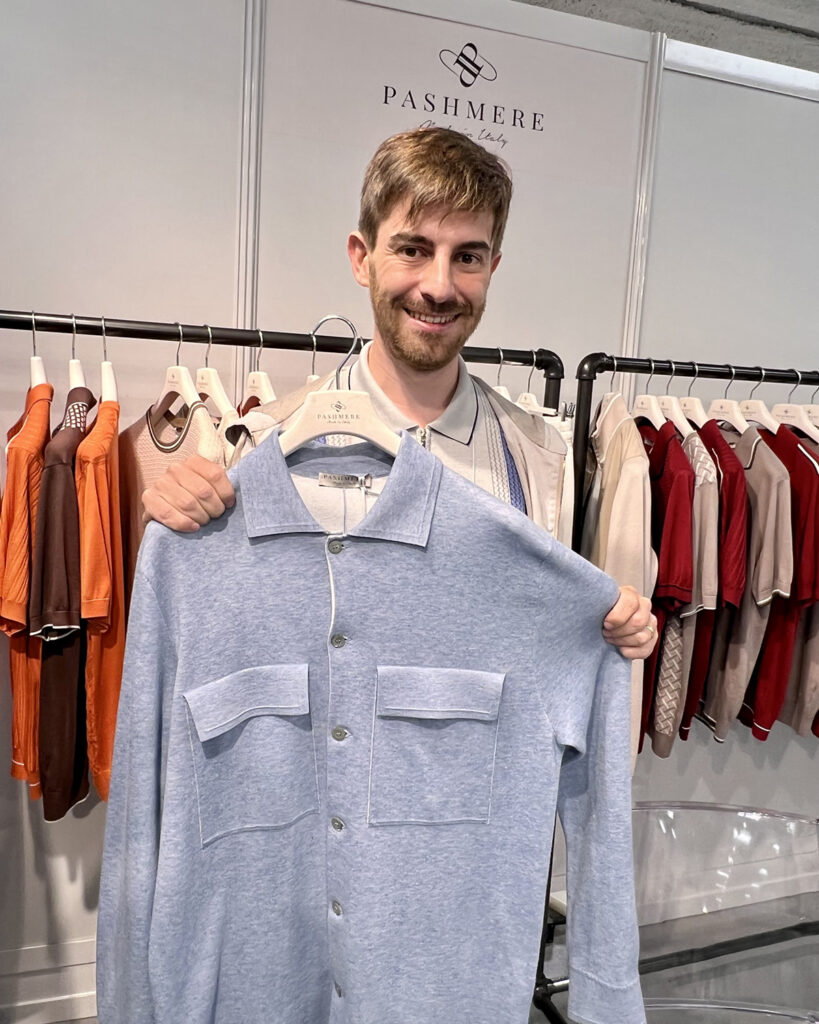 A vertical operation in the Umbria region, the Pashmere factory does everything from spinning the yarn to finishing the garments. The company was founded in 1965 by Carmelo and Mariuccia Galatioto; their grandson Emanuele explains the different materials used, from the finest cottons (Supima, Sea Island) to luxury blends (cotton/cashmere, cotton/silk). "Hot items include a jogging set, jacquard knit and printed knit cabana sets, knit overshirts, and more. We're for the luxury customer who wants exclusive looks."
Ploumanac'h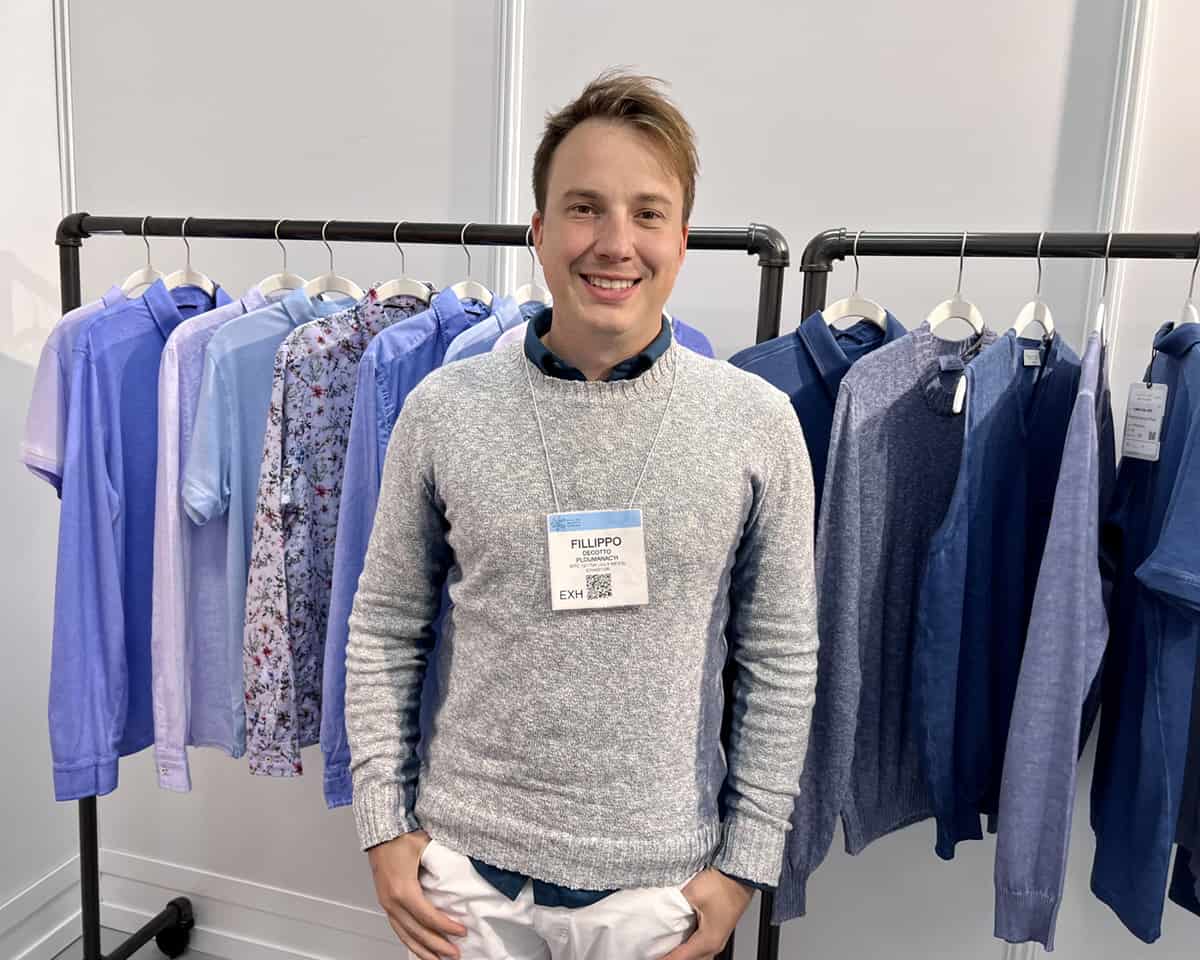 Filippo Decotto showed an amazing collection of knits, wovens, prints and solids, many using special pigment dying techniques that layer colors so not to fade. The company was founded by his parents, Rinaldo and Vittoria, and is now run by Filippo and his brother Nicola. Wholesale prices run from $60-$130. Very special stuff!