MY MEETING WITH SPENCER HAYS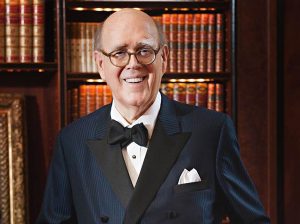 Last summer, while writing about the 100-year anniversary of Oxxford Clothing, 180 years of Holland & Sherry textiles and a half-century anniversary of Tom James for MR, I had the pleasure of visiting with Spencer Hays, menswear industry entrepreneur and leader of these iconic brands and others.
Hays founded Tom James 50 years ago because he couldn't get satisfactory service while shopping for suits; he purchased other companies because he felt he could take them to the next level. Known for turning salesmanship into an art form, for restoring jobs, for allowing his employees ownership in the business and for his truly generous spirit, Mr. Hays died suddenly earlier this month. I have not stopped thinking about him and our conversation.
"After I'm gone, Tom James will run as it always has," Hays predicted over a glass of wine at his beautiful, art-filled Park Avenue apartment. Looking elegant and spry, he was on his way to Paris with Marlene, his wife and soulmate of 60 years. "No one will miss a beat when I'm not around, because of our incredible people. My focus has always been on building people rather than businesses. How proud I am of our Tom James' management team; under their guidance, our volume has almost doubled in the past five years and each month for the past 16 has been record-setting."
He spoke of Tom James' profit-sharing program, the goal of which is to give employees a sense of self-worth and a retirement with dignity. "My people don't work for me; I work for them. They own the company and graciously allow me to own a piece of it with them. And they assign me things to do. Like meeting with you: that was my assignment."
Smiling warmly so I wouldn't be insulted about being his "assignment," he went on to tell me a bit about himself. He was born in Oklahoma, grew up in Texas, and was brought up by his amazing grandmother after his father left when Spencer was seven. (He ultimately established a foundation in his grandmother's name for hard-working people hit with disaster.) He grew up with no money. He always loved clothes. His recent passions, in order, were family, business, art. He took up art collecting because he didn't hunt, fish or play golf. His greatest joy: helping people accomplish their personal goals.
He shared some business insights: Most stores spend too much money on getting customers and too little on keeping them. As humans, we all fear failure; leaders need to teach their people how to deal with that. If retailers give their customers more than they charge, they'll win in the end. Women can do as well as men in the men's clothing business.
Hays also talked proudly about his clothing facility in Perth Amboy, New Jersey that produces top quality custom suits, the one in Ashland, Tennessee that makes beautiful custom shirts, and a new mill near Santiago, Chile that makes luxury fabrics for Holland & Sherry. "We bought Holland & Sherry 16 years ago, adapted their technology from Scotland and built a mill in a little town in Chile on the ocean (because you need moisture to produce amazing fabrics like their super 240s). We picked the location also because there was already a talented pool of craftsmen living there. (When we arrived, we learned that many of these Chilean workers had been in a band but they now had no instruments; we bought them instruments and enjoyed the most wonderful music that holiday season!)"
He smiled at that memory, his voice emanating joy and pride. RIP Spencer Hays: your legacy lives in the many hearts you touched over eight inspiring decades.