MENSWEAR DESIGNER WILLY CHAVARRIA AMONG U.S. SEMIFINALIST FOR 2018/19 INTERNATIONAL WOOLMARK PRIZE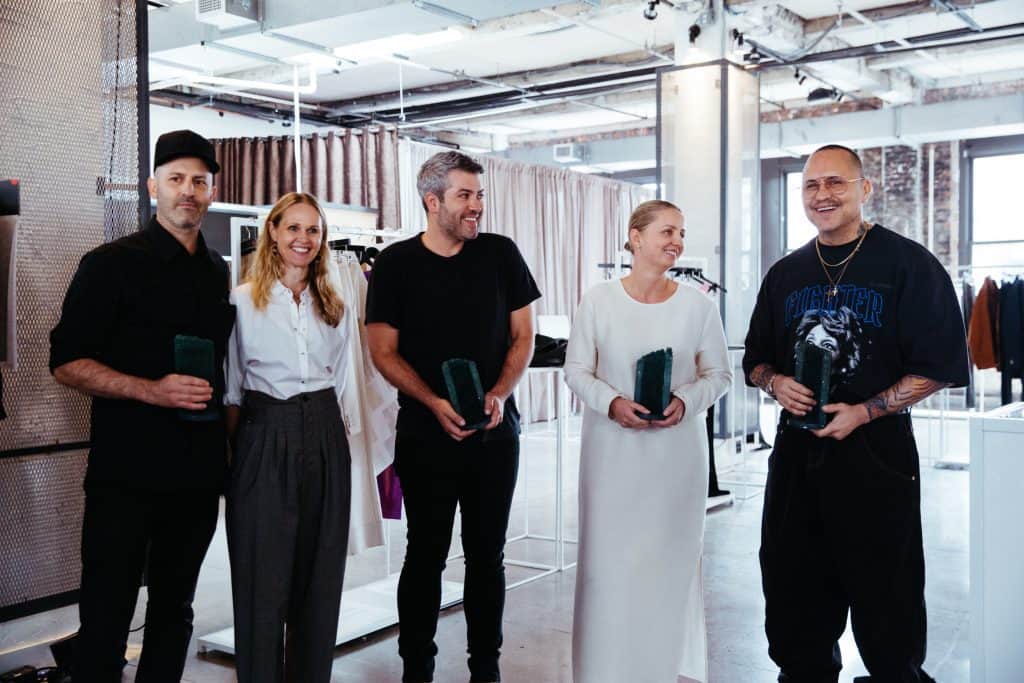 Albus Lumen from Australia, and Brandon Maxwell, Colovos and Willy Chavarria, all from the United States, were named as the winners of the 2018/19 International Woolmark Prize New York semi-final on Thursday.
Workwear and futurism were the guides in Willy Chavarria's most sustainable and technically advanced collection to date. By working with The Bear Scouts and the Suedwolle Group in Germany, the designer sourced the best sustainable yarns and suppliers to develop body map base layer garments for both athletic and leisure wear. "This collection is the story of the American experience," said Chavarria.
Optimistic and titled "Futurismo", the collection embraces both the traditional aspects of wool with innovation and its plush, comforting qualities. Bold silhouettes are surprisingly soft to the touch, and outerwear looks strong and powerful but feel nurturing with Merino wool lining. Styles combine American blue-collar workwear with the function of technical athletic apparel. "I see this as the present and the future" said Chavarria.
An oversized woven zip hoodie is worn with knitted pants made with body-mapping technology to combine and contrast comfort with space-age engineering, in fits that are more relaxed than typical sportswear. "I'm extremely honored to win this prize and excited to explore some things I had in mind, including exploring European production," added Chavarria. "I'm really happy to share this with my team."
With winners chosen from more than 300 applicants from some 46 countries, the prize highlights some of the most promising fashion design talent from across the globe. The New York semi-final winners will be among the 12 global finalists selected at three semi-final events held in July Hong Kong, London and New York, who will each receive a financial contribution of AU$70,000 (US$52,000) for the development of their business and capsule collection. The final 12 will compete in the prestigious global final to be held in London in February 2019. They will be mentored by a global panel of experts, be offered showcasing opportunities, and receive a Woolmark license, from one of the world's best-known textile quality fiber brands, providing a unique, global fiber quality assurance for their customers.
"Now in its seventh year the International Woolmark Prize has evolved into one of the biggest fashion awards of its caliber and so we have restructured the program to ensure our nominees and finalists receive the highest level of industry support and guidance," explained Stuart McCullough, managing director of The Woolmark Company. "The exceptional quality demonstrated by this year's designers not only reinforces the strength of the award but also proves Australian wool's relevance on the global stage. Wool's inherent benefits combined with its eco-credentials provide designers with countless possibilities and I am excited to see what innovative designs are showcased at the global final next year."
For the next seven months, each of the 12 global finalists will be required to develop a capsule collection of six looks in Merino wool, to be showcased at the grand final in London in February. At that extraordinary event, one menswear and one womenswear winner will receive a further AU$200,000, together with mentoring from industry experts to help propel their business to the next stage.