OBSTACLES AND OPPORTUNITIES IN TODAY'S TAILORED CLOTHING MARKET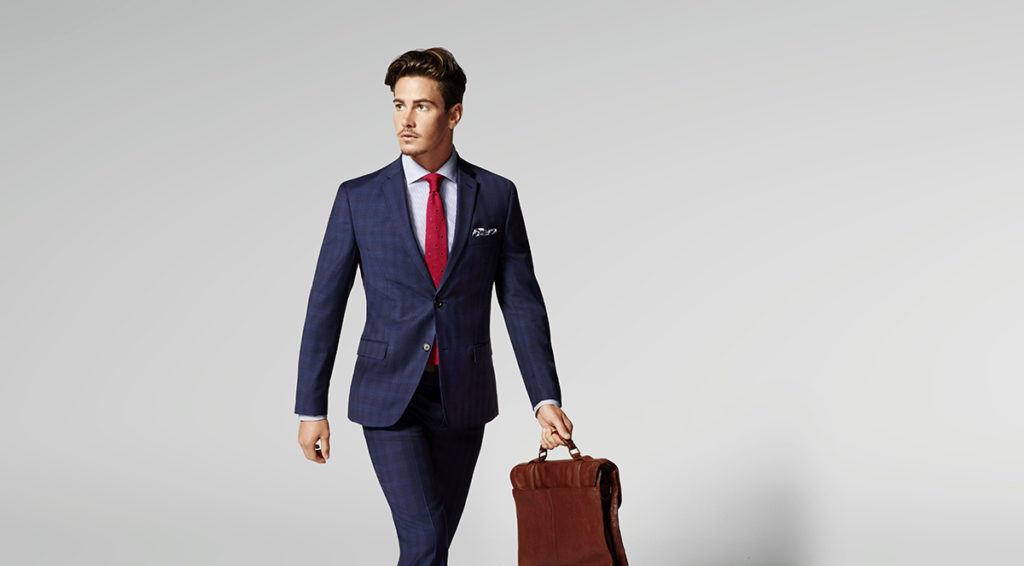 It's not "Business As Usual" in the tailored clothing industry these days. "Anyone who tells you that suit business is good is not being truthful," notes Dan Leppo, EVP/GMM at Bloomingdale's. "For us this year, each quarter has gotten better but it's still not where we need it to be."
"Conventional retailers panicked and are playing it close to the vest," sums up Ron Wurtzburger at Peerless, who owns a major share of the clothing business in moderate department stores. "Most cut inventory by about 10 percent and are planning to buy more if/when things pick up."
And according to industry analyst Steve Pruitt, who works closely with upscale stores and has a fairly good handle on recent clothing business, "tailored clothing has been trending down for about a year. For the period between January and August 2016, the category (suits, sportcoats, pants) was down 5 percent. August was down 13 percent and in September, more than half of my reporting stores had decreases."
Advertisement
Still, many remain optimistic. Although basic suits are no longer moving the needle, there is action in new fabrics, new colors, slimmer fits (still!) and customization. According to most retailers, guys who buy suits these days want something truly special. This could mean travel suits in light, sexy performance fabrics, beautifully patterned soft sportcoats, special linings and details, or perfect fit. And in what could ultimately be good news for some merchants, a lingering downturn in sales is resulting in a re-engineering of the business model, and a period of experimentation until they figure out what works.
Anxiety and Opportunity
At the moderate department store level, business is best where stores have pushed the boundaries on fashion. Says one major department store merchant, "Taking a strong position on color themes or pattern stories and changing up the message each season is the way to go. In other words, clothing should be handled more like sportswear." Another merchant notes that, counter-intuitively, tailored clothing is performing well online. "We're adding more digital marketing to drive online sales. We're using available data to understand what our millennial customer is purchasing and adjusting our brand assortments accordingly. The next step is to change our marketing to reflect the new assortments."
At Doneger, Patty Leto and Allison Levy say that tailored clothing has been a menswear bright spot. Suit separates especially are trending well, with most success coming from elevated fabrics, especially performance. The greatest challenge, says Levy, is that with the stores' big EDI programs that are paying the rent, it's hard to get the fashion penetration up to where it should be. "There's also much white space in sportcoats, and opportunity still in slim-fit and made-to-measure."
Advertisement
Retail Game Changers
In the opinion of most, the company that's clearly revolutionizing the tailored clothing business is Suitsupply. In just a few short years in the United States, they've created a whole new direct-sell business model, and an energy that competitors dream of duplicating. Says Suitsupply VP Nish de Gruiter, "I think our approach is just a bit younger and fresher although our demographic is actually quite broad. We now have 23 stores in the States (not counting three shop-in-shops), and we're opening this week in Greenwich, followed by Austin, Tysons Corner, Woodlands(Houston), Miami Brickell and King of Prussia. Internationally, we have 76 stores and we're opening Hong Kong, Dubai, Mexico City, Montreal and more."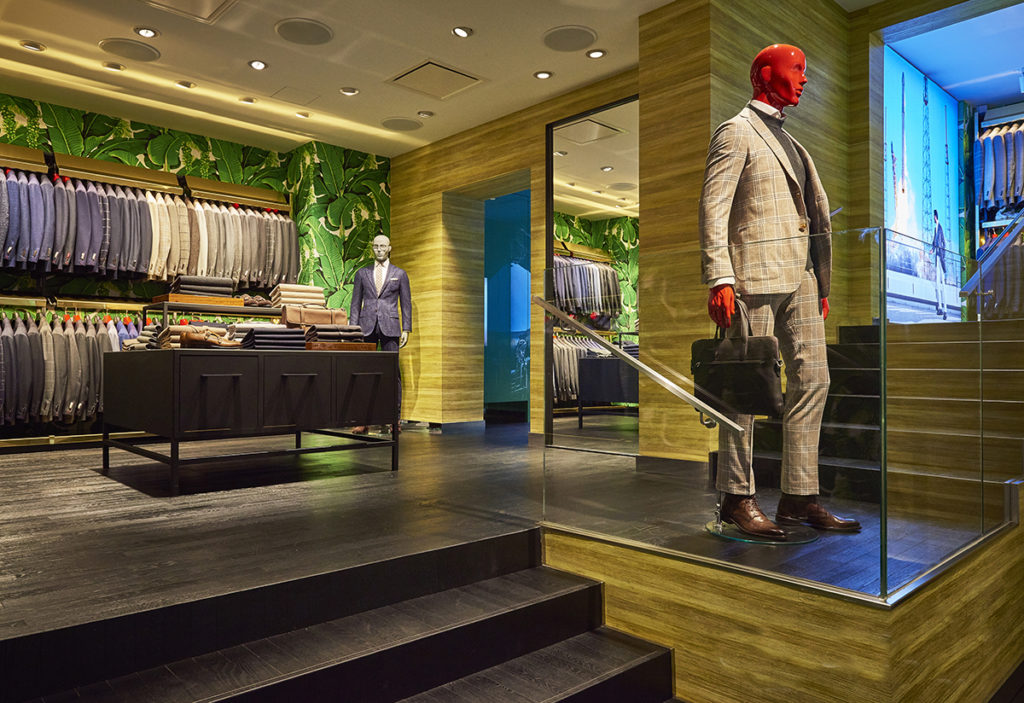 Asked for success secrets, de Gruiter is surprisingly candid, talking about the product itself (fabrics, details, tremendous value at $500 to $1,000), the instant gratification factor (tailoring is performed right on the selling floor while you wait), and their knowledgeable, enthusiastic, stylish sellers. They've also initiated a subscription service called "the box office" that de Gruiter predicts will be greatly successful.
The other clothing retailer that's creating much buzz is Men's Wearhouse, now with 715 stores (725 next year). Among their innovations is a recent entry into the MTM business. "The young customer wants to personalize both how he shops and how he looks," says Scott Norris, brand president of Men's Wearhouse, a division of Tailored Brands, Inc. "For $395, he can pick and choose his fabric, his model, his details, and get fitted by a master tailor. Wait time is about four weeks but we're working on cutting it down. This business is growing quickly: into our second year, sales have tripled, and it's a new part of our media spend."
The other success story at Men's Wearhouse is Joseph Abboud clothing, now in its third year, generating 25 percent to total and growing. Off the rack suits are $695 retail for a canvas make, the best Italian piece goods, and USA production. The MTM component is $795 and going strong.
"There's a lot of excitement in clothing now," says Norris. "It represents over 60 percent of our sales and if you listen in to our conference calls, our business is pretty solid. Slim fit has grown to almost half the business, the new blue suit trend continues, performance technology offers huge opportunity, as do sportcoats (we sell three suits for each sportcoat) and bolder patterns. With a business model that's one third national brands and two thirds exclusive brands, we feel very confident moving forward."
Advertisement
At Bloomingdale's, Leppo describes his clothing business as "bifurcated. Our luxury business (e.g. Armani, Canali @$1895) is relatively decent meaning better than total tailored. Our opening pricepoints are doing fine: we've brought in Suitsupply, and will be bringing Combatant Gentlemen into our mix soon. But whether it's suits as investment or suits as fashion, core product isn't what's ringing the register. If they're going to spend money for a suit, it leans toward dandy." That said, Leppo explains that Bloomindale's is making some bold moves, including an investment in fitting rooms with call buttons so that the user can get help when needed. (It's now in a pilot program in the Short Hills store).
According to Tom Ott, SVP/GMM of Men's at Saks, two zones are performing best: trim-fit suits and luxury made-to-measure using beautiful top-end goods. "The challenge is to get our bankers, lawyers and architects excited about suits again, and to communicate to young managers that you get a lot more respect when you show up for meetings in a suit. I'm the oddity at Saks in that I wear tailored clothing every day. But I get tons of compliments and I truly believe it gives me a professional edge."
Optimistic about clothing going forward, Ott predicts suits will be on the runways come January. He's also excited about the tremendous innovation in woven fabrics: the color and clarity, the new blues and sharp greys and decos. And a whole new world of performance fabrics.
"In terms of model innovation, I'm excited about the new DB's. I just bought one for myself after 10 years of not wearing them and the styling is very hip, cool, fresh. So the challenge is now marketing- how to communicate this newness."
Another challenge, says Ott, is educating and training sellers. "Effective sales associates are what separates in-store from online. We've always met with our top sellers for a week-long training session every year; we've just upped that to every six months; that means week-long sessions for 800 associates twice a year."
Finally, Ott talks about Saks' new private label MTM program that offers more fashion and tremendous value at $795 to $1595. Open to new business models, Saks is taking more of a direct-sell approach to this new business.
Advertisement
Specialty Store Perspective: Precarious
While independent specialty stores have historically had a service advantage (department stores might meet with their sellers annually, independents do so weekly, some daily), recent business has been tough. Says Pruitt, "From a fashion perspective, there's no trend out there, so there have been no voids for men to fill. Flatfront pants, slim suits, softcoats—they've been around for a while. So most guys live off what's in their closets. Fortunately, after a while, wardrobes start to age and guys need to replenish. I believe we're at the end of a down cycle that should start up-trending next fall."
Howard Vogt from Rodes in Louisville, whose clothing business is one third made-to-measure, believes the key to stronger sales is offering unique product. "Our better luxe business is selling well, i.e. made-to-measure and interesting sportcoats from brands like Isaia. If a guy's spending a lot of money, he wants something exceptional. So early in our fall season, our special items sold out, but little else was moving."
Mario Bisio, with stores in Seattle and Portland, agrees. "For basics, customers can go down market. They come to us for unique items like Boglioli sportcoats. But the big change for us is a focus on younger customers, since baby boomers no longer need suits. We've recently added MTM suits at under $1000, and a lot at $1300-$1400: full-canvas garments with customized details and fancy linings. We now sell more suits to younger customers than to Baby Boomers." Bisio also points out that a focus on MTM allows stores to shrink inventory, thereby dramatically improving sell-through and turn. "And once you get the customer into a MTM suit, you own him!"
Kent Gushner at Boyds Philadelphia says he was behind the curve in made-to-measure, which is now growing nicely. In general, Boyds' tailored business (at 57 percent to total men's) has been flat this year. "But after a few good seasons, flat's not bad. There's no question, however, that there's a softening in the super-luxury segment ($2,500 and up). And there's increased activity in interesting clothing for millennials: slimmer, younger, less dressy, brands like Strong Suit and Blujacket."
Advertisement
For Boyds, the heart and soul of the business is solid brands like Trussini and Samuelsohn, at retails from $1,100 to $1,300. According to Gushner, slim fits still prevail but the real excitement is interesting patterns and colors. Although he shows some DBs and vested suits, there's been little action in either.
"For us, the big investment in our future is our major renovation: we're re-building the entire store! I sometimes worry about the apathy and negativity I sense from independent store owners these days," he says. But I now have a son in the business, so I will keep thinking positively."
---
Top 13 Tips for Tailored Clothing Merchants in a Down Market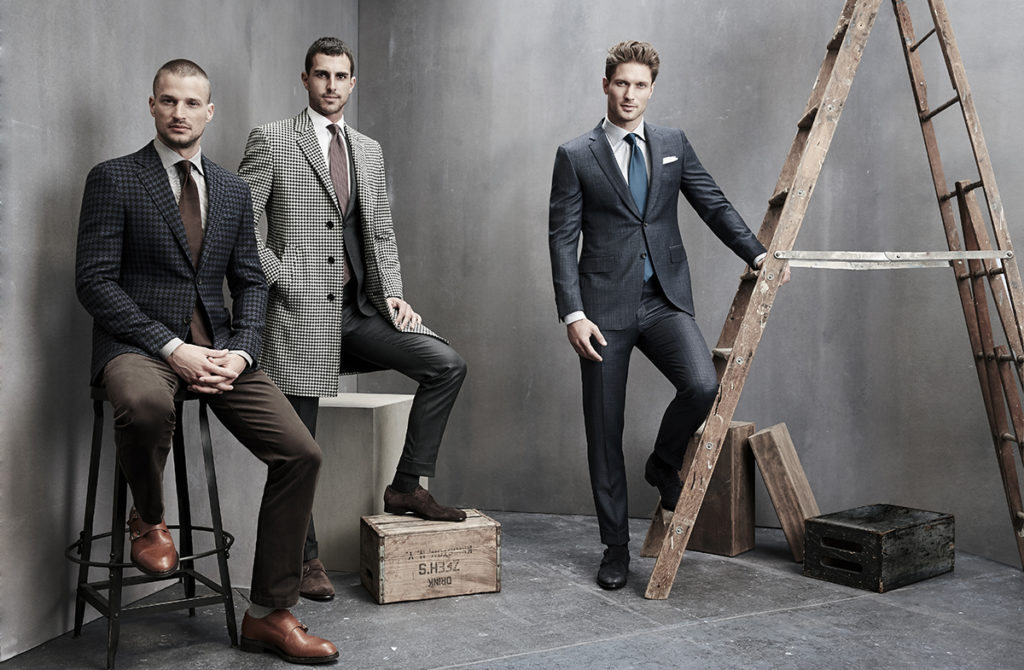 1) Buy tighter. Follow trends closely.
2) Throw away the rule book on occasion. Or more often.
3) Be more promotional than you want to be.
4) Take top customers to a fabulous dinner that's purely social, no selling.
5) Be more creative with trunk shows, e.g. partner with a local gym and show models cycling in performance suits.
6) Invest in recruiting, training and compensating the right sales associates who have a passion for both people and product.
7) Bring in new vendors, even if it means dropping some old tired brands.
8) Improve your ratio of fashion to basics. (Use in-stock programs for basics.)
9) Find ways to communicate more often with your customers. Use social media!
10) Dress well (and make sure your sellers are dressed in current season styles!)
12) Enhance the in-store experience via upgraded visuals, improved (digitalized) fitting rooms, better service.
13) Stay optimistic. As Tom Ott from Saks puts it, "We've been through numerous predictions that the suit is dead but somehow, it keeps coming back."