MR. SID CELEBRATES 50 YEARS OF SERVING THE BOSTON AREA
Mr. Sid co-owners and brothers, Stuart and Barry Segel will celebrate 50 years in business tomorrow night, October 7, at a special celebration at their Newton, Massachusetts store. The brothers will be taking full advantage of this milestone by taking over part of Pelham Street and inviting their top shoppers and loyal customers to the black tie event.
What started as their father Ira's tuxedo and suit rental store, remains a men's retail store in its original Centre Street location in the heart of Newton Centre. Stuart and Barry evolved Mr. Sid to be a niche store within the luxury men's clothing industry; it's also a wine bar, barber shop and event space. "Along with the store, I'm also turning 50," Stuart told MR. "My father opened the store on the same exact day I was born, September 25, 1967. I believe it's important to celebrate the impact that Mr. Sid has had on the community, as well as thank all of the people that helped us get to where we are today. We have cemented ourselves into this community, and this helps us usher in the next chapter of the business."
It is no secret that managing a family-owned business is hard work, but with the motivation to keep their grandfather's (who started the family tuxedo business in Quincy, Massachusetts) legacy alive, Stuart and Barry continue to grow the Mr. Sid business within the Commonwealth. The 10,000-square-foot store offers a unique selection of the finest luxury brands in suits, shoes, casual wear and accessories. With a team of knowledgeable sales consultants and in-house tailors, the Mr. Sid team ensures each customer looks and feels their best.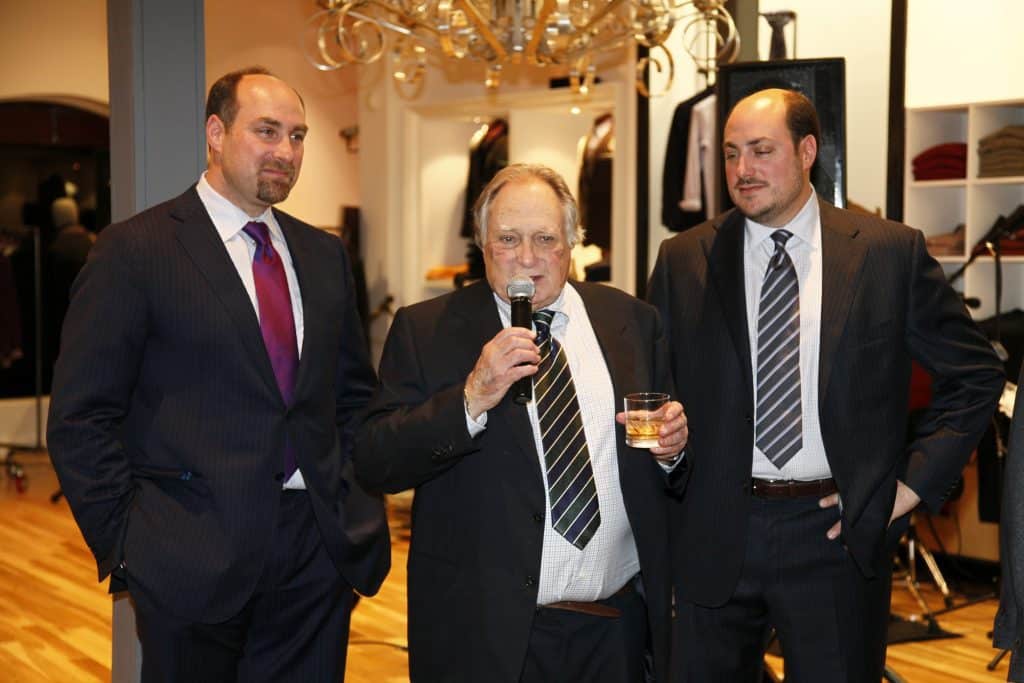 The store has grown from just a tuxedo shop, to offering suits, separates, and more recently, Sid Sport as its home for activewear and golfwear, and Sid Blue as its destination for soft jackets and denim. But the Segal brothers aren't done with providing the best in modern style, quality and personalized service to some of the more discerning men in Boston area. Later this month, the brothers will be opening a second store in the Seaport District of downtown Boston. The 2,300-square-foot store will be merchandised and catered to a professional city dweller's lifestyle. It will not just carry suits, the store will also feature sportswear, footwear, and accessories that will be curated in a way that makes sense for a cosmopolitan man.
"I feel that opening a store in the revitalized Seaport District will energize our business," maintains Stuart. "We're always looking for new ways to refresh our brand as a retailer, and I believe that this new store will help us capture the younger professional customer that is living and working in the city."
With all of this newness and celebration afoot, Stuart is not looking back, he is looking forward. "We are always looking for new areas of opportunity," he adds. "Yes, we still need to sell suits, that's our bread and butter. But we can't be afraid of adding new categories we believe our customers will want."
"Moving forward we will be focusing more on a lifestyle merchandising approach," Stuart continued. "We have started to showcase our inventory now, and I believe it helps our shopper navigate the store better, and provides them with more ideas on how to wear various items together. This will ultimately differentiate us from a department store. But at the end of the day, it's all about providing a great shopping experience for our customers."