NORDSTROM'S NEW YORK MEN'S STORE GIVES GLIMPSE INTO RETAILER'S FUTURE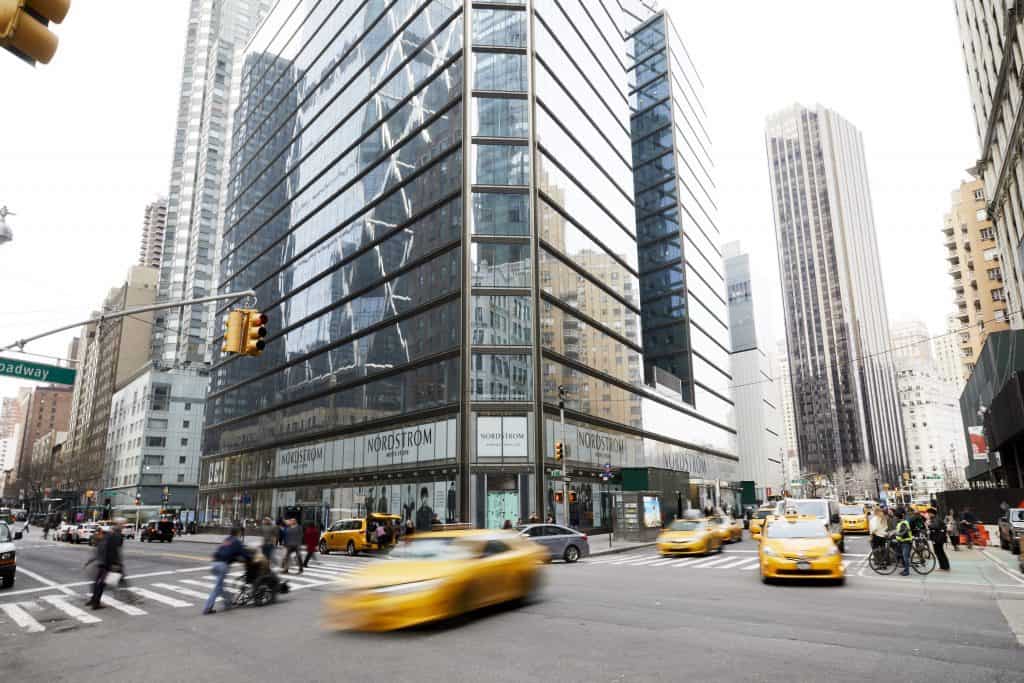 On Thursday, April 12, Nordstrom will open the doors to its first stand-alone men's store and its first-ever full-price store in New York City. The new Nordstrom Men's store opens with a slew of new services, brands, and tech that will undoubtedly serve as a future model for the retailer as it navigates today's tough retail landscape.
Our first impression of the 47,000 square-foot, three-level store, located at 235 West 57th Street near Columbus Circle, was how open it felt. This is done through its all-glass façade that brings in more natural light and allows the shopper to see outside and not feel boxed in.
On the main floor, customers will find a wide range of accessories – something the retailer said it will be focusing on more going further, especially in NYC where the customer demands it – a range of sportswear offerings from Good Man Brand to AllSaints, activewear from Adidas to Reigning Champ, and a specially curated Comme des Garçons pop-up which included the hot streetwear brand Gosha Rubchinskiy.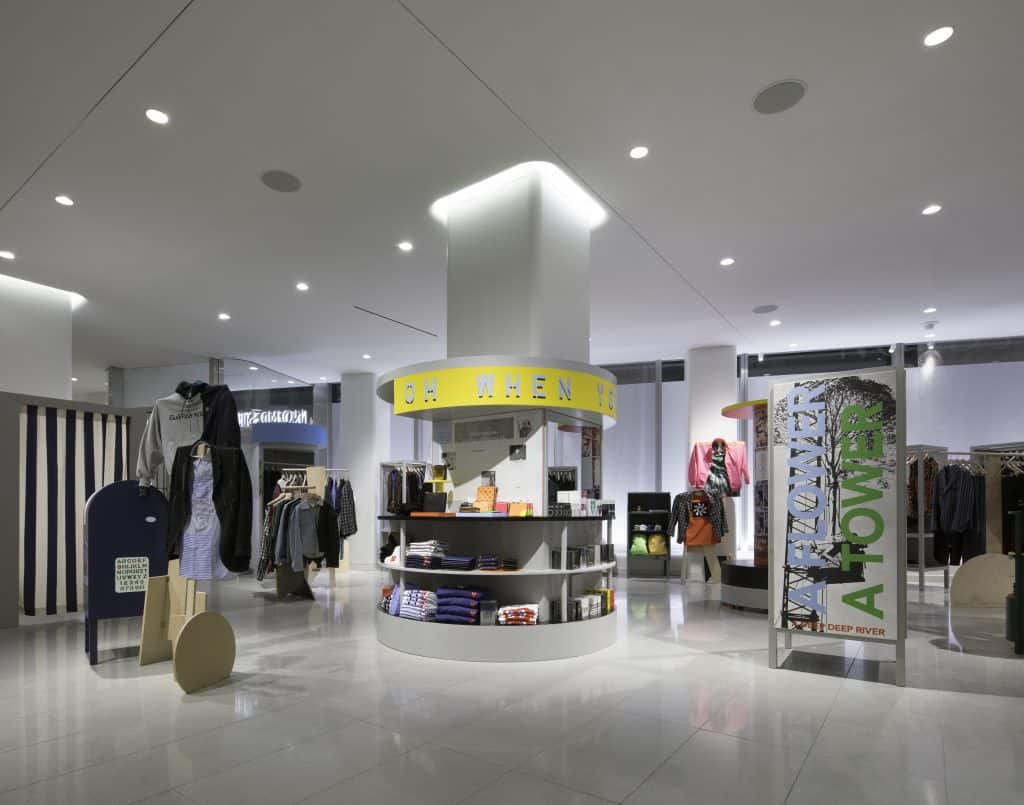 Also on the main floor is a very significant denim shop that features a Levi's Denim Bar that will provide custom embroidery on all product bought in the store, not just Levi's. A large grooming section, including a substantial presence from Le Labo, and a fair-sized tech area completes the floor.
Moving up to the second level, shoppers will land in the designer and contemporary space to find shop-in-shops lining the perimeter of the south-facing wall from Calvin Klein 205W39NYC, Balenciaga, Dior Homme, and Valentino, which are defined by chain link material allowing for the light to travel through the space. This section is filled out with a broad and interesting mix of brands customers aren't used to seeing at Nordstrom such as Deveaux, Death to Tennis, GCDS, Junn J, and Stampd.
Blending seamlessly into the designer space, customers will find suits and dress furnishings. Taking a significant presence on the floor is Swedish shirt brand Eton, where the brand has provided a special touch screen device where customers can swipe through its full shirt collection and purchase from there, if they don't see the shirt in the store.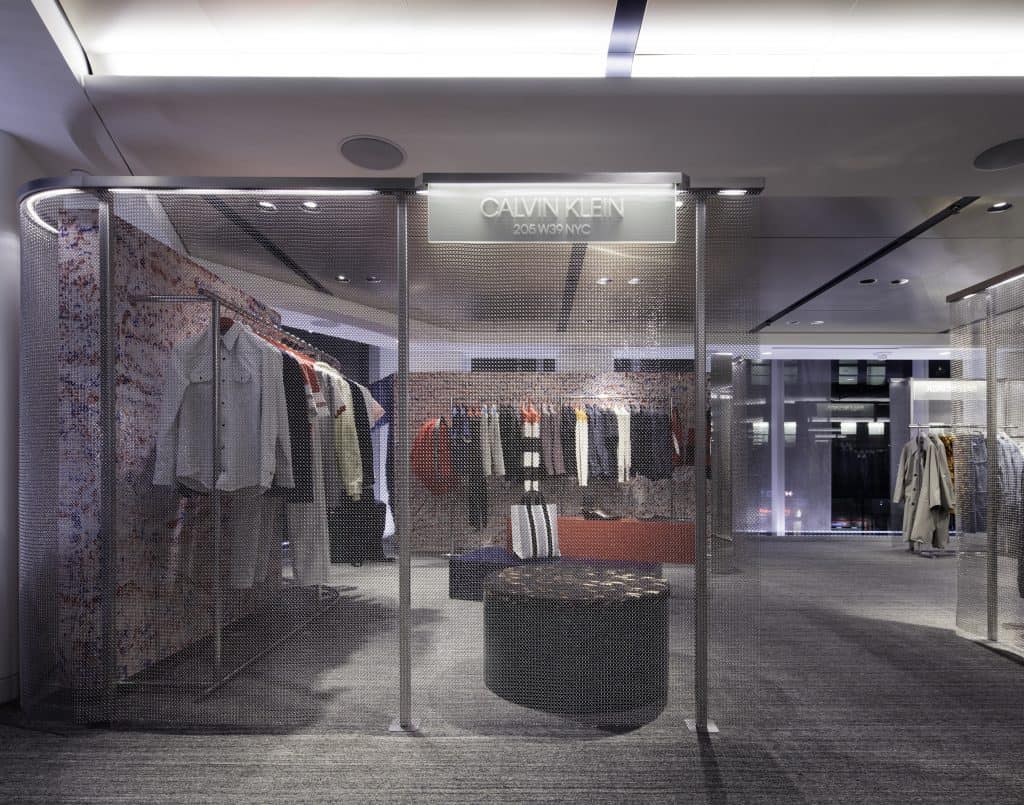 Another highlight from this area of the store is Samuelsohn's digital custom suit technology where customers can scan any swatch provided by Samuelsohn, and a full suit will appear on a large screen in front of them. The suit can then be customized to the customer's specifications in real time on the screen and a sales associate will take their measurements and order the suit once it has been 100 percent customized. (Nordstrom hopes to add Hickey Freeman to this service in the future as well.) Also on this floor is the Clubhouse café, where customers can grab a cocktail and light bites while enjoying the views of Columbus Circle.
On the lower level, customers will find a very large selection of footwear including a special section for Nike, which will hold special product drops throughout the year. Another interesting note is this store is the first men's shop-in-shop of Christian Louboutin in a department store in NYC. The lower level also includes a coffee bar by Toby's Estate and the pick-up area for online purchases.
A few notes: A shortage of brands is not what you are going to find in this store. Nordstrom EVP, General Merchandise Manager for Men's and Kids, Paige Thomas, and her team have done an excellent job representing a wide-range of diverse brands allowing customers that "high/low" shopping experience where they can buy something at an entry-level price point all the way up to the designer category. And, don't expect to find clearly defined departments. While someone with a trained eye in retailing could see where tailored clothing starts and designer ends, Nordstrom has put a lot of work into merchandising the store in a way where customers can move freely between categories without even noticing.

Now, we would be remiss if we didn't touch on all of the services that the store provides. The most exciting, in our opinion, are the express return stations located near all of the entrances where customers can drop their returns off at self-serve kiosks and exit promptly without waiting in long lines or having to go through the hassle of shipping the product back.
This store is also incorporating services like three-hour same-day delivery, where, for $20, items that are in-stock at the store can be ordered online and hand-delivered to a customer's door (within certain zip codes) in three hours. Customers also have the option of buying online and picking up in store as well as reserving items online and try-on in store. Other services like free wi-fi and cell phone charging kiosks are also provided.
With all of these new additions and amenities, New Yorkers will be turning out tonight for the retailer's opening party from 7:00pm to 9:00pm at the store. Guests will be able to enjoy multiple performances on various levels of the store including live music by DJ Premier and The Badder Band on the lower level as well as underground-subway performers Jourdan & Tarron on level one. Guests will be able to experience in store activations such as dressing room photo booths on the lower level and level two and a mirrored model coat check as they enter the store.
See you all there!