RANDA DEBUTS ACCESSORIES LAB IN MELBOURNE'S MYER DEPARTMENT STORE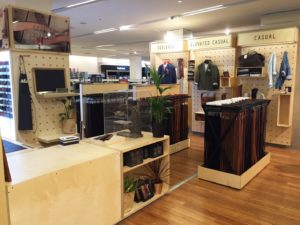 Randa Accessories has debuted the "Accessories Lab," an innovative, 500-square-foot accessories destination at Myer Department Store's Bourke Street location in Melbourne, Australia. Myer is the country's largest department store group with 67 locations across the country.
The Accessories Lab is an innovative, fully-staffed shopping experience that offers belt and wallet personalization, accessory and apparel styling, and tailored solutions for small leather goods, within a custom designed in-store shop. The Lab looks and feels like a design workshop, where men and women will feel welcome to browse assortments with ease.
Further roll-outs of this concept to the Sydney Central Business District, and other top-tier stores throughout Australia, will continue in 2017. This concept is being modified for several American retailers and will debut in 2017. Moreover, a full-sized prototype of the Accessories Lab has been built at Randa's New York City showroom, where retail partners benefit from the concept in a 360 degree setting.
"Ultimately we wanted to focus on a true accessories destination that allows customers to buy various pieces that fit their lifestyle by bringing together neckwear, jewelry, small leather goods, belts and gifts, in an integrated, elevated, personalized and serviced experience," says Randa Australia general manager Dene Heath.
"Our Accessories Lab demonstrates Randa's ability to expand on new opportunities and deliver innovative shopping experiences from sketch to scale," said David J. Katz, executive vice president and chief marketing officer.