SHINOLA TO LAUNCH "LET'S ROLL UP OUR SLEEVES" CAMPAIGN THIS MONTH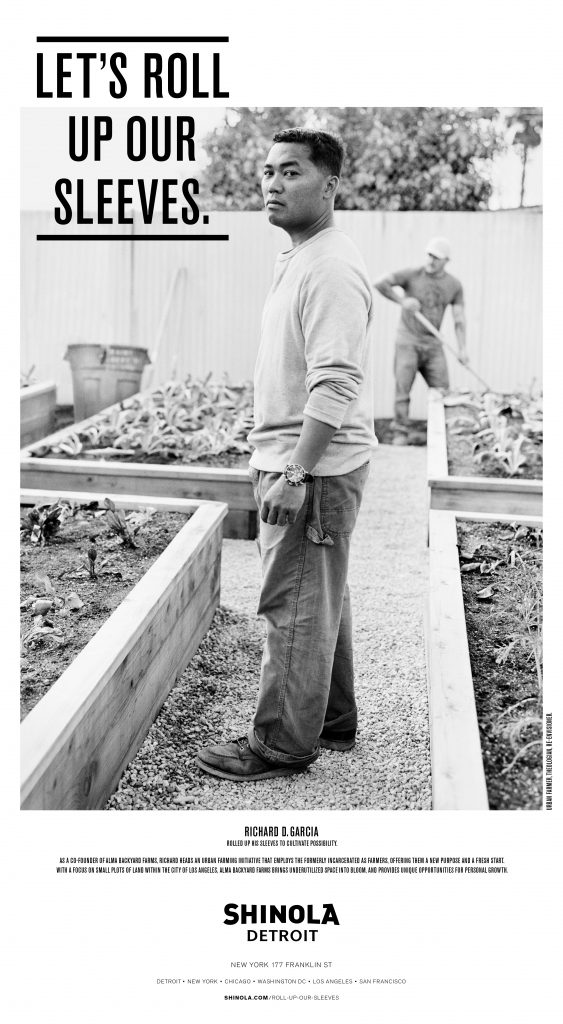 Detroit-based manufacturer Shinola will launch a new advertising campaign on March 20 featuring the tagline "Let's Roll Up Our Sleeves" that celebrates the American worker, hard work and inspiring individuals. The campaign, shot by Perry Ogden, will be seen in various magazines, along with other print, digital and social outlets, and will focus on Shinola's key markets including Detroit, New York, Chicago, Los Angeles, Washington D.C. and San Francisco.
The campaign will share the stories of men and women who have rolled up their sleeves and proved that hard work creates jobs and new opportunities in our country.  These individuals include Nadine Burke Harris, founder and CEO of the Center for Youth Wellness, a national effort to revolutionize pediatric medicine and transform the way society responds to children exposed to adverse childhood experiences and toxic stress; Kevin Adler, founder of Miracle Messages, a non-profit which reconnects people living on the streets with their loved ones, through short video messages and social media; Brit Gilmore, president of the The Giving Keys, an organization that provides job opportunities to people transitioning out of homelessness;  and Richard D. Garcia, co-founder of Alma Backyard Farms, an organization that creates multiple opportunities for women and men who were incarcerated to give back to the health and safety of communities by growing food in and for these communities.
"We know that companies want to do more in America and, if we want to be competitive as a nation, we need to turn that 'want to' into a 'can do'," said Tom Kartsotis, founder of Shinola. "We hope this campaign inspires others to take on the challenges of creating enterprises in our country, building factories in our communities and investing in America's workforce. Our plan is to continue to grow and strengthen our mission by rolling up our sleeves, empowering our teams and leading by example."