SWEDISH SNEAKER BOUTIQUE SNEAKERSNSTUFF OPENS IN NYC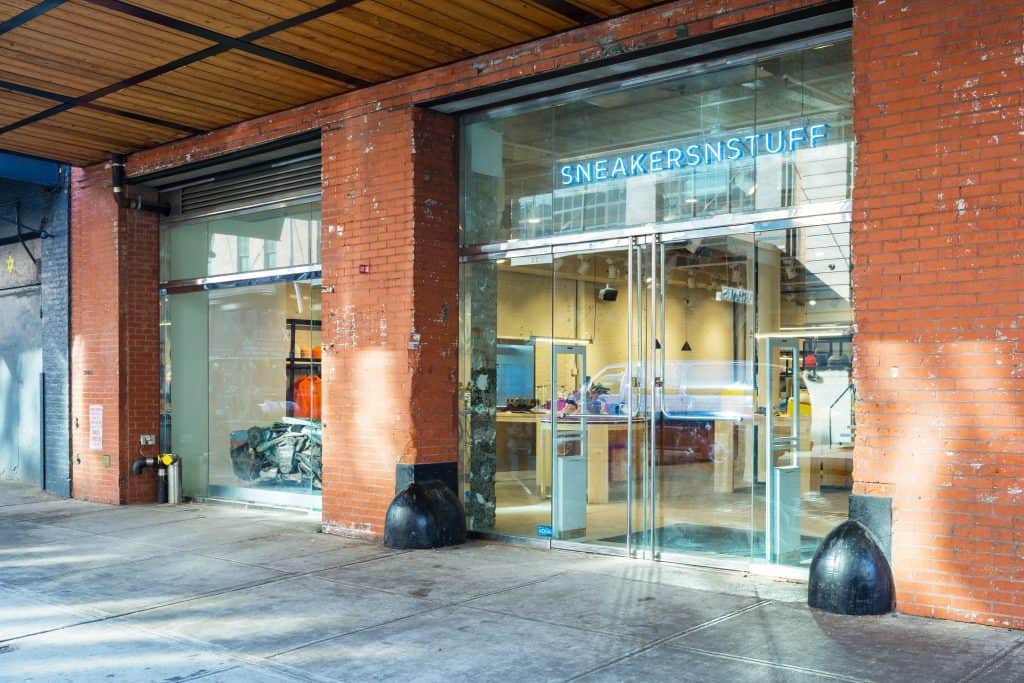 Swedish sneaker boutique Sneakersnstuff (SNS) has opened its first U.S. location in New York City. With locations in Stockholm, London, Paris, and Berlin, the new 3,500-square-foot boutique, designed by Swedish architect Jenny Askenfors of Bofink Design Studio, is located at 22 Little West 12th Street in the Meatpacking District of Manhattan.
The space accommodates multiple areas for artist and brand activations with the likes of Adidas Originals, Nike, New Balance, Reebok, Stussy, MadeMe, Reigning Champ, The North Face, Aries, and their own synonymous SNS brand, as well as wildly popular brand collaborations exclusive to Sneakersnstuff.
A bar within the store, opening in early 2018, will be run by some of Sweden's most notable restaurateurs and will host both brand-activated events as well as nightly parties. The idea for the on-site bar conceptualized after the success of the SNS owned and operated club alongside the SNS shop in Berlin last year.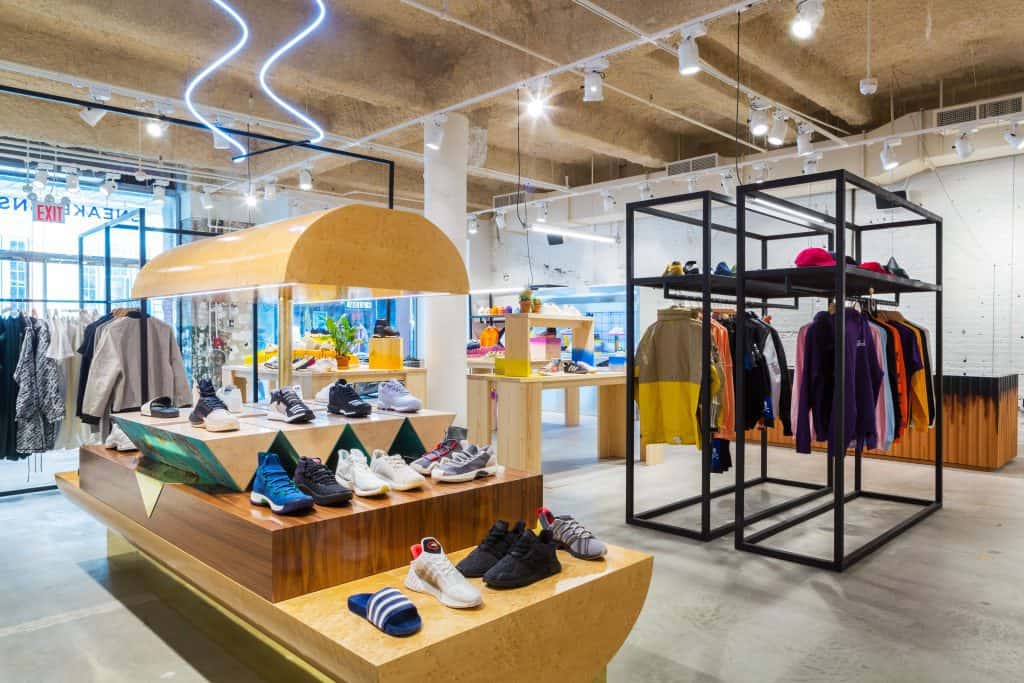 "For every project, I have written a short chapter about Sneakersnstuff," said Askenfors. "The main character in the story is SNS. In Swedish we have a neutral gender word (hen), and SNS is a creative hen traveling around the world: Stockholm-London-Paris-Berlin, and now New York.  In this chapter, called The American Dream, SNS is leaving Europe for the US to re-engage hen's old passion for creativity."
Design details include four mirrors inspired by four different buildings in NY – the Iron building, the Chrysler building, Freedom Tower, and the New York Life Building. The shop used to be an old garage, so for one of the main sneaker display pieces, SNS decided to crush a Swedish car (a Volvo) filled with sneakers from founders Erik Fagerlind and Pete Jansson's collections. There is a cash desk inspired by the Brooklyn Bridge and a display table modeled after a giant hamburger as a cheeky nod to when Fagerlind and Jansson could only afford to eat burgers on their early NYC trips. Every detail from the furniture to fixtures pulls from both Scandinavian design heritage and New York City inspirations.
Fagerlind and Jansson were both avid sneaker collectors that had been working in the sports and lifestyle categories for a few years when the saw a hole in the Swedish retail market – specifically to sneaker consumers with more niche tastes. There was no alternative to the big retail chains dominating the market in Stockholm in the late 90's.  After a successful trip to New York City that yielded both inspiration and the acquiring of some exclusive product that Sweden had yet to see, Sneakernstuff first opened its doors on March 26, 1999, in Stockholm. Later in May the same year, the webshop Sneakersnstuff.com was in full effect selling hard-to-get sneakers to the rest of Sweden. Now nearly 20 years later they could not be happier to bring it full circle where it all started – New York City.