TAILORED SPORTSWEAR: THE MODERN MALE DRESS CODE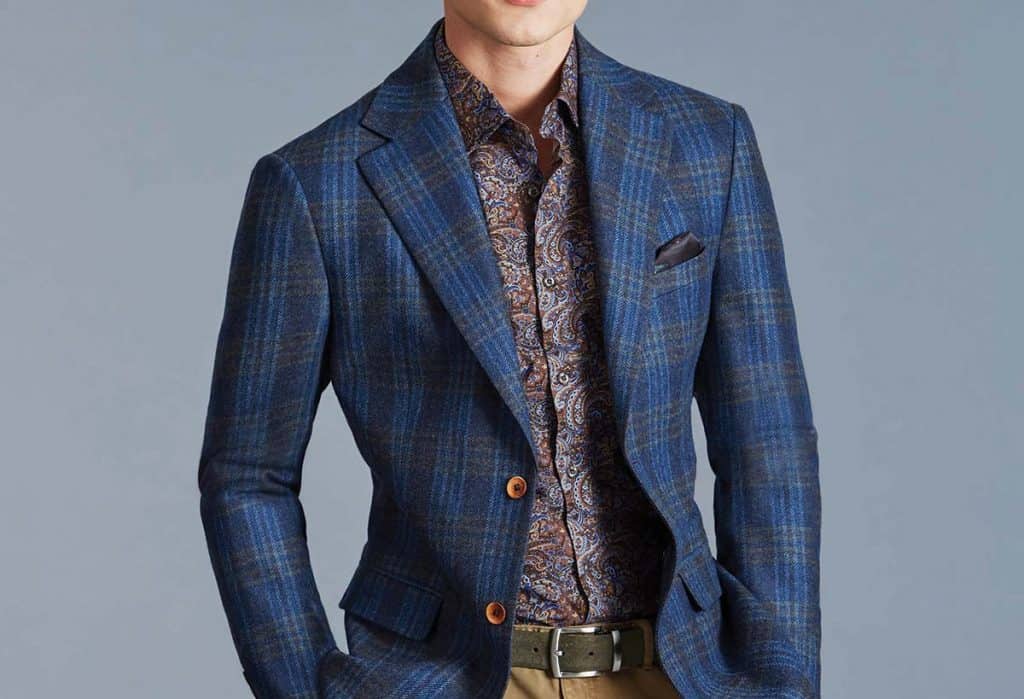 You know a paradigm shift is happening when Ermenegildo Zegna, the iconic Italian maker of luxury tailored clothing, merges tailored clothing and sportswear in their New York showroom. Or when Men's Wearhouse, America's major purveyor of moderate tailored clothing, begins its new TV commercial with "You're out of the office but that doesn't mean you're not working…" and features a mix of tailored pieces with sportswear. In today's era of workplace casualization, retailers who ignore this trend are missing a golden opportunity to teach men a modern way of dressing, and substantially increase sales in the process.
Clearly, one of the hottest items in both sportswear and clothing departments these days is the soft sportcoat, i.e. a soft fabric shell with minimal or no canvas, padding or lining. The Italians have been crafting these exquisite garments in luxury fabrics for years, but deconstructed sportcoats are just starting to catch on in the U.S. as guys begin to appreciate the versatility, practicality and fashion quotient of this modern wardrobe staple.
Unfortunately, the proliferation of soft garments in both clothing and sportswear departments has created both confusion and cannibalization. Says Durand Guion, group VP/fashion director at Macy's: There continues to be demand for soft sportcoats within specific sportswear brands. There's a consumer who is primarily sportswear oriented and prefers to shop for tailored pieces in that environment."
That said, Guion notes that as sportcoat business evolves on the tailored clothing floor, eliminating duplication is a challenge. "There's no question that the broadest assortments of sportcoats are still merchandised within tailored clothing." (And according to Macy's post-Christmas reports, tailored clothing was a star performer in the fourth quarter.)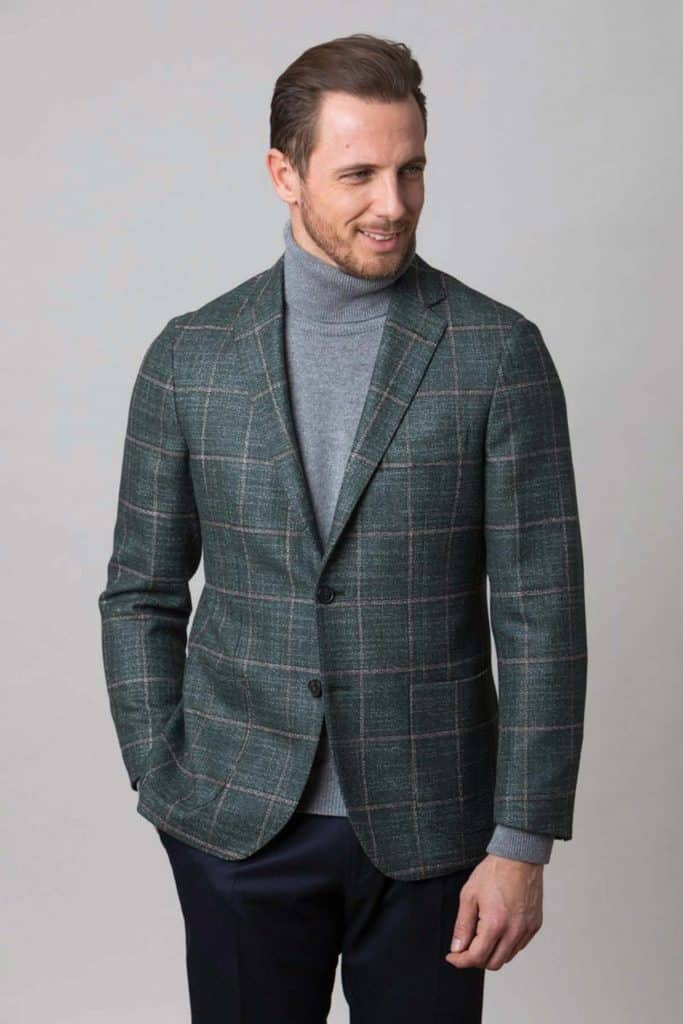 At Men's Wearhouse, where holiday clothing business was strong, chief merchant Scott Norris sees sportcoats as a growth opportunity. "We still sell suits 3:1 over sportcoats but we're starting to do a better job of storytelling on the selling floor. If we show outfits fully rigged on mannequins, guys understand the versatility of sportcoats and buy them."
At Bloomingdale's, Scott Polworth notes that sportcoats and trousers are increasing their penetration to total clothing business at the expense of nested suits. At Levys in Nashville, sportcoats from Italian makers (Ermenegildo Zegna, Canali, Armani) and blazers in new colors (hot blues) from Hickey Freeman and Blujacket have been selling well. According to David Levy, his customers still prefer some construction in their clothing, a belief shared by many U.S. merchants. "It's hard to generalize since it's more about the swatch," Levy explains. "But surely Canali's half-lined Kei jacket with patch pockets is still a winner and we're testing Hickey's half-canvas collection as sportswear."
Ed Boas from Lanes in Miami emphasizes the importance of changing the mix each season. "Sportcoats make up 40 percent of our clothing volume and that percentage is growing. I view suits as a pragmatic purchase and sportscoats as an emotional buy." Boas also believes that sportcoats are perceived as "cooler" than suits and that his best-sellers are those with "presence and personality." That said, he acknowledges that the greater challenge is selling tailored clothing in an era when it's no longer mandatory office attire (a double challenge in the Florida heat). "I wish I had an answer for you," he confides. "Selling tailored clothing in a sportswear world is a matter of creating desire."
And creating desire takes a bit of effort, including powerful advertising, compelling presentation, upbeat in-store events and hiring sellers with a true passion for the business. In New Orleans, David Rubenstein of Rubensteins has tried it all with impressive results. He's lost count of the number of Eleventy laser-cut knit sportcoats he's been selling. "They dress up or down, they fold, they travel. It's by far our hottest sportcoat, selling at an unbelievable rate to young and old. In fact, it's affecting our traditional blazer sales. At $599 retail, the price is perfect. Also, the 'swacket' works nicely: it's a crossover between a sweater and a jacket and sells well, especially in the fall."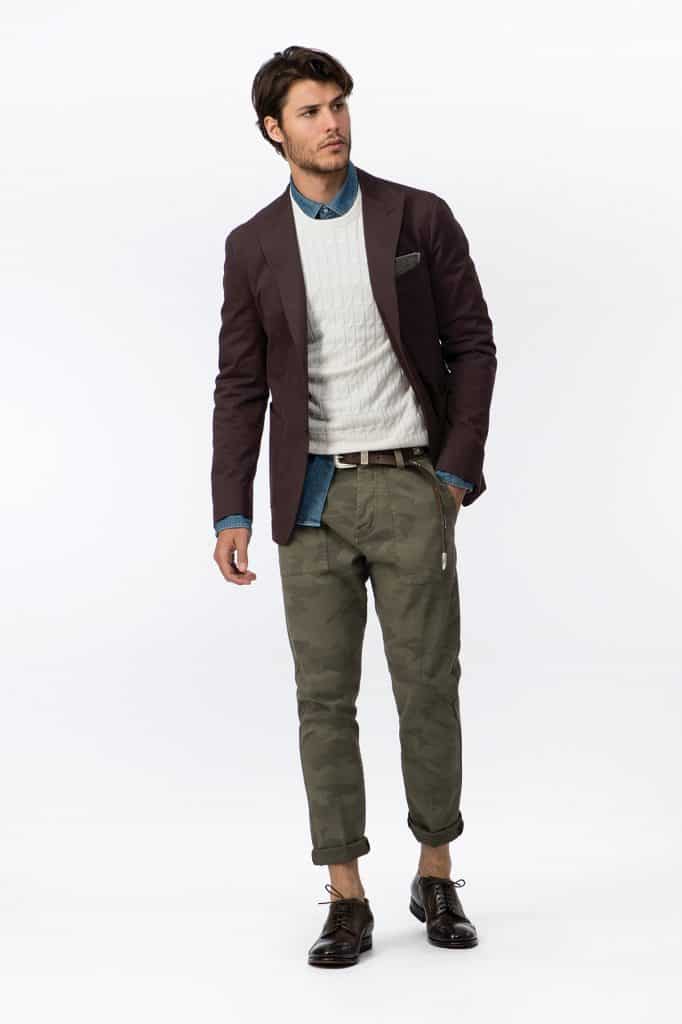 At Mitchells in Westport, Dan Farrington includes knit sportcoats in his list of hot items, as well as 10-pocket travel blazers. He strongly advocates in-stock programs allowing buyers to reorder hot items in season.
A few upscale makers are doing just that. At Maurizio Baldassari, Renato Baldassari describes increased business coming from on an in-stock program with three-day delivery (from Italy!). Among his best-selling core items: an extra-fine merino knit cardigan, laser cut, fully fashioned, and available in 12 colors.
At Boglioli, "empty" tailoring and a unique garment dye process have put the company on the map in upscale stores. Says David Newlove: "Customers are learning to break up these suits and wear them as sportswear. And once they've worn this type of softly tailored garment, there's no going back."
Known for both modern and heritage luxury clothing, Samuelsohn and Hickey Freeman have introduced several more casual options for fall '18. With their recent purchase of Culturata (now a full sportswear collection made in Italy), they offer upscale stores a modern sportswear interpretation of tailored clothing. Hickey Freeman is also going after millennials with their "H" line – half canvas, shorter, tighter, younger models produced in their Rochester factory at pricepoints under $1,000.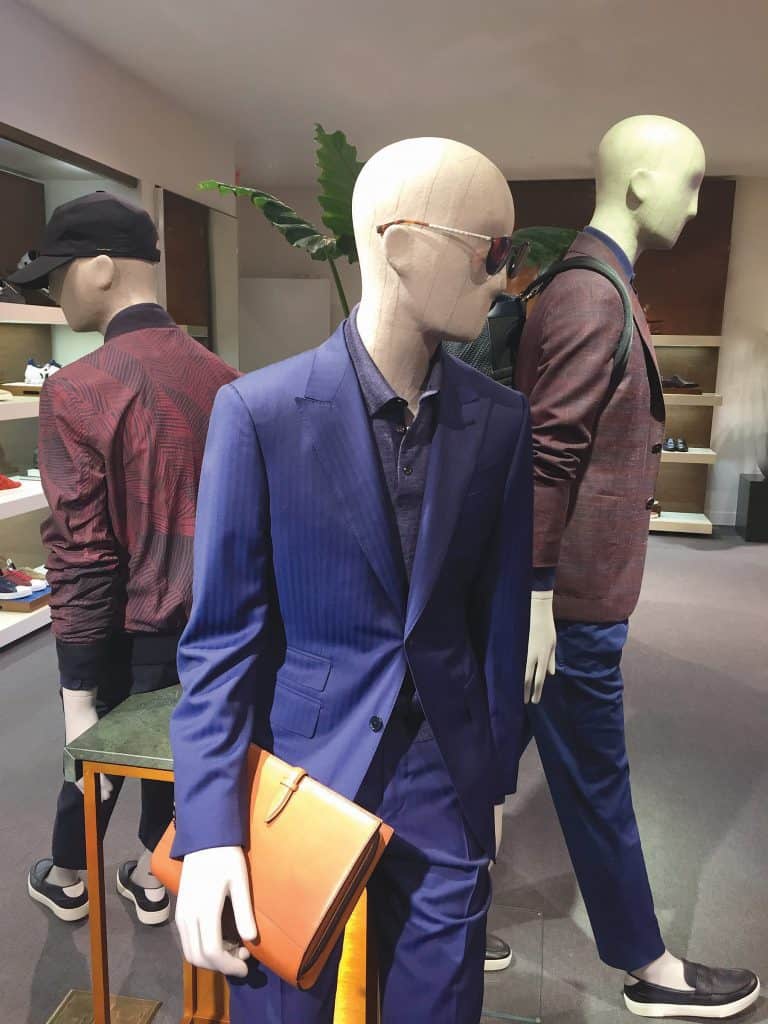 Samuelsohn is also targeting millennials with a new division called Sohn — Euro-inspired separates at a price level under Samuelsohn — made in the same Montreal factory since 1923. "Millennials are into experiences, innovation, authenticity, and value. With our new divisions, we're giving stores numerous ways to reach them," says Arnold Silverstone. At volume pricepoints, sportcoats are hot at Tailorbyrd, according to Stewart Golden. Among his major retail accounts, sell-throughs have been averaging 15 percent a week. "Stores were reordering spring goods (linens with contrast linings and under-collar treatments) after five weeks so our business has been exceptional. For fall '18, we're showing blends with a cashmere-like hand, waffle weave knits with stretch and other knitted looks. Everything we do now incorporates two to five percent stretch so the comfort is built in."
Ronny Wurtzburger at Peerless (the dominant supplier of moderate-priced clothing to department and specialty stores) acknowledges that "sportswear might be getting more attention these days but men's tailored clothing is showing substantial growth at all major stores from Macy's to Belk, JCPenney, and Kohls. I can tell you from fall '18 bookings that there's no decline in clothing orders. A sportcoat from a sportswear maker is not the same quality as from a tailored factory. And with stretch being the magic word, tailored clothing is now as comfortable as sportswear." (Reinforcing the fusion of sportswear and clothing, for fall '18, Peerless is showing dress pants with athleisure details, even track pants, in corduroys, flannels, and other touch fabrics.)
Clearly, with the widespread adoption of performance fabrics and stretch, tailored clothing has become both more comfortable and more versatile, something retailers should be shouting about for fall '18. The soft sportcoat should be positioned as the must-have item of the season and the fusion of sportswear and tailored clothing as menswear's most important fashion trend.