THE NEW RULES OF DENIM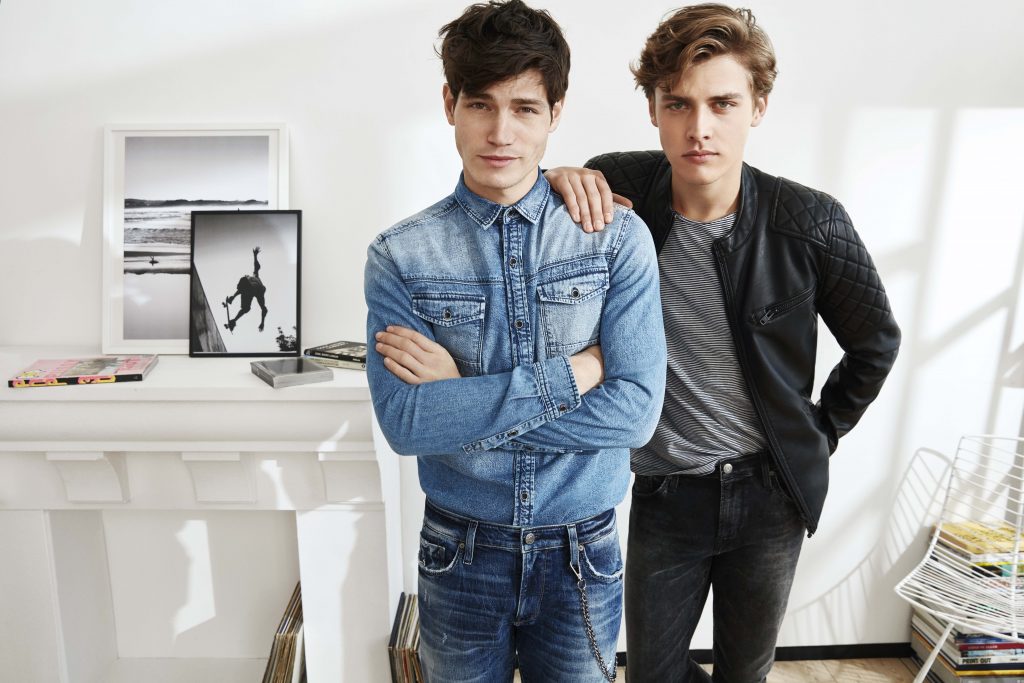 Walk down the street of any American city these days, and odds are a large portion of men, from ages 18 to 68, will be wearing denim pants. "So many guys have gone casual every day," notes Ken Giddon, owner of Rothmans New York. "Even at our Westchester store, our customers aren't spending on suits the way they used to. Instead, they come in, try on a pair of 'cool' jeans, and then they're hooked. I think that's one reason that even this late in the season, we're still selling a lot of our spring/summer '17 denim at full price."
Adds Durand Guion, men's fashion director at Macy's: "We are encouraged by not only the current state of the denim market, but we firmly believe from our trend research and consumer analysis that we will continue to be in a positive denim cycle."
"Customers today want jeans for all occasions: dark, clean washes for work, lighter vintage-inspired washes or cargo pants for weekends, and mineral washes and matte coating for a night out," notes Paige Adams-Geller, creative director and co-founder of Paige.
"We relaunched our men's business three years from being a brand that catered to a gentlemanly consumer to a brand that now captures an almost ageless and more contemporary group," says Citizens of Humanity's creative director Catherine Ryu. "Not only have we received a great response, we hope to keep growing our denim market share."
Perhaps putting it best is Ardie Ulukaya, vice president of sales at Mavi: "Denim is never going away and every guy is a potential denim customer!"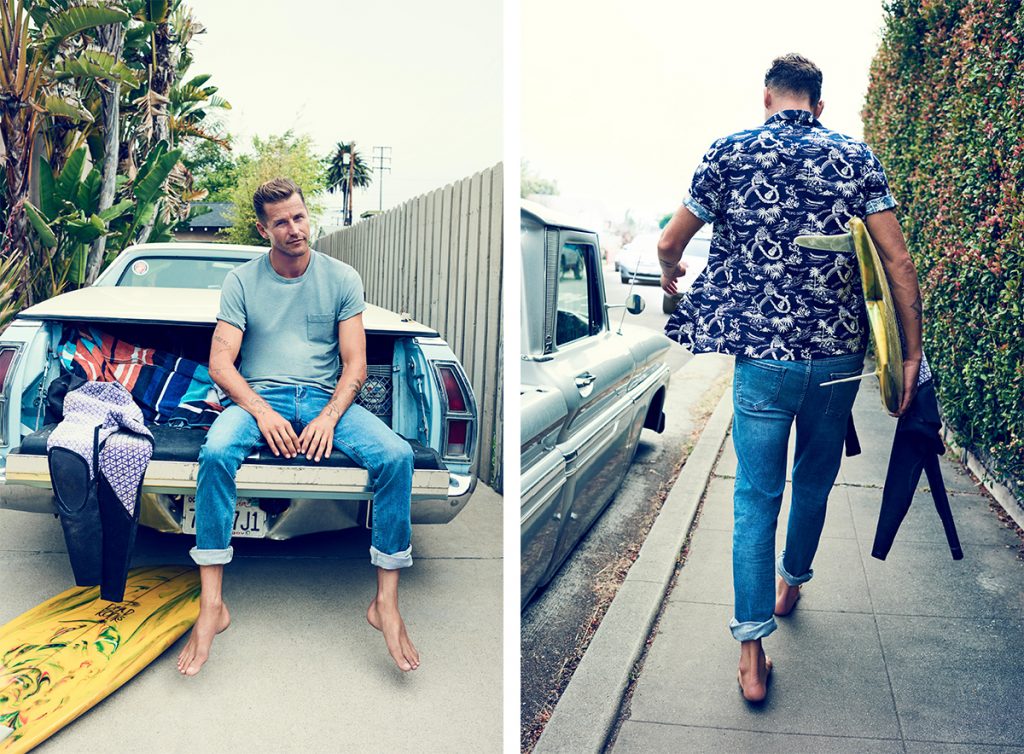 UNDER PRESSURE
Still, even a sector as popular as denim has some selling challenges. "While we see denim as a healthy, solid business, I think most brick-and-mortar retailers are facing some pressure from e-commerce," says Brian Kaneda, denim buyer for California-based Ron Herman. "As a specialty store that is famous for our denim presentation, our goal – and our challenge – is to consistently remain true to ourselves while always changing. We want to make sure we can show a guy an elevated version of the same thing he's worn for years, and also show him something new that he's never heard of. And when you can have that experience in a tactile environment that looks and feels inspiring, I don't think it's very easy for the internet to compete with that."
Adds Michael Silver, CEO of California-based Silver Jean Co., "There are many denim experts entering the market at all price points, and while many of these new sources 'seem' to offer value, fashion and comfort, in reality, their lack of experience and skill level ultimately lets the consumer down. And here's the problem: in an age where men are becoming more discretionary with their clothing dollars, sometimes the rest of us lose the opportunity to impress a new consumer who has tried an inferior start-up brand. Denim is tough to get right and requires real technical skill. Looking good on a smart phone is one thing, but becoming my new favorite jean is another!"
Moreover, savvy retailers (and brands) are concerned about staying one step (or more) ahead of their consumers. "We and our brand partners are always aware the opportunity in denim is registering the newness that our fashion-inspired customer expects," says Guion.
"One way we maximize sales is to use different vendors for different reasons rather than buy the same looks from all our resources," adds Mario Bisio, president of Seattle-based retailer Mario's. "Also, it's very important to introduce new looks as soon as possible for your advanced customers."
"Striking a balance between function and fashion is always a challenge," adds Betsy Rodopoulos, director of sales for New York-based DL1961. "Our team is in constant pursuit of perfecting this process with design and technology, allowing our customer to access trends in an approachable way."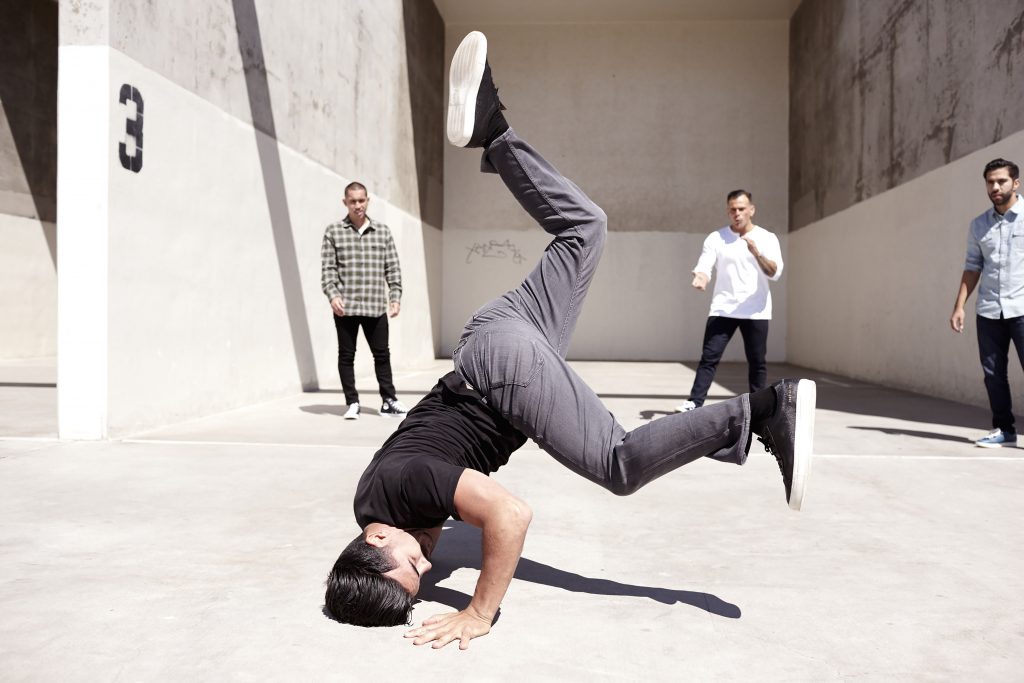 IT'S A STRETCH
When asked what's driving sales now (as well as for fall '17 and even spring '18) most retailers and manufacturers repeated the same buzzwords, even if what customers specifically favor does vary among consumers.
Without question, though, stretch and comfort top the denim must-have list, whether you're talking about such mainstream brands as Lee or higher-end, fashion-forward lines like J Brand. As Erick DeLeon, store manager and buyer at Minneapolis-based contemporary retailer MartinPatrick3, points out: "Stretch and comfort seems to be on everyone's mind lately."
Adds Lacy McAngus, denim buyer at Rothman's: "Nothing much was going on in men's denim until they found stretch, and now that they've found it, they're really happy. Everything we sell has some elastin it. And the fact that you can show them how to pair these jeans as part of a complete outfit – that you can wear them in place of a dress slack – is key: they realize jeans' versatility and they're thrilled."
"My denim inventory is all colors and stretch, in models that are still slim, but far more comfortable than before," says John Braeger, owner of specialty retailer Gary's in Newport Beach, California.
Adds Bisio: The real game changer for us has been stretch denim jeans. Once you've worn them, you don't go back, so it's virtually part of everything we sell."
"Stretch fabrics will continue to be the core of the denim business," notes Ulukaya. "We continue to see our recently developed stretch fabrics with Tencel do well with our guys. We've recently introduced a group 'Authentic Vintage,' which has the look of true vintage, rigid jeans with authentic retro constructions, but combined with stretch technology for the ultimate in comfort.
"Certainly anything with retention or stretch is working well for us," says Silver. "Comfort and ease are no longer restricted to athleisure and workout gear. It is now the expectation of consumers in every kind of clothing they wear. So stretch now represents almost 100 percent of our fabrications."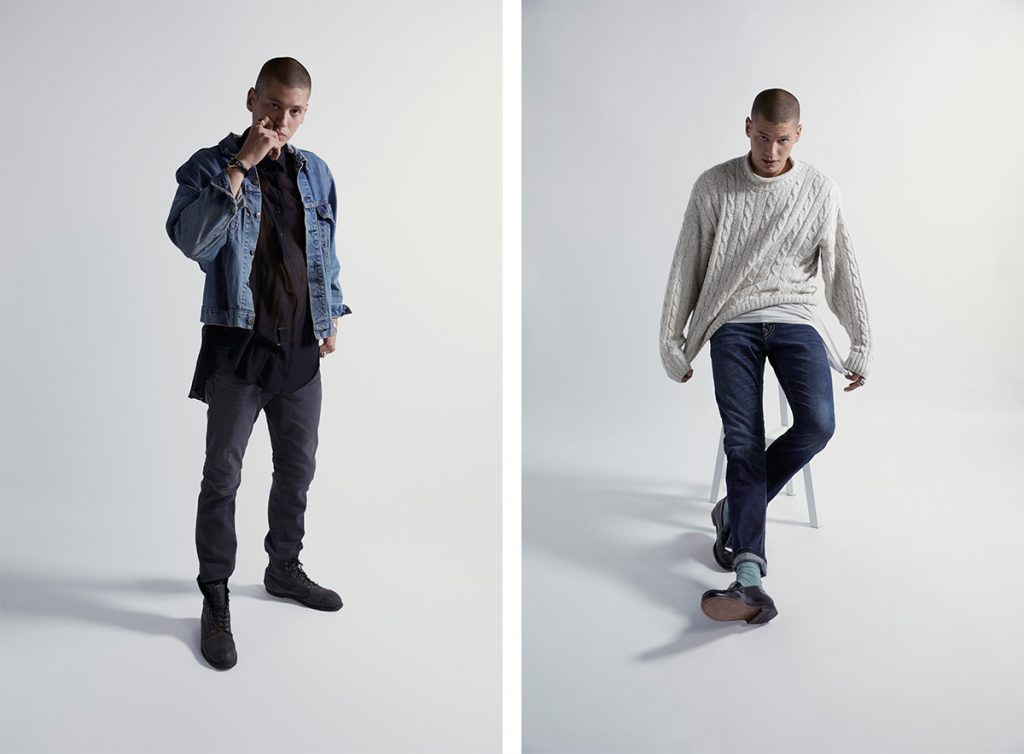 WASHES AND WEAR
Both fabrics and washes (which often go hand-in-hand) are equally major players in denim's constant evolution. "I think the true innovation in men's denim is always in fabric and wash development," says Kaneda. "That's the way all the best brands distinguish themselves."
"The denim industry continues to innovate from a fabric and wash standpoint in order to keep the customer's interest," says Samuel Ku, creative director of California-based AG Jeans. "This past decade has seen monumental shifts in the way product is made, ranging from innovations in fiber and stretch to state-of-the-art process in washing."
Adds Victor Lytvinenko, CEO of North Carolina-based Raleigh Denim Co: "Our business has been growing steadily for the past couple of years, and our 1 percent stretch medium washes are where it is at right now. We also have a new wash called the Pilot that we're excited about. And we're doing well with lightweight fabrics in Italian oxford weave fabrics."
"We are constantly challenging ourselves to research and develop new fabric innovations. That's because the modern guy is on the move 24/7 and he isn't willing to compromise when it comes to comfort versus fashion. We work tirelessly each season to provide modern performance-driven clothing that men can live in," says Adams-Geller. "Our Lennox skinny fit in vintage-inspired washes are doing especially well for us right now. Vintage washes have always been our passion and I feel like we're creating something new in the market by creating a jean that looks like a 20-year-old jean but feels and soft and is comfortable enough to wear every day."
"I am seeing a graduation to lighter washes, salt and pepper marbleized washes, and bleached out washes," says Donwan Harell, the founder, designer and creative director of PRPS. "I also see the market focusing on heavy stone washing."
"Clean dark washes still the sell best for us," says Joey Mendez, co-owner of Kansas City-based specialty store Ulah. "We touched on destroyed and super-light washes and most of them did well for us. But they were definitely not a volume driver."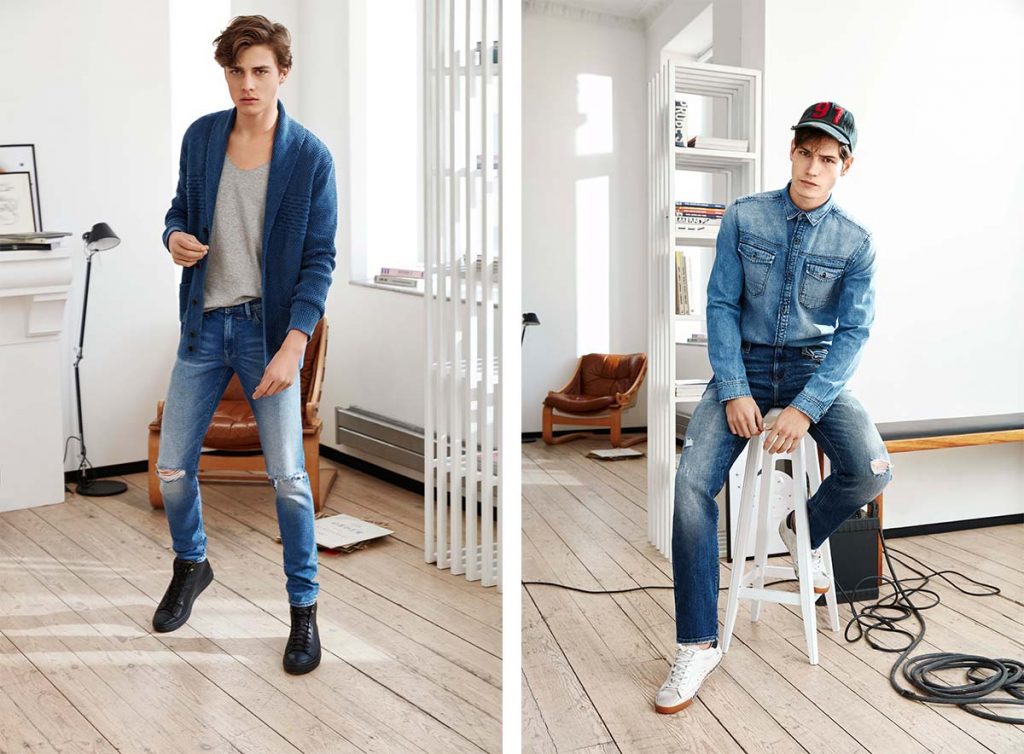 HUE ARE YOU?
Color, which has been a driving force in denim sales for the past year or so, also continues to play a large part in many customers' decision-making. "We carry a large assortment of colors in both denim and twills, including blues, greens, pinks, white, black and dark navy," says McAngus. "For fall, we're adding lots of darker grays, bordeauxs and olive greens, as well. The variety of colors we carry is very important."
Adds Silver: "Colors are becoming important to our customers, because they want to spice up a generally blue landscape." Mendez echoes that sentiment: "A lot of guys already have shade of indigo in their closets, so they're looking at shades of neutrals or even true color to add to their collection."
"I think colored denim is no longer as much as a category driver as it has been – because once a guy has every color, he feels it's time to move on – but for spring '18, we'll be showing colors in the neutral zone, including white, natural, stone and many shades of gray," says Bisio.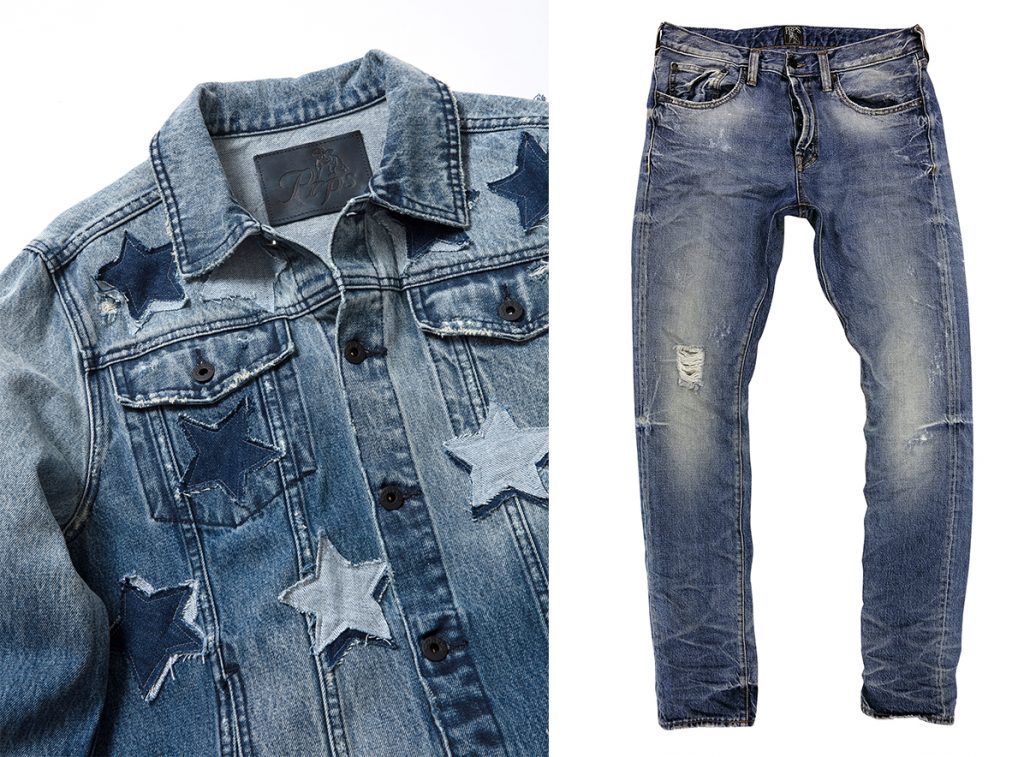 FIT AS A FIDDLE
In the area of fit, the only thing that is consistent is that men want their jeans to fit them well. "We like to think we fit a variety of men, so there is not one fit that drives us," notes Silver. "But we are seeing generally tighter fits because the new fabrications allow comfort while also looking leaner."
"We are seeing volume in our slim straight and straight leg styles," notes Ulukaya. "We are offering a new modern slim straight style called Marcus, which has strong momentum and quickly becoming a best seller."
"Slim is trending for us, even for our more traditional menswear clients," says Wally Naymon, owner of Ohio-based specialty store Kilgore Trout.
Meanwhile, Mendez also notes his customers prefer slim fits, followed by skinny jeans and some relaxed taper. "As for the future, it's hard to say. I do see relaxed fits with wide leg openings, but I think it will take a while for our region to get comfortable with that."
"Right now, we are getting the most traction on our new fit, The Graham," says Lytvinenko. "It has a taller front rise, more room in the seat and thigh, but tapers to 14" at the leg opening."
"If we have a strategy that works, it's that we carry two to three fits from each of core brands," says Giddon. "That allows men to find which one fits them best!"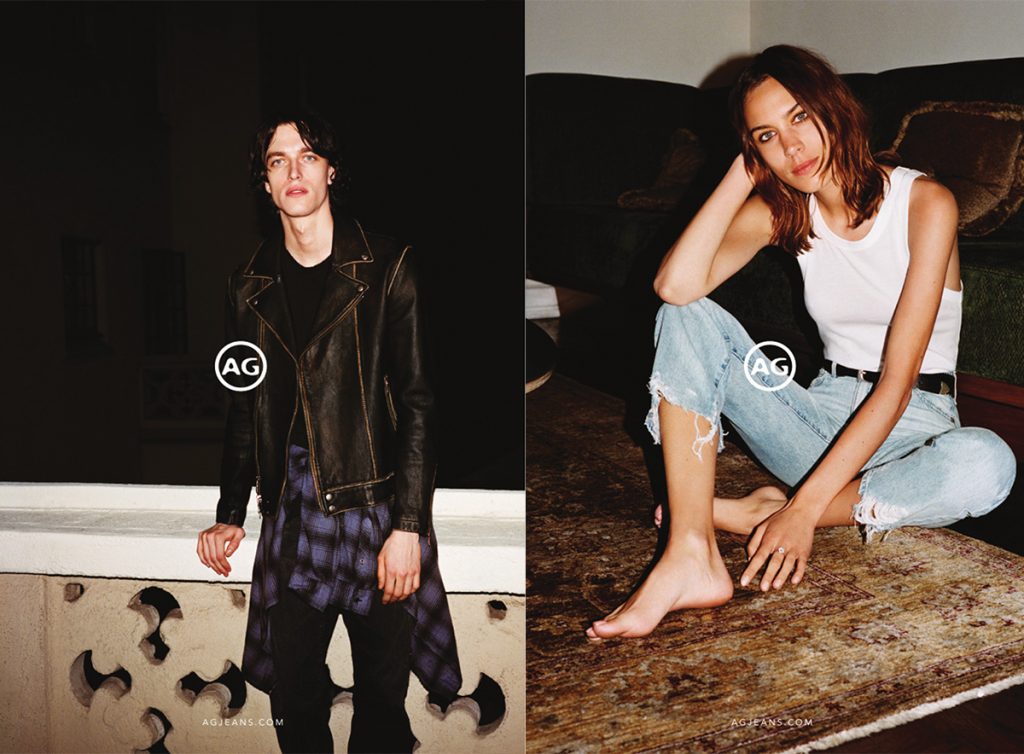 SPRINGING AHEAD
Not every denim expert was willing to espouse their prediction for next big thing. "I actually don't think too much about trends when I'm moving in the men's denim world," says Kaneda.
"We see wide legs on the runway and even high-waisted jeans for men," notes Silver. "But at the same time, much of North America is just getting into skinnier jeans. In my 40 years of crafting denim, I have seen it go wide, get narrow, flare, get baggy, go to non-denim, go back to super-dark and go back to super-light again. So I am not going to hang my hat on any one wash or fit or trend."
Others, however, were willing to say what they saw in their crystal balls. "We're really excited about some of the supersoft fabrics being introduced next spring," says Anya Deweerdt, men's fashion director of Bloomingdale's. "We're also looking forward to the continuation of lightweight denim in light washes. And denim in over-washed dusty hues is definitely one of the huge trends for spring."
Citizens of Humanity's Ryu was equally happy to talk about the company's future: "To balance our selection in stretch jeans, we are continuing to show rigid denim in our premium vintage group; that's where we have introduced the Rowan crop, a relaxed slim fit jean with a 28" inseam that is offered in super-authentic washes reminiscent of the 1950s and 1990s.  We are also really excited about our Coolmax launch. And the true next big thing for us is denim that can do more for you, like our 'Perform' concept, which includes a variety of performance-focused smart fabrics."
Macy's Guion mentioned that he expected to see more repaired detailers, the emergence of pink, subtle bleaching, dip-dye effects and the evolution of appliques as some of the trends he forecasts for spring '18.
Specific trends aside, however, the last word belongs to DL1961's Rodopoulos: "At the end of the day, spring '18 is really going to be about easy dressing – nothing too fussy or overthought. We are excited for men to just wear a cool, smart pair of jeans for the perfect relaxed and effortless look."