TJX COMPANIES REPORTS INCREASED FIRST QUARTER EARNINGS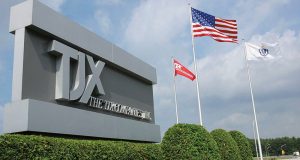 The TJX Companies, Inc, owners of off-price retailers Marshalls, TJ Maxx and Home Goods, today announced sales and earnings results for the first quarter ended May 5, 2018.
Net sales for the first quarter of Fiscal 2019 increased 12 percent to $8.7 billion. Consolidated comparable store sales increased 3 percent over the comparable period last year ending May 6, 2017. Net income for the first quarter was $716 million and diluted earnings per share were $1.13; while adjusted diluted earnings per share were $.96, a 17% increase over the prior year's $.82.
In addition, during the first quarter, TJX increased its store count by 71 stores to a total of 4,141 stores, and also increased square footage by 5 percent over the same period last year.
"We are very pleased with our first quarter results as both our consolidated comp store sales growth and earnings per share exceeded our expectations," said Ernie Herman, CEO and President of TJX. "Marmaxx, our largest division, delivered a strong 4 percent comparable store sales increase as consumers were drawn to our great fashions and brands at outstanding values! Customer traffic was once again the primary driver of our comparable store sales increases at each of our four large divisions."
For the 52-week fiscal year ending February 2, 2019, TJX now expects diluted earnings per share to be in the range of $4.75 to $4.83, which represents an 18 percent to 20 percent increase over the prior year's $4.04. The Company's full-year guidance includes an expected benefit of approximately $.72 to $.73 per share due to items related to the 2017 Tax Cuts and Jobs Act (primarily the lower U.S. corporate income tax rate), which is approximately $.02 lower than previous guidance of $.73 to $.75 per share.
Added Hudson: "Based on our strong first quarter performance, we are updating our outlook for full-year earnings per share. We believe that the consistency of our customer traffic increases demonstrates the strength and resiliency of our business and our ability to succeed through many types of economic and retail environments. We are convinced that we will continue to gain market share and grow successfully around the world."