UNIQLO TO UNVEIL WINNERS OF NINTENDO-THEMED T-SHIRT CONTEST ON MAY 19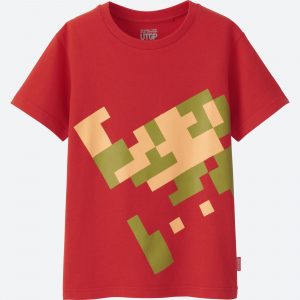 Beginning on Friday, May 19, Japanese-based retail chain will unveil the 25 winning designs from its Nintendo-themed UNIQLO T-shirt (UT) Grand Prix 2017 competition. UNIQLO began the contest in 2005 to foster creativity and talent around the world, making it open to anyone regardless of age, gender, or nationality.
 This year's contest, focusing on Nintendo, attracted a record 16,000 entries from around the world. Participants were invited to create original T-shirt designs inspired by Nintendo's iconic games and legendary characters, including Super Mario Bros., The Legend of Zelda, Donkey Kong, Animal Crossing, Star Fox, Kirby, Splatoon, and the Pokémon series.
The winning design by Takashi Kawazoe features a Mario motif, while the designs of the second and third place finalist, Shino Yamazaki and David Ricardo Flores Gomez, focus on Splatoon and Legend of Zelda themes respectively.  "I was extremely surprised and pleased to receive such a prestigious award for my creation featuring one of Japan's most renowned characters, Mario, as a motif," said Kawazo. "I would like to express my sincere gratitude to UNIQLO & Nintendo, including my family who supported me throughout. Thank you!"
Nintendo's Shigeru Miyamoto, the iconic originator of Super Mario Bros. and other massive hit games, was amongst the competition's judges. In addition to the winning designs being featured in UNIQLO stores worldwide and UNIQLO.com, top prize winners received $10,000; an invitation to attend a special awards ceremony in Japan; and a Nintendo Switch system, personally signed by Mr. Miyamoto.
The t-shirts will retail for $14.90 (for men's and women's styles), and $9.90 (for kids).