BLIND BARBER OPENS NEWEST SHOP AT MOXY TIMES SQUARE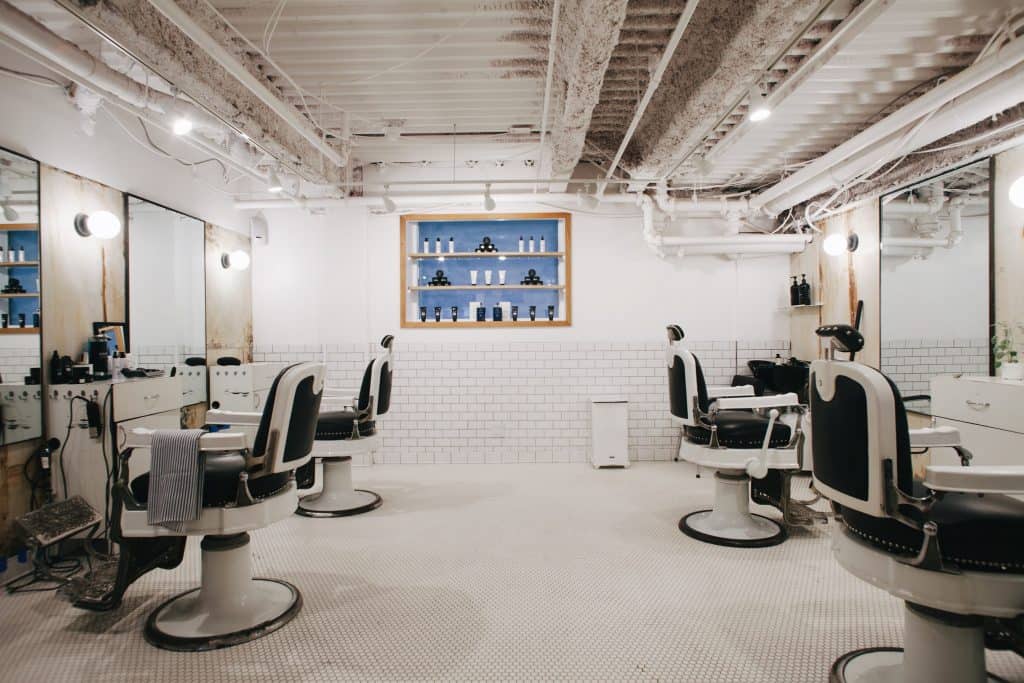 NYC born barbershop and lounge Blind Barber has opened its lasts outpost in the lobby of the Moxy Times Square hotel. With locations in New York, Los Angeles and Chicago, this is the first hotel location for the barbershop-speakeasy and first permanent retail collaboration for the hotel. Blind Barber at Moxy Times Square is a four-chair destination for locals and guests alike, offering a lineup of unisex grooming services, products and cocktails.
When guests and locals enter Moxy Times Square through its rotating doors, they pass check-in kiosks, and continue towards the barbershop's neon sign and entrance in-between the hotel's buzzing elevator banks. Guests enter Blind Barber's micro space that boasts similar design elements the barbershop's fans have come to know and love including white hexagon tile floors, distressed walls and four authentic, old-school barber chairs. As with other Blind Barber locations, a complimentary cocktail is served up with every service.
Haircuts and beard trims as well as Blind Barber's signature hot shaves are available, starting at $25.00. A unisex Blow-dry & Style service, exclusive to the Blind Barber at Moxy Times Square location, will be offered "on the rocks," providing waves and texture, or "neat" keeping hair sleek and smooth; allowing guests to leave looking and feeling refined and ready for any occasion, whether it be for the day, a date or to party upstairs.
"Our partnership with Blind Barber truly solidifies Moxy Times Square as a destination for both New Yorkers and visitors," said Mitchell Hochberg, president of Lightstone Group, parent company of Moxy Times Square. "We always look for new and innovative ways to enhance our guest experience, and partnering with a like-minded brand on this collaboration allows us to offer everyone the option to eat, sleep, primp and play within the comfort of our hotel."
Post-party, guests can indulge in Blind Barber's signature Hangover Treatment, a cocktail-inspired, essential oil-infused, hot and cold towel treatment with rejuvenating facial massage, complimented by Blind Barber's signature skincare line. Customer favorite products including the spirit-inspired 90 Proof Hair Wax, 40 Proof Sea Salt Spray and Watermint Gin Shave Cream are also available for purchase.
"We are thrilled to partner with Moxy to bring Blind Barber's brand of hospitality right to the heart of Times Square. The opportunity to bring our services to a wide range of guests from around the world as well giving our local NYC customers a convenient, new outpost to visit is something we are super excited about," added Adam Kirschenbaum, co-owner of Blind Barber, along with Jeff Laub, Josh Boyd and Matt Breen.
Blind Barber has created a concept that goes well beyond cuts, shaves and cocktails, with the goal of bringing barbershop camaraderie back in style. Since the brand opened their first location in 2010 in New York's East Village, it has quickly solidified its position among the top brands in the grooming industry. In April 2018, Blind Barber announced that Bryce Harper, one of the most-watched professional baseball talents in the world, signed on as a partner in the company with his own signature line of products launching in the fall.