CONVERSE, PATTA, DEVIATION COLLABORATE ON THREE-PIECE COLLECTION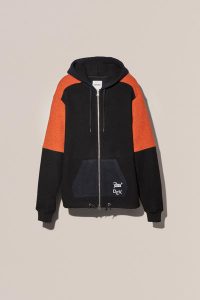 Amsterdam-based sneaker brand Patta, British apparel brand Deviation and American sneaker giant Converse will release a three-piece collaboration on December 21 on Converse.com and at select retailers.
The Converse x Patta x Deviation collection has been conceived to form a single head-to-toe look. It is highlighted by a full-zip Converse Essentials hoodie, which balances heritage in streetwear with sartorially flair, and also features two classic Converse footwear styles: the Chuck 70 and the One Star. Each silhouette has a unique high/low application of Casentino wool.
"I think our strength lies in the way both brands evolved and on what we've achieved over time. Consistency is something I highly regard, and I am absolutely inspired by the way these guys have built and kept their club night relevant through the years," says Patta founder, Gee Schmidt. "Converse has always been a loyal partner for us; they've been open and supportive of our vision always — and of course have a natural connection with music. This collection is a reflection of these three entities coming together."
Adds Deviation co-founder Benji B: "We have watched this evolution over the 10 years; babies have been born from people meeting at Deviation night, artists that you only used to see in the crowd are now superstars. Our music taste has evolved too, and when we look back at pictures of ourselves over the last decade, it's safe to say that our style has also matured."