DENIM MAKERS TALK WHAT'S NEW FOR SPRING '19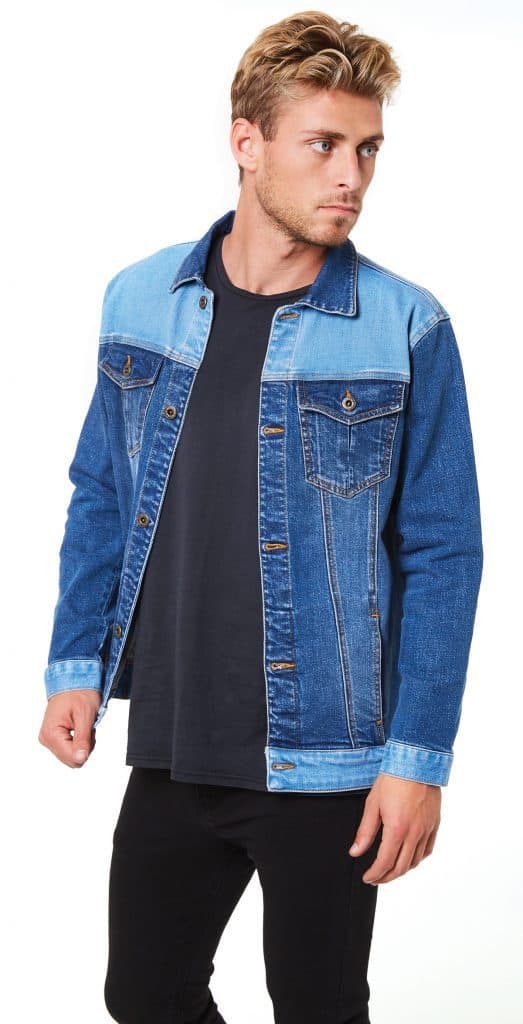 Fashion trends come and fashion trends go, but denim is forever — a staple of every man's wardrobe, year in and year out. But that doesn't mean the world's denim makers rest on their laurels; each season, they put out new product, often with technical improvements or major style variations. Here is what some of the world's leading denim companies have in store for spring '19:
HUDSON JEANS
One of the most popular denim brands on the market, Hudson Jeans has become a consumer favorite due to its emphasis on fit, authenticity, innovation and consistent quality, all of which are major factors when deciding which brand to choose. For spring '19 Hudson will continue its commitment to those attributes. "We are using innovative wash treatments to achieve authentic worn-in looks. In particular, our outerwear pieces have been treated to look like they've been lived in. We also have denim washes that have been specifically destructed and repaired by hand that gives the fabric a naturally worn-in look," says men's head designer Steffan Attardo. The company is also adding a significant change to its upcoming collection, says Attardo. "You will see more mixing of active wear into our core denim styles; it is no longer about having separate lines for active wear and denim core. That's what today's consumer wants."
LEVI'S
Perhaps the most famous denim maker in America, San Francisco-based Levi Strauss & Co. could just rely on its century-old reputation and continue to be a best-selling brand. Instead, the company is constantly looking for ways to refine and expand their product offerings. For 2019, Levi's is advancing its customization capabilities and redefining the future of how jeans are personalized using cutting-edge, laser-powered technology. For example, Project F.L.X. (future-led execution) uses laser-powered technology to digitize the design and development of denim finishing. "We continue to push ourselves to innovate and develop for the future while staying true to our brand DNA and product aesthetic," says Karyn Hillman, chief product officer at Levi's.
LUCKY BRAND
A favorite of customers around the world, Lucky Brand is rolling out a number of changes to its men's collection next season. "Here at Lucky, we're always innovating stretch fabrications, which is why we've developed a premium vertical stretch fabric that combines both form and function: Classic American styling and stretch innovation," says Jonathan Kirby, vice president of design, men's fashion and denim. "Instead of simply stretching across the seat, our premium vertical stretch denim only stretches over the knee, allowing the wearer to move while retaining the design's structure and shape. Another exciting performance innovation we will focus on next season is our signature thermoregulating CoolMax All Season technology. It keeps you cool when you are hot and warms you up when it's cold out. Both innovations will arrive alongside the launch of Stay Blue and Stay Sharp, our new denim lines that guarantee crisp, dark colors, even after over 30 washes."
RALEIGH DENIM WORKSHOP
Since being founded in 2007 in North Carolina by husband-and-wife Victor and Sarah Lyvitvenko, Raleigh Denim Workshop has seen its position in the denim world rise steadily year after year thanks to its daring use of colors and fabrics that make its jeans stand out from many run-of-the-mill brands. Unsurprisingly, the company's spring '19 collection will continue to the raise the bar. "The new styles I'm most excited about are using some new Japanese fabrics inspired by the Kabukimono Samauri from the early 1600s," says Victor. "They were known as the deviant ones and violated a lot of the fashion norms. The fabrics are a loose weave with a beautiful drape with a Sankuzushi pattern. We love it so much that we're using it in pants, jackets and shorts."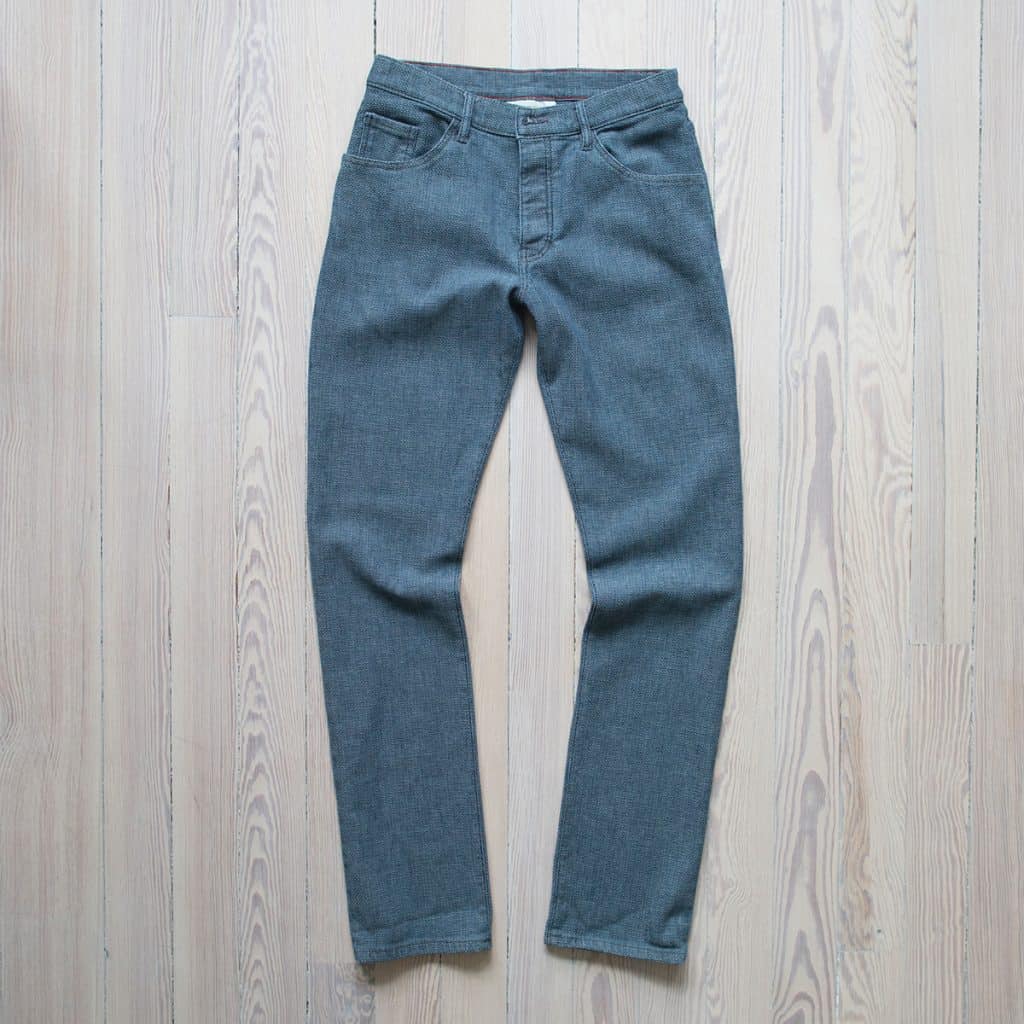 TRIARCHY
Known for its commitment to sustainability, Triarchy makes new strides every season. "For spring '19, we are focused on expanding our core offerings, but we will be adding new silhouettes," says Adam Taubenfligel, designer and creative director. "In addition, washes are staying strong into 90's blues and pure whites, as well as minimal distressing."
OUTLAND DENIM
Known as much for their amazing social consciousness as its denim, Australian-based Outland works with rescue agencies in Thailand, Cambodia and Burma to make life better for victims of human trafficking. But let's not forget about their apparel; its spring '19 collection nods to denim's heritage in the Australian landscape, drawing inspiration from the hardy outback and the hostile red dirt plains. New offerings include the loose thigh, tapered cut Eddie jean, available in clean cut Valley blue or slightly distressed Worn colorways. New washes in the classic-cut, six pocket Smith jacket also make their debut, including Trashed, True Blue, and Patchwork. "This collection's strength is matched by its integrity: the world's hardiest raw materials, organic denim and a design-to-delivery approach to crafting premium apparel that withstands new challenges," says James Bartle, the company's founder and CEO.
VILEBREQUIN
The French lifestyle brand best known for its colorful swimwear and sportswear is entering the denim market this spring through a licensing deal with Italian company Giada SpA, a leading producer of 100 percent made in Italy luxury denim. The new collection for Vilebrequin will consist of a wide range of denim pants and jackets and will be distributed through premier department and specialty stores in Europe, North America, the Middle East, Africa, Japan and Korea. "For some time now, we have contemplated adding denim as we expand our brand into additional lifestyle product categories," added Roland Herlory, CEO of Vilebrequin. "Rooted in our DNA, the denim collection will accentuate chic and cool characteristics of the 1970's. This partnership is a perfect fit to further enhance our brand's global distribution."
LUCHIANO VISCONTI
Italian apparel maker Luchiano Visconti is making its first foray into denim this spring. The company will produce one model, a five-pocket jean, made of Italian fabric and cut for the contemporary man. It will come in four colors (black, gray, navy and blue,) and will be available in sizes 30 to 44, with inseams of 30, 32 and 34. Best of all, it will retail for less than under $150. "There seems to be a real gap in denim at this price point," says company president Jeff Simon.
LIVERPOOL JEANS
One of the fastest growing denim brands in America, California-based Liverpool Jeans is continuing its growth pattern thanks to its emphasis on fit, color and value, says Ron Perilman, the California-based company's co-founder and president. "We are doing very well with jeans using CoolMax. It's not your typical stretch, it's kind of gummy is the best way I can describe it. Not only does it, as the name indicates, keep men cool, but it feels more like a sweatpant material than a jean. It's really great for men whose weight can fluctuate," he says. "Most of all, we continue to get an unbelievable response to our color assortment. For spring '19, expect to see a lot of light to medium greys, twilight blue, light olives, deep earth and sandstorm, along with some of more traditional, darker colors."