EFM FOLLOWS THE RHYTHM OF THE CITY IN FALL COLLECTION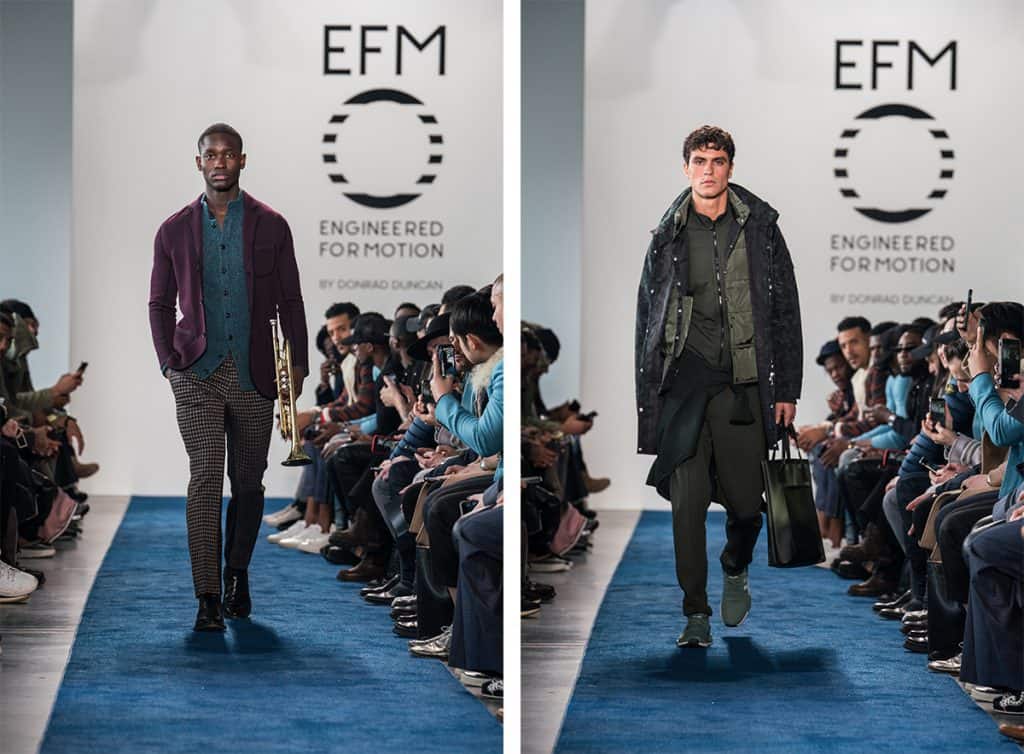 Advanced luxury brand EFM (Engineered For Motion) unveiled its autumn/winter 2018 collection at a special runway show at Pier 59 Studios on Tuesday, February 6.
Inspired by urban sounds and motion, designer Donrad Duncan looked to the rhythm of the city when creating the latest offering, bringing to life the soundtrack of the modern man through a collection that moves with the wearer where ever he may go.
Subtle references to classic Jazz Age styling appear throughout the collection via jacquards and windowpanes atop pieces like the Borden Blazer, Lismore Tracker Trousers, Blackwater Blazer and the Melrose Flat Front Trouser. Juxtaposed with the modern, clean lines that EFM has become known for, these fresh takes on modern suiting set the tone for a collection that is a seamless evolution from seasons past.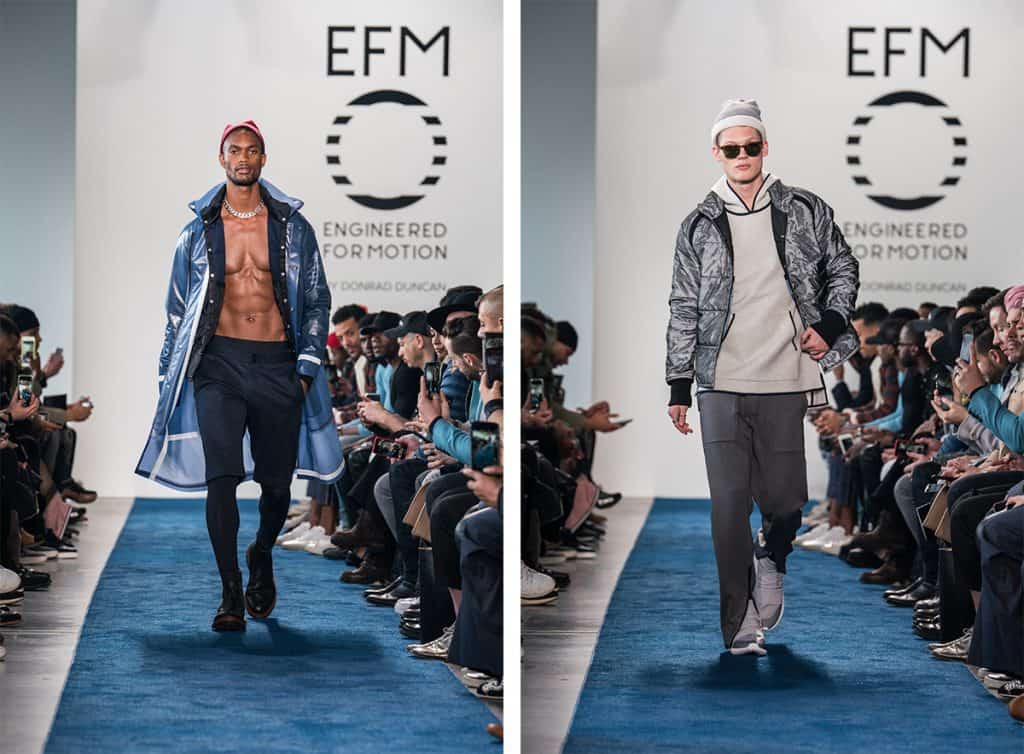 Graphic prints continue the seasonal vibe and add depth to the collection. Bold, high contrast and exaggerated patterns appear atop the minimal silhouettes of EFM's signature pullovers like the Wentworth and Walkerie, along with tees such as the Tookley.
All of the multi-functional pieces in the autumn/winter 2018 offering are designed to move thanks to advanced manufacturing techniques, which allow the garments to bend, stretch and breathe in remarkable ways. A new range of fabrics is introduced for the season including ultrasonic quilted neoprene, high luster printed nylon, and reflective metal mesh.
The collection is topped off with a selection of luxe outerwear for all occasions ranging from the brand's signature puffer jackets like the Derby, to more refined parkas and peacoats like the Forbes, Harrington, and the ultra-sleek Franklin. Leather styles like the Gatton and Gundy add just the right amount of texture and an element of modern luxury into the collection. Each of these styles is crafted using the finest materials, ensuring each piece will withstand the elements of city life and the test of time.