ENGINEERED GARMENTS TEAMS UP WITH HOKA ONE ONE ON FOOTWEAR COLLECTION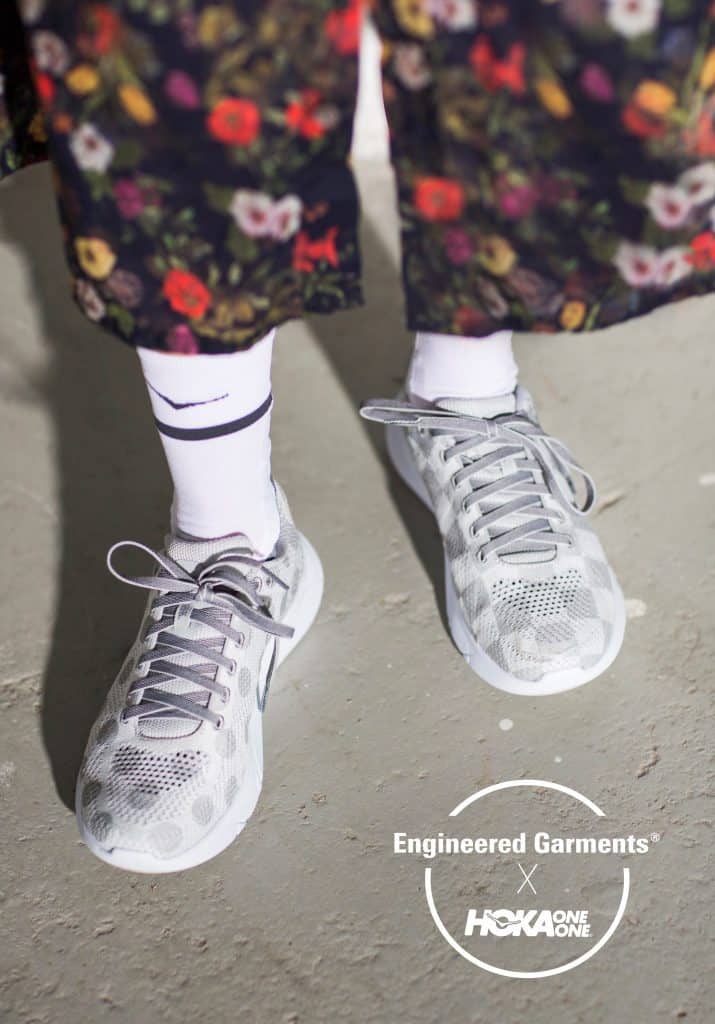 Footwear brand Hoka One One, a division of Deckers Brands, has announced a new partnership with American- and Japanese-inspired fashion label Engineered Garments to create an unconventional footwear collection featuring the Hupana style for spring 2018. The collection will be available exclusively at Engineered Garments' retail store, Nepenthes in New York and Tokyo, as well as in the U.S. and Japan on hokaoneone.com, starting March 29.
The first collaboration for Hoka and Engineered Garments, the collection features the Hupana – Hoka's versatile, low-profile, fully-knit upper shoe – in six different color and textile updates. Nepenthes' New York location will feature a Hoka pop-up in-store to highlight the brand and collection through May 22. This is the first collaboration, and pop-up shop, in the fashion and lifestyle space for the premium running shoe brand.
A mix of Hoka's premium running shoe technology and Engineered Garments' sportswear heritage, the special edition Hupana will retail for $145. It will be available in striking and contrasting colorways with visually appealing design elements including checkers, polka dots and ombré coloration, all featuring asymmetric designs between right and left shoes.
"We are excited to partner with Engineered Garments to reach men and women who incorporate fashion and design into their fitness lifestyle, and vice-versa," said Gretchen Weimer, vice president of product at Hoka One One. "The collection reflects the increasingly interconnected worlds of fashion and performance and will reach trendsetters in both of those realms."
"I got my first pair of Hokas about three years ago when a friend, who runs marathons, told me they were the best shoes ever," added Daiki Suzuki, designer of Engineered Garments. "The thickness of the soles looked crazy but I understood when I wore them that the cushioning was amazing, like walking on clouds. Hoka is now on a bigger playing field with more mass sneaker companies paying attention to their designs and philosophy, and the Hupana is a perfect fit for this collaboration for its light weight and simple design. We are excited to be working with a company with an ethos and mantra built on the sport of running."