EQUINOX UNVEILS NEW LINE OF LUXURY GOODS THAT WON'T BE FOR SALE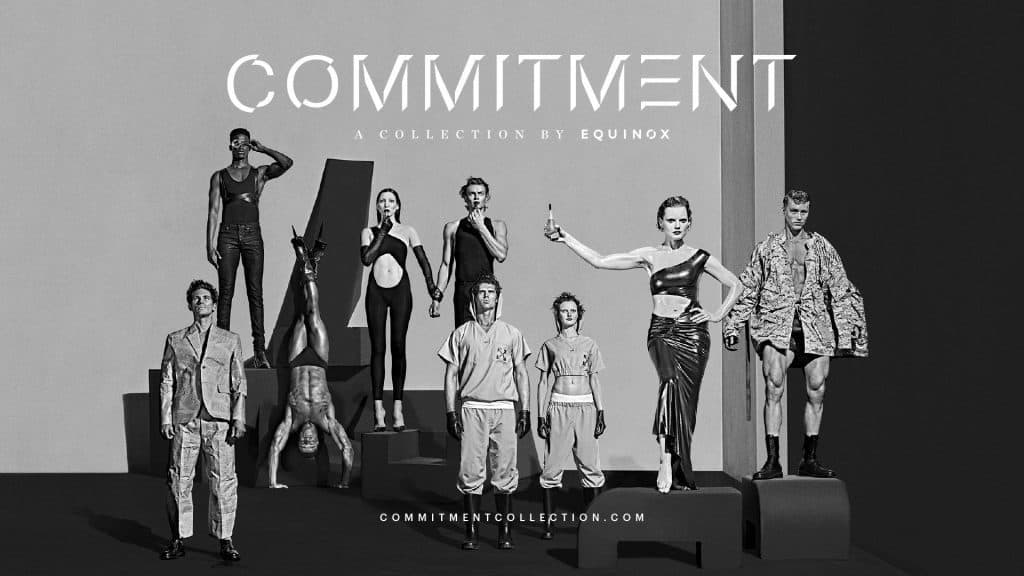 High-end fitness club Equinox has unveiled a new take on its acclaimed "Commit To Something" campaign with "Commitment, A Collection by Equinox," featuring seven one-of-a-kind luxury goods inspired by "the passion and persistence of some of the most committed people and organizations on earth".
In an on-demand world where everything is a swipe away and anything can be bought if the price is right, Commitment, A Collection by Equinox was conceived to subvert our typical perceptions of luxury. From "The Truth Lipstick" to "Eau de Blood, Sweat and Tears," each product serves as beautiful proof of commitment in a noncommittal world. The catch? Nothing is for sale.
Designed by some of the world's most provocative fashion forces including Off-White's Virgil Abloh, Shayne Oliver, Y/Project and Eckhaus Latta, the products explore the real-life stories behind The Washington Post's truth-seeking journalists, the gay civil rights pioneers of The Stonewall Inn, marathoner/activist Kathrine Switzer, and other fiercely committed people and organizations.
Commitment, A Collection by Equinox is not for sale. Throughout 2018, several of the items from the collection will be auctioned off, with proceeds donated to nonprofit organizations of importance to the people and organizations behind each, including Equinox's longtime charitable partners, Memorial Sloan Kettering Cancer Center and The Heroes Project. In some cases, donations have been made to these organizations on Equinox's behalf.
"The concept of commitment is central to the Equinox mission, and we proudly celebrate it every day as we empower each member of our community to maximize their own personal potential," said Vimla Black Gupta, chief marketing officer of Equinox Fitness Clubs. "We're living in a time where commitment has become a relative rarity, so the stories we're sharing as part of this year's campaign feel especially important as a catalyst for inspiring others to accomplish their own goals—both inside and outside the four walls of our clubs."
"As a brave brand, this year's campaign pushes well beyond two-dimensional images to create deeper, narratives around the world's most valuable resource—but nothing is as it seems," added Elizabeth Nolan, executive creative director of Equinox. "'Commit to Something' has now evolved from a provocative idea into a cultural movement, so we're inviting audiences on a meaningful journey to challenge their own definitions of luxury and its significance in their lives."
With designers curated by stylist Mel Ottenberg, Equinox commissioned the production of these one-of-a-kind items include: The Truth Lipstick, made from blank newspaper pages from The Washington Post, which symbolizes the organization's commitment to free press and journalistic integrity; The Law Suit, designed by Eckhaus Latta, and made from case files of lawyer James Thornton, founder of nonprofit ClientEarth who, over four decades, has committed to fighting for the environment because it can't fight for itself; Stonewall Stilettos, designed by Shayne Oliver, and made from the actual pleather from the banquettes at The Stonewall Inn, which symbolizes the commitment of early activists fighting for LGBTQA rights; The Shades of Humanity; designed by Adam Selman, and made from the camera lens of 2016 Instagram photographer of the year, Ruddy Roye; which symbolizes Roye's commitment to capturing the stories that often go unseen; Eau De Blood, Sweat & Tears; bottle designed by Rafael de Cardenas/Architecture at Large with a custom scent by 12.29, the fragrance was infused with the actual DNA of Kathrine Switzer, the first woman to run the Boston Marathon, which symbolizes Switzer's commitment to equal rights for all female athletes; The Scrubs Sweatsuit, designed by Off-White's Virgil Abloh, and inspired by the workwear of dedicated oncologists like those at Memorial Sloan Kettering, who patient by patient, are committed to fighting the war on cancer daily; and The Real Camo Jacket; designed by Y/Project (Glenn Martens) and made using actual material from the uniforms of four Heroes Project veterans, celebrating our partnership with the Heroes Project.
"I was really inspired to work on the Commitment project with Equinox this year," said Ottenberg, who curated the collection's designers. "The commitment stories we worked with were so interesting and varied, and to be able to create different products with some of my favorite designers was such a fun and rewarding challenge."