FOUR EMERGING BRANDS THAT YOU NEED TO KNOW
One of the best things about being fashion director at a magazine like MR is being able to discover new designers and brands, either online, on social media, in stores or at trade shows, and then being able to help give them exposure. The following four brands exemplify some of the most exciting new talent emerging in menswear.
FORTUNE GOODS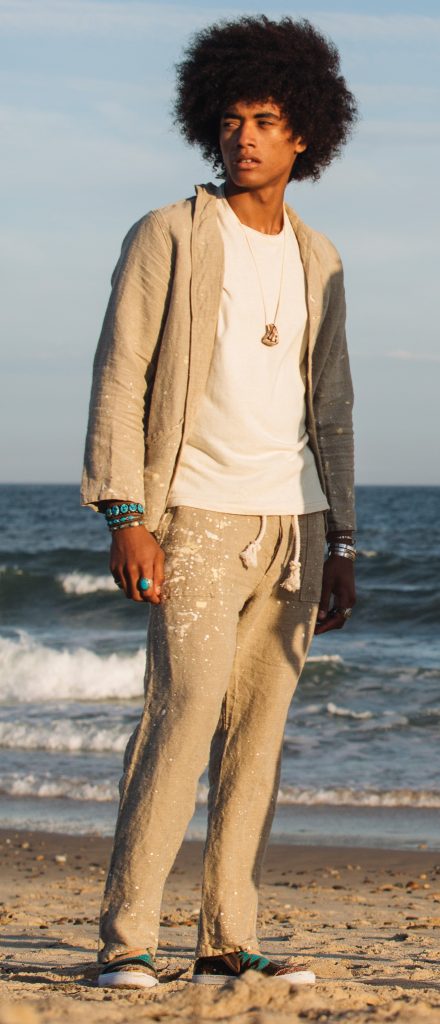 Fortune Goods designs things that are made ethically, authentically and that tell a story. With retails ranging from $198 to $375, everything is made in the U.S., while fabrics are sourced from Japan, the UK as well as the U.S. and often includes dead-stock, promising small runs of product that aren't mass-produced. The brand is helmed by Carson Monahan and Jon Sneden out of Austin, Texas. It began small in 2015, but by mid-2016, it had grown large enough to become a full-time gig for the pair.
Q: What's it like running a fashion company outside of NY of LA?
A: Austin is one of the best places to start a business, because people really respond to authentic and honest work.
Q: Where does the name Fortune Goods come from?
A: It's from sharing "fortune" with all of the people we work with: small factories, local family-owned business, and the Montagnard tribe, who re-located to North Carolina from Vietnam after the war. As we continue to grow, we not only wish for the success of our company, but all those involved that bring our dream to life.
Q: How would you describe your Fortune Goods aesthetic?
A: We draw a lot of inspiration from traveling and sourcing vintage items. We love the simple functionality found in old workwear and military garments which we use with a modern approach. We like straight forward design while at the same time creating a feeling of something new.
Q: What sets you apart from other brands?
A: We think what really sets us apart is our approach to the concept of fashion. Rather than stay in our studio and design based on current trends, we travel as much as possible to get a broader perspective on how real people utilize their clothes and in turn tell a story through each campaign. Most recently we went to Cuba and our S/S'18 collection spawned from the styles and colors we discovered there.
Q: What do you consider your signature item?
A: There are a few silhouettes that we really love and repeat in some shape or form each season, but one of the standouts for us is the Shawl jacket. We based it on the 1940s U.S. Navy jacket and really play with different fabrics and details. It's always a classic look and can translate easily from season to season. Editor's Note – I am obsessed with their Surf Pant, it's a loose baggy fit with a drawstring waist that has quickly become my new favorite pant!
Q: Where are you currently sold?
A: Currently we are sold in select boutiques in the USA and Asia, such as STAG Provisions and Gentry NYC, as well as on our website www.fortunegoods.com.
DEN & DELVE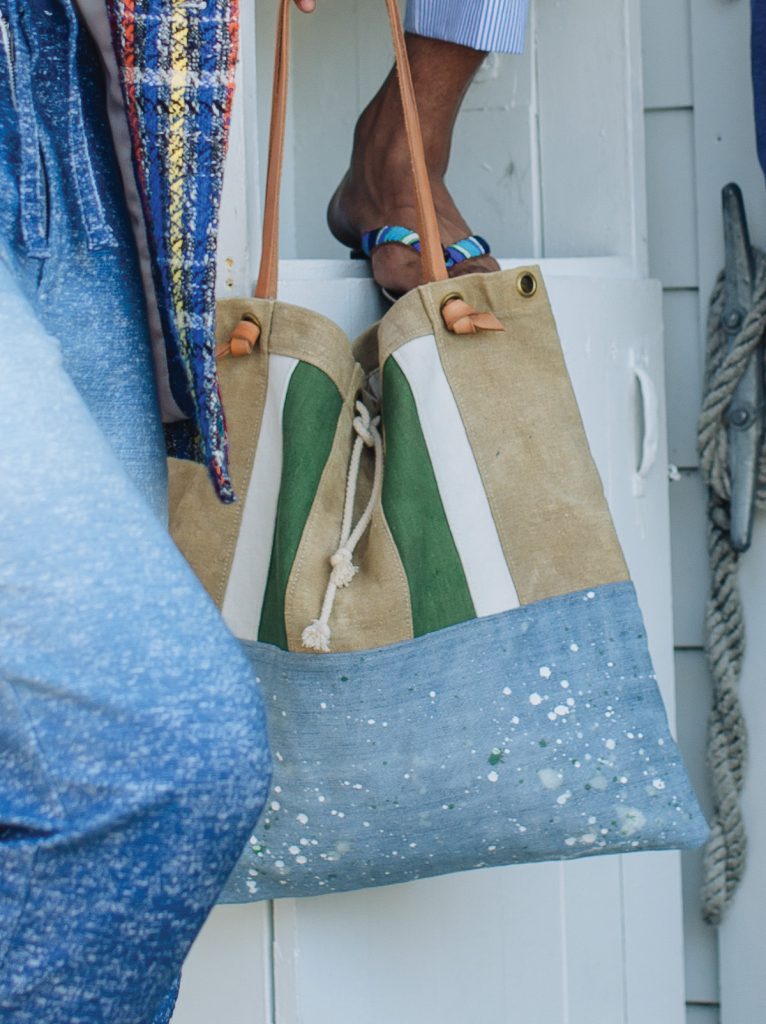 Patrick Minkley is part of the Home Office Visual Merchandising and Creative Team for women's store chain Anthropologie. But when he's not traveling the country opening new stores and creating those amazing displays, he's at home in Los Angeles hand-making some of my favorite accessories for his brand Den & Delve. He started the company in 2014 with the philosophy of handmade accessories that are made from re-purposed and vintage materials, which makes each piece one of a kind and supports sustainability efforts.
Q: How did you come up with the name Den & Delve?
A: It was originally the name of my Tumblr page years before I started the online shop. While living in England, I had been posting photos from flea markets I frequented and of all the objects and materials I was collecting, which eventually turned into items I was creating. "Den" is in reference to a home space (a cozy room, or even that of an animal, since my original focus was on decorative objects) while "Delve" defines the search or investigation for materials and inspiration, which is a big part of my process. My blog of the same name is a place where I share inspiration and the process behind my work.
Q: What is the aesthetic of Den & Delve?
A: I appreciate vintage things that have character and a sense of history. So, although the materials are old, I strive for a sense of newness in either design or how different fabrics are paired. The fabrics are curated, always tactile, and while they're unique, their history has a sense of familiarity to them. I'm inspired by the colors of nature, my travels, and worldly cultures. It may not always be obvious, but I'm typically telling some type of story through what I create, and I feel everyone connects with those elements and experiences in some way.
Q: What makes Den & Delve different from other accessory brands?
A: Each item is one of a kind. Although I could replicate similar designs, the nature of using vintage and limited fabrics ensures each piece will have its own look and personality. I like offering pieces that people know will be unique and are not mass produced, so no one else will have the same piece. Additionally, the entire process stems only from me. I spend a lot of time cultivating my inspirations and ideas to develop collections. I personally source all materials, design products, cut and sew fabrics to create each item, then hand-make packaging and wrap each item. I want customers to feel they are part of something personal.
Q: What is Den & Delve's signature item?
A: Originally, it was the leather "arrow knot" key chain, but people have become very fond of collecting different pouches. Editor's Note – I agree, I currently own about seven Den & Delve pouches!
Q: Where do you see Den & Delve in five years?
A: I'd like to expand my assortment to create and offer a whole lifestyle. This autumn/winter, I'll be adding more scarves and will even be experimenting with jackets. And since home decor and interiors are my other passions, I'd love to incorporate objects that help tell the stories and enhance collections.
Q: Where can people purchase Den & Delve?
A: Currently the Den & Delve collection, which retails from $65 to $275, is available exclusively on my online shop at www.denanddelveshop.com, but I am also always looking for brands and retailers to collaborate with on special projects.
MODASTEN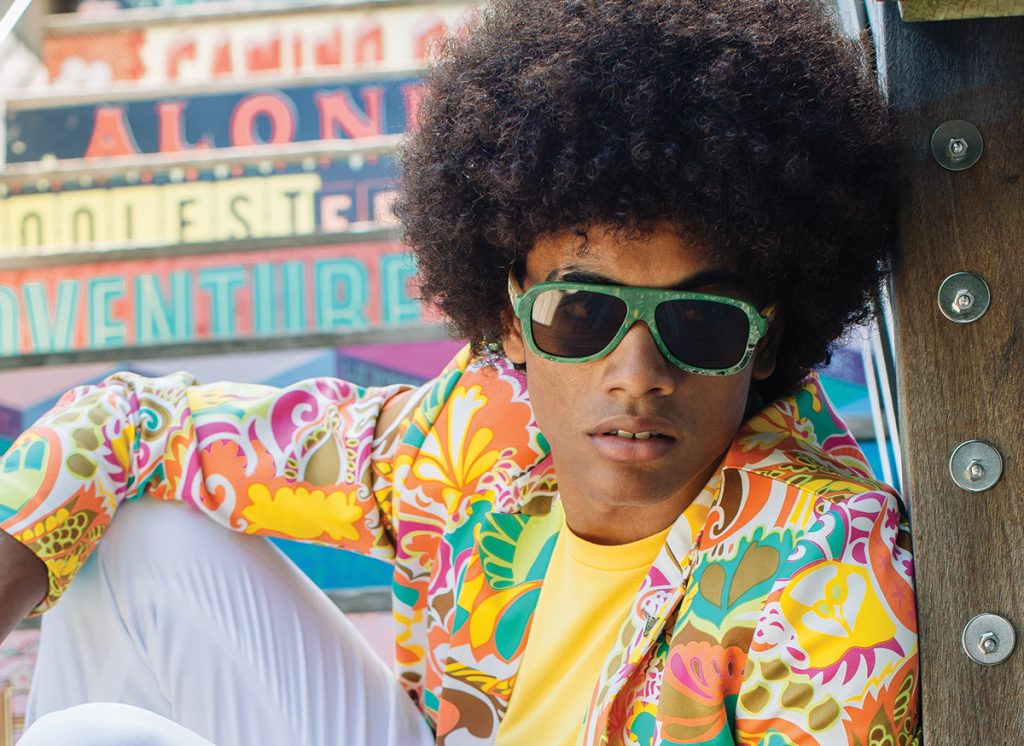 Modasten is a line of one-of-a-kind sunglasses made from up-cycled skateboards. The brand was started in 2009 by friends Gil Dror, who is based out of Florida, and Adam Schaffer, who is based here in NYC. Both maintain their day jobs in real-estate and construction while growing their business.
Q: Where does the name Modasten come from?
A: Modasten is derived from an ancient language from the words meaning "red" and "hawk". The red-tailed hawk has always been highly regarded for its acute vision and obvious freedom, and it has extreme significance to many different cultures across the world and throughout history. In some Native American cultures, the red-tailed hawk represents the inter-connectedness of all things and a reverence for all forms of life on this planet. Modasten was created to bring our own unique style to the fashion world by offering high quality and truly unique sunglasses that are symbolic of the spirit and power of the red hawk.
Q: How would you describe Modasten's aesthetic?
A: Modasten crafts hand-made sunglasses from up-cycled skateboards to offer consumers something they have never seen before.  Our intention was to create sunglasses where every single pair has different color schematics stemming from the original graphics and scratches, allowing the consumer to know their sunglasses are the only one in the world of its kind. In a world filled with generic merchandise, our glasses offer consumers a new avenue to express themselves.  The unspoken Eco-friendly vibe of using up-cycled skateboards is our way of giving back to the environment.
Q: What makes you different from other sunglass brands?
A: Our up-cycled skateboard collection offers consumers a "1 of 1" pair of sunglasses, and allows you to complement the exclusiveness of our frames with an Eco-friendly materials base. Plus, our lenses are polarized and the frames have a flexi-hinge, so for under $130, you are getting an amazing price/value.
Q: Where are you currently sold?
A: Modasten is sold in select retail locations on the East Coast and on our website www.modasten.com. Sunglasses retail for $129.
POST-IMPERIAL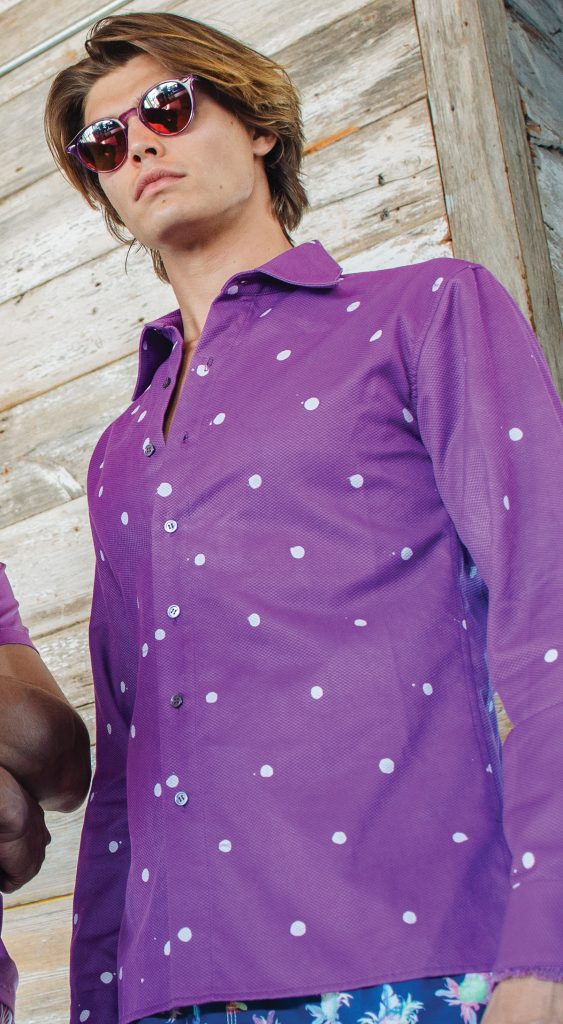 Post-Imperial was established as a brand in 2012 by Niyi Okuboyejoas, but it wasn't until 2014 when he created his first collection based upon creating new ideas from familiar ones by reassessing cultural standards within fashion. He is based out of both NYC and Lagos, Nigeria.
Q: How did you come up with the name Post-Imperial?
A: The name stemmed from a desire to focus on the present to create new works without the bait of nostalgia. There are several untold stories within the diaspora that have served as an inspiration point since the inception of the brand, which focuses on reconstructing the narrative of the black experience and translating it into a universal language within the global village.
Q: How would you describe Post-Imperial's aesthetic?
A: Post-Imperial products get their unique look from being treated in "Adire," a rare hand-dyeing process developed by the Yorubas in the Southwest region of Nigeria. Prior to dyeing, the artist hand paints patterns using a cassava starch paste that acts as the resist dye. Due to the nature of the process, each product varies in uniqueness and individuality, giving them a one-of-a-kind feel. The focus was to transform an old world technique into a new form of design. A friend describes this look as that of a psychedelic banker.
Q: What makes Post-Imperial different from other brands?
A: Post-Imperial sits in a space that shows how intercontinental African fashion can be. We are able to creative authentic narratives in different prints, colors and shapes. They might be strange, but they are familiar. Everyone knows what a pencil striped shirt looks like. Ours however is a distortion of the original due to the irregular lines drawn by hand. Different cultures interpret the result in different ways. Most people in the West see it as artisanal. In Japan, they see it as Wabi-Sabi (The aesthetic of transience and imperfection). Whatever the result, it allows everyone to participate in this cultural exchange without even realizing it. That is what our products do best: subliminally implant these cultural hues without necessarily educating you.
Q: What is your signature item?
A: Our Lagos shirt. It is our bestselling item. We offer it every season in different fabrics and prints. It has a boxy fit that gives of a casual vibe. It can be worn with a suit or to the beach.
Q: Where do you see the brand going in five years?
A: I would like to expand into women's and possibly open a store In New York.
Q: Where is Post-Imperial sold?
A: In North America stores such as: No Man Walks Alone, Sid Mashburn, Indigo & Cotton and Mohawk General. In Asia: United Arrows, American Rag Japan, B Shop, Journal Standard Relume, Guji, Arts & Science. In Europe: Merci and Beige, and in Africa at Alara and Stranger. As well as on our website, www.post-imperial.com. Expect to see retails between $125 and $595.
Photography By Menelik Puryear from our August 2017 print issue