FROM OUR JULY ISSUE: BRANDICE DANIEL, HARLEM'S FASHION ROW: MR 2023 VANGUARD AWARD HONOREE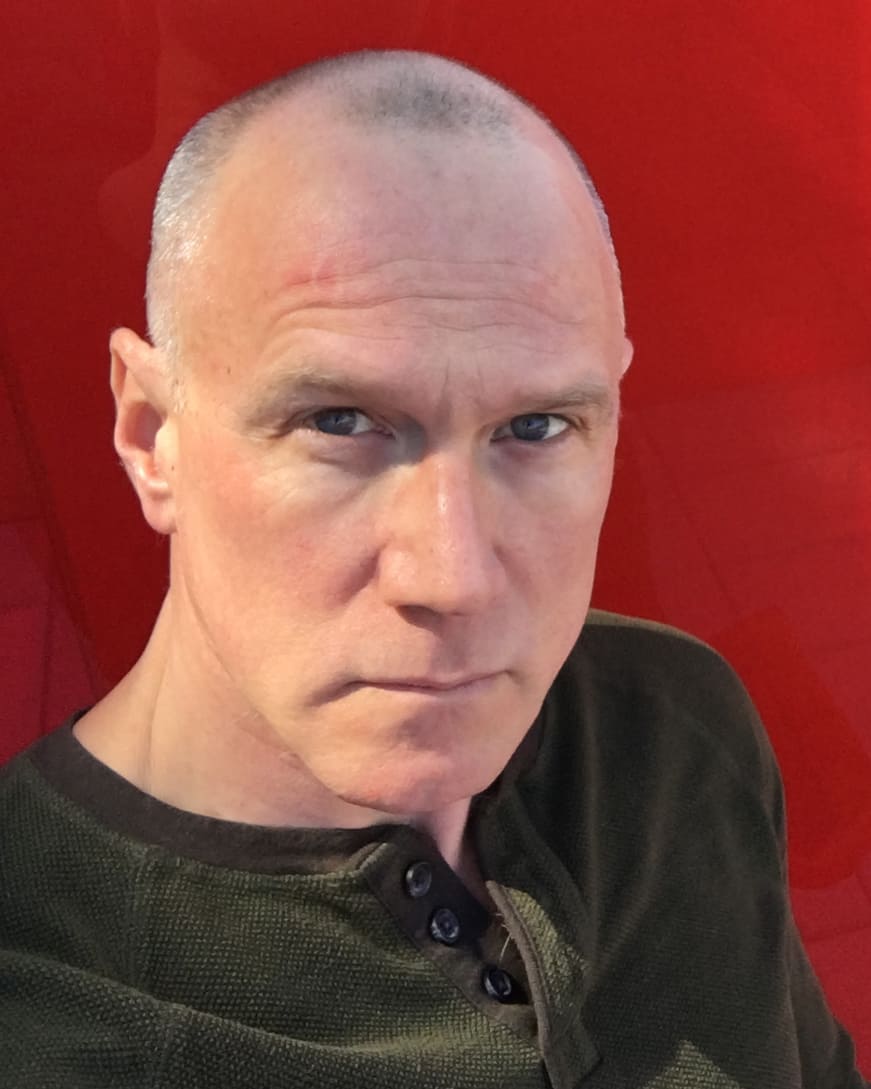 The entire MR team is proud to present our July 2023 MR Awards edition. Haven't gotten your copy, yet? Feel free to page through a digital copy at Issuu, and we'll continue to post individual stories on MR-mag.com. If you haven't been getting MR in print, be sure that you are on our mailing list for future issues by completing this form.


Brandice Daniel, the founder and CEO of Harlem's Fashion Row (HFR), was about to appear on The Tamron Hall Show. For the interview, we sat in a small dressing room buried deep in the maze of the ABC Broadcast Center on Manhattan's Upper West Side. For someone who was about to share cookout style tips in front of a live audience and television viewership of more than a million people, she was completely calm, relaxed, and unruffled. Maybe it was from starting her day with meditation. Maybe it was just her naturally gentle and wise Pisces demeanor. Or maybe it's because she has a clear vision of her mission to "create a bridge between brands and designers of color in fashion."
A native of Memphis, Tennessee, and a self-described "P.K." (Pastor's Kid), Brandice is the middle sister of three. She describes herself as "a typical middle child, a typical Pisces." She says, "I was always the kid who was in the hospital for something because I was trying a trick on my bike or whatever. My parents have always been supportive."
Brandice holds a bachelor's of science in fashion merchandising from the University of Chattanooga and another in international trade and marketing from the Fashion Institute of Technology. (She confesses that she didn't complete all her credits, but she was awarded an honorary degree by Dr. Joyce Brown at the college's commencement last year.) While still in Tennessee, she was a buyer for Charming Shoppes, which led her to New York, where she worked in apparel production for International Intimates (working on the Victoria's Secret account). Her goal was to one day own a men's boutique.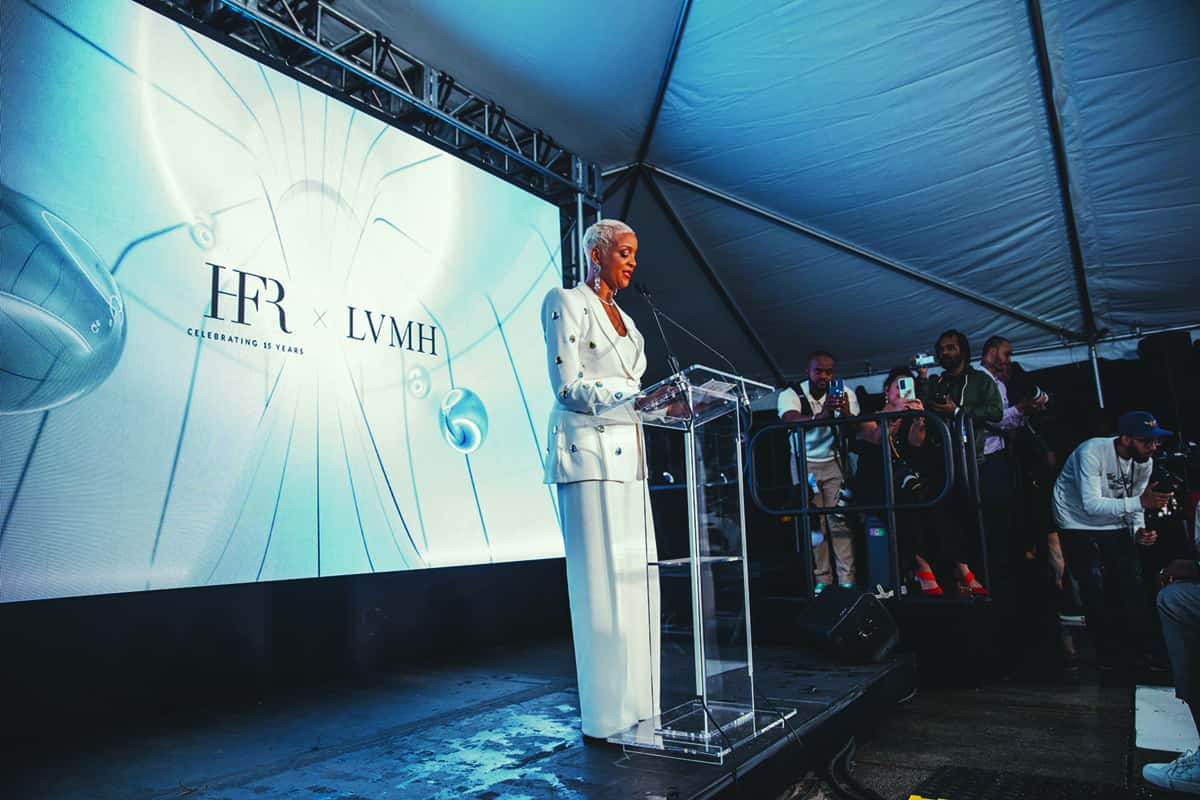 "I was going to call it Infinity. I still have the email! I started volunteering at a newly opened men's boutique in Harlem called B. Oyama. That's when I realized that I did not want to work in retail. I loved the idea of dressing men, but I didn't like the idea of sitting in a store waiting for people to come in."
After attending a community-based fashion show in Brooklyn, her new calling began to take shape. She wanted to bring the same concept to Harlem, where she was seeing an emergence of new stores.
"The original idea wasn't about designers of color. I just wanted to do a fashion show in Harlem, where I lived. I started working on it in May 2007 and set the date for August 17—because I didn't know any better! There were a lot of beautiful boutiques and ateliers opening in the neighborhood, so I asked all of them to be a part of it, and they all told me 'no,' except B. Oyama!"
Brandice was resolute, though, and kept going back until four of the five said "yes." The stores included B. Oyama, Denim Library, Montgomery, and Pieces. [Editor's note: That fifth store was one of MR's original Uptown/Downtown Award Winners in 2006, N, on Lenox Avenue.] Harlem's Fashion Row was born.
In 2008, she began to pull together her second event. She started by searching for Black designers, a project that turned out to be more difficult than she thought. "Common sense told me to go to department store websites. I started making a spreadsheet and—of all the designers they carried—I could only find four Black designers out of hundreds! Less than 1 percent! And it wasn't just one department store, it was every one. That was a landmark for me because I saw the problem and realized that I had to find a way to be part of the solution."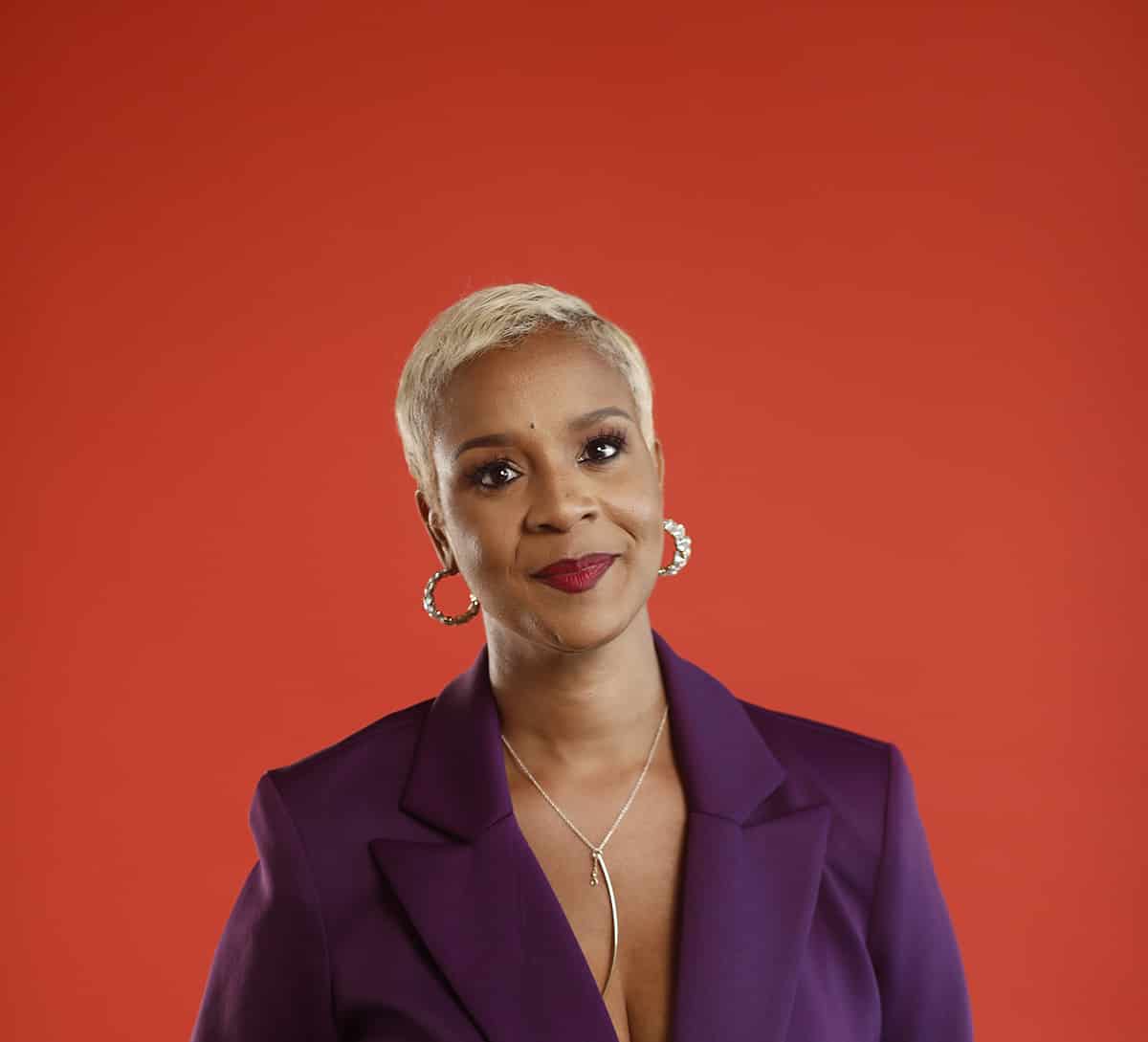 HFR grew, and in 2009, the event honored Coty Award–winning designer Stephen Burrows. In 2011, the organization held its first event at Jazz at Lincoln Center and had its first big brand sponsorship, from Target, which was just opening its first store in Harlem. There was a show at the Apollo Theater, and in 2015, the organization hosted its first event in Los Angeles.
Then came 2017. On the day of the annual fashion show, there was a downpour. The audience and crew soldiered through, but the weather wasn't the only thing that was unpleasant.
"That year was the worst for me," says Brandice. "I began to question what I was doing. I was doing it, but everything about it was hard. I knew it was my purpose, but I thought, maybe it looks different. Maybe it's not an event. Maybe I don't even have Harlem's Fashion Row, but maybe I can just personally help a little bit here and there. That was so hard for me."
Brandice thought that a product collaboration would be a smart move for HFR, and in that tumultuous year, she got the call. Nike wondered if HFR would consider doing a collaboration for 2018 on a sneaker: a LeBron James sneaker.
The Nike LeBron 16 made its debut in September 2018, the product of a collaboration between designers Kimberly Goldson, Felisha Noel, and Undra Celeste. The design featured gold accents, James's Lakers number 23, and an LJ crown motif, as well as a 3D lion's head on the heel. The shoe retailed for $250 and was so successful that a bright yellow reboot dropped the following year.
"That was huge. And it was a signal to the industry that it should pay attention to HFR."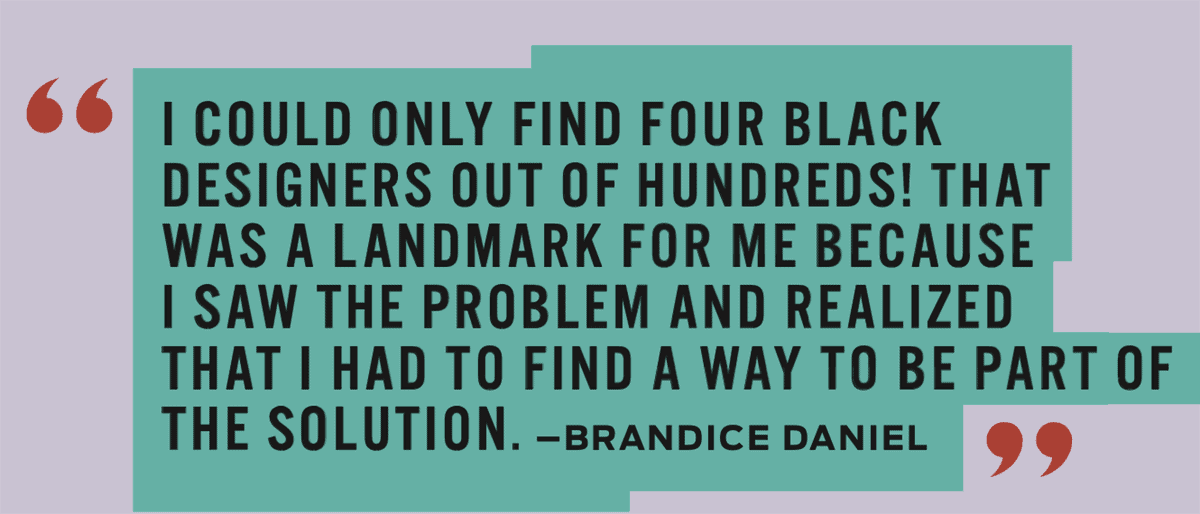 As for everyone, 2020 was a milestone for the organization when everything pivoted to virtual contact as a result of the pandemic. HFR's annual show became a partnership with the Council of Fashion Designers of America, which hosted the event on its website. Ralph Lauren spoke at the second annual designer retreat of Icon360, HFR's nonprofit subsidiary. In 2021, the live show returned and was held right on the block where Brandice used to live.
"We invited the whole block to the show. Everyone was out on their stoops watching. Anna Wintour presented an award to Carlos Nazario [global fashion director of i-D Magazine] and even posed for pictures with people."
Brandice confides that there is a group of mostly Black women that she calls "her angels," trusted advisers like Harriette Cole, Audrey Smaltz, B. Smith, and Teri Agins. "They're truth-tellers and really helped me to get things right. And so I'm really, really grateful for them. They wouldn't tell me, 'Oh, Brandice, that was great,' after every show. They would literally say, 'These are the things that you have to fix.'"
A bespoke tailor to the stars, Richfresh has dressed everyone from Dwyane Wade to LeBron James and Barack Obama. Fresh (as he is also known) had his first HFR fashion show at that virtual event in 2020.
"Brandice and I are both from Memphis, but we didn't meet until she'd moved to New York and I'd moved to Los Angeles. We connected because she liked my brand. Brandice asked me to lend a few looks for a charity fashion show she was producing. Normally I didn't do things like that, but she convinced me, and after showing up at the event, I could see the possibilities in what she was doing. We stayed in touch, and every so often she'd reach out with other projects. I kept saying 'yes,' and things kept happening!"
Fresh was invited to design an HFR capsule collection for children's brand Janie and Jack in 2000. He says, "It was a great way to show that I could design for men, women, and children." He was also invited to participate in HFR's 2022 Black History Month collaboration with Mattel to design a Barbie. "We got to develop the whole doll, including the hair, makeup, and outfit. It was a great representation of the brands." Fresh goes on to say, "Brandice is best at opening doors and putting opportunities in front of designers so they can see the possibilities that are out there."
In 2022, HFR forged an alliance with LVMH North America through which the two organizations work together toward a more diverse, equitable, and inclusive fashion industry. That year's fashion show became an extravaganza—again with a downpour—this time staged at Grant's Tomb, an Upper West Side landmark and a tribute to the man who led the Union army to victory over the Confederacy and worked to remove the vestiges of slavery.
Brandice and HFR are now preparing to make yet another pivot. Whereas the efforts of the past 16 years have focused on the fashion industry itself—retailers, editors, stylists, etc.—the agency will now shift its focus to consumers, especially those who want to shop Black and Latinx brands. Brandice quotes recent studies by McKinsey and Bloomberg that revealed that Black people are 2.3 times more likely to buy from a Black designer or creative.
"What came out of the pandemic and post George Floyd is a renaissance. We want to support Black designers more than we ever have. I've been doing this for 16 years and I've never seen what I see right now. So we're going to galvanize that community. What I learned is that any time you start something new, even though you've built a solid brand, it's still like starting over. And you have to approach it that way. I believe in giving things time to grow, to 'slow bake.'"
Brandice now lives in Brooklyn with her husband and seven-year-old daughter. Designer Shawn Pean, of June79, says, "Brandice's daughter has such an amazing spirit. Brandice will say 'I don't know where she gets it from,' but clearly, it comes from her."
Pean goes on to share that in 2022, HFR did a collaboration with American Girl Dolls. The celebratory event happened to land on his daughter's birthday, so of course, they attended. When talk turned to the after-party, Pean prepared to head home, but his daughter insisted on going.
"When we arrived, Brandice surprised her with a birthday cake, which was presented to her by [award-winning women's wear designer] Prabal Gurung!"
June79 was featured at HFR's post-COVID show in 2021. "It allowed the brand to be seen in a different light, as more mainstream in the fashion world.
"Brandice is easy to work with and her demeanor is calm and soothing. The Southerner hasn't let New York change who she is. HFR is successful because of the sense of community she's created. She connects the dots between designers and consumers, both ends of the retail fashion world."