FROM OUR NOVEMBER ISSUE: WHERE ARE WE NOW?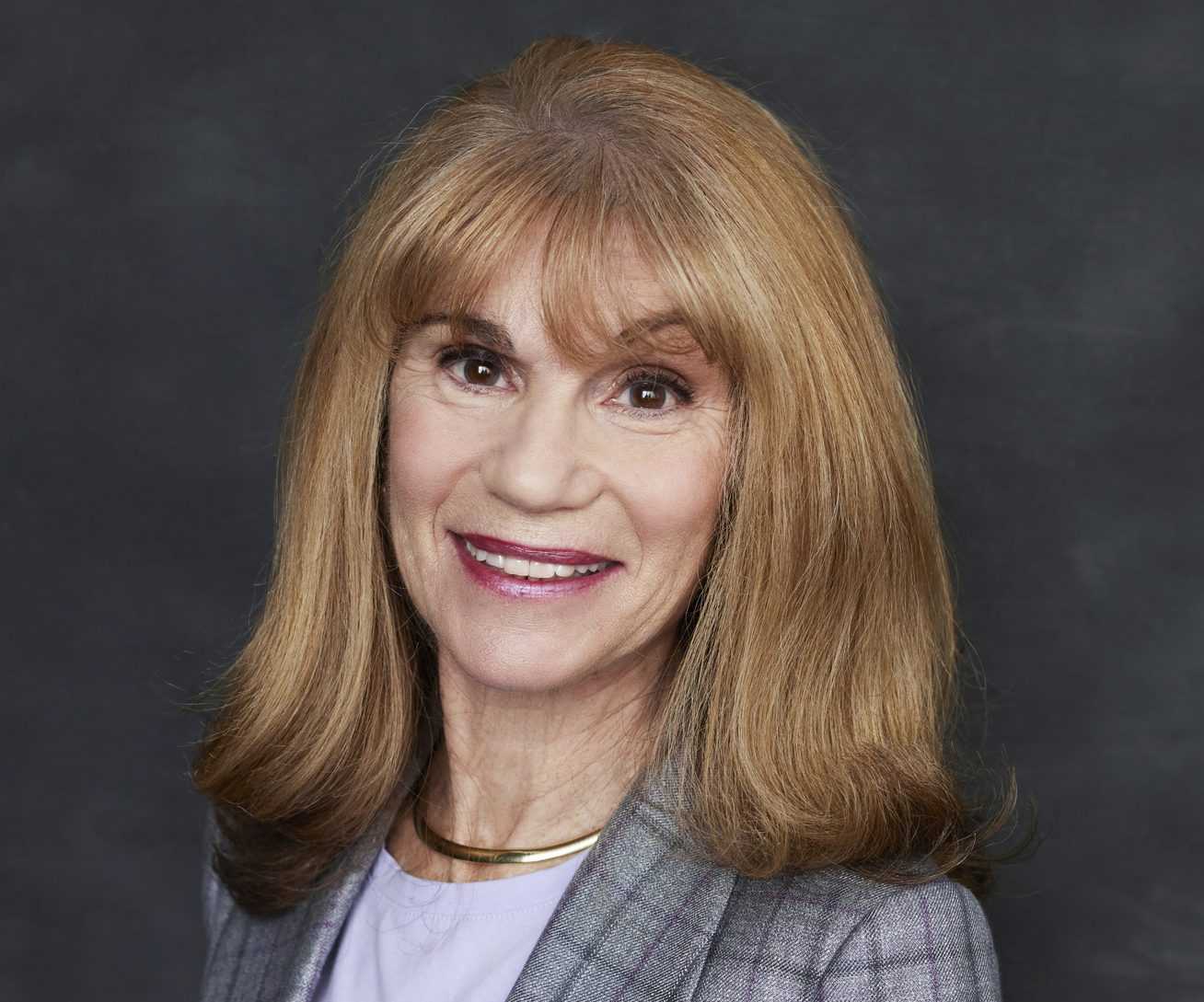 The entire MR team is proud to present our November 2023 issue. Haven't gotten your copy, yet? Feel free to page through a digital copy at Issuu, and we'll continue to post individual stories on  MR-mag.com. If you haven't been getting MR in print, be sure that you are on our mailing list for future issues by completing  this form.
DANA SWINDLER, MP3, MINNEAPOLIS: A CHOPPY MARKET
Our best-selling apparel these days: "overshirts" – at all price points. The demand is simply insane! Blazers and knits are also performing well. The triple stitch sneaker by Zegna is on fire and has been for a few years now. Interesting to note: consumers want the original from Zegna way more than the less expensive knock-offs. Also selling well: thick angora and mohair sweaters. "Color" is moving better this season than in years past. Corduroy in both pants and outerwear is rapidly gaining popularity.
On the disappointing side: men's dress pants are still slow, men's typical dress shirts (blue, white, generic) are slow. Work shoes are also slow.
Trying to predict demand has become a major challenge. The retail market has become "choppy" as I call it: up down, down up, left right, and sideways! It's very hard to gauge when customers will be in to shop. This was not the case pre-Covid; it was a much more predictable pattern. So now if you're wrong, you have too much inventory. It's rare not to have enough.
But the opportunities are still out there. We try very very hard to listen to what our customers want to buy, and then what they are actually buying and wearing. We're backing more heavily than ever the apparel with high sell-throughs and chasing into more, when possible. This puts more focus on reducing, or having to drop, the brands that aren't performing.
Foot traffic is definitely a roller coaster this year, and likely next. With 2024 an election year, all the chatter is "you know how unpredictable the election year always is, this year will be worse." So for us, we will continue to do what we do, cull through our assortments to the best of our ability and keep our inventory under control. We are not planning any drastic changes, just being even more mindful with our buys. I would rather lose a sale, than have to play Pac-Man with way too much inventory.
Image, above, MP3 store interior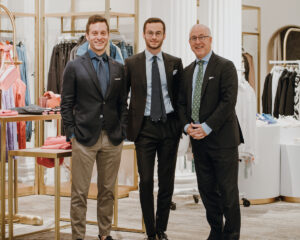 KENT GUSHNER, BOYDS PHILADELPHIA: FOOT TRAFFIC FALL-OFF
Performing better than expected: tailored clothing! We're seeing more early season activity than we'd planned, not like the old days, unfortunately, but very encouraging. Many Philadelphia corporations (mostly law firms and tech firms) have mandated back-to-office guidelines since Labor Day. Comcast mandated four days in the office, and while they didn't specify suits, there are baseline dress codes in place. So we expect to see continued growth in tailored clothing. Unfortunately, with so many Italian brands, we're unlikely to get re-orders mid-season. Basics might be available, but what's selling in sport coats is fashion fabrics. As for the exaggerated oversized runway looks, we dabbled in some looser fits and DBs in our spring '24 buy. We'll be watching it.
On the flipside of dress-up, sportswear business has been so strong these past few seasons that customer closets are already filled; early fall sportswear sales have been a bit disappointing but should turn around closer to holiday.
I think the biggest challenge we face is the post-Covid fall-off in foot traffic. Our numbers are good in terms of dollars, but we have fewer transactions. Another challenge is recruiting and retaining new staff. With less store traffic, it's hard for new sellers to get a foothold. Today's generation wants instant gratification, and new sellers soon learn that the first six months will be challenging.
Changes we're making into 2024: Encouraging our staff to develop relationships outside the store, to get involved with local charities, to reach beyond our four walls. Waiting for clients to walk through the door doesn't work anymore. Although having a store in the suburbs helps, it's not enough.
That said, I do believe that there's renewed opportunity for specialty stores in today's environment. Customers are no longer satisfied with the poor level of service and limited assortments in the majors. Sellers in the big stores often lack product knowledge and/or the ability to connect with customers. This opens a window of opportunity for the good specialty stores.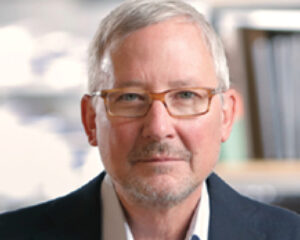 JB DUNN J3 CLOTHING, CLEVELAND, OHIO: EVENTS DRIVE TAILORED
Much to our delight, our business continues to do very well. We're not hitting 2022 numbers (our best year ever in the 13 years of our existence), but business is very healthy.
There's a rumor out there that sportcoats and suits are not selling. To the contrary: special events are still driving the tailored clothing category. That said, men are learning how to wear clothing differently. It's a metamorphosis: they're starting to pair five-pocket pants with nice sport coats.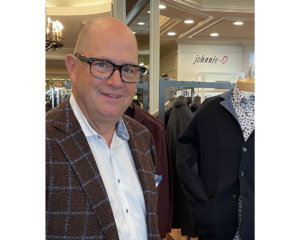 CHRIS LAMBERT, C.J. MENSWEAR, FORT WAYNE, IN: SEEKING PARTNERSHIPS
Our off-the-rack and custom clothing business continues to shine. Right now, we're having a great sport coat month. Our higher end sweaters (Baldassari, Paul & Shark) have been excellent along with better outerwear from Gimos and Paul & Shark.
The pant business has also been strong, led by our expanded commitment to Brax. Our Stenströms dress and casual shirt business continues to shine, and our Magnanni shoe business keeps on growing. On the flip side, our casual pant and dress pant businesses have slowed, as consumers are preferring 5-pocket models.
Key challenges include trying to continue the phenomenal growth we (along with everyone I know) experienced in 2022. We were fortunate last year and it's a challenge to meet and/or beat those figures in 2023. That said, we gained a lot of new customers in 2022, and we're hoping to grow with those and add more new ones.
We're optimistic about 2024 and continue to seek out new vendors and partnerships. I stress "partnerships" since those companies that work with us and help us tweak the right product mix are the ones we go back to and grow with. New is always exciting for the customer, so, like everyone, we evaluate our business each season and try to bring in a fresh point of view. We'll continue to add in-store events for 2024.
On a planning side, we'll pay even closer attention to our open-to-buy dollars for 2024, as you never know when things will slow down. In 2022, it was hard not to do well and easy to take chances, but we're keeping a close eye on which vendors are the best fits for us.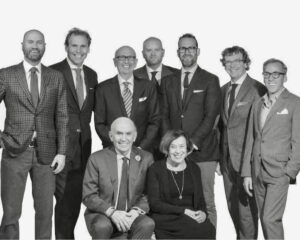 BOB MITCHELL, MITCHELLS STORES: THE MAGIC IS BACK!
Selling best in men's: sportcoats across the board at all pricepoints. From knits to fully constructed, best sellers are patterned, not solid blazers. Guys are wearing them both to the office and to events, with jeans and with dress pants.
Disappointing are suits and tuxedos: after two years of strong business and non-stop events, this business is slowing down a bit.
On the other hand, while we're cautious about suits, we're very bullish on outerwear. The early read is good and it's not cold yet. We believe that if guys aren't wearing suits in the winter, they're more likely to wear coats. And we have the best assortment ever!
One obvious challenge we now face is competing against the strongest comps in our history. Menswear sales were off the charts these past two years, 2022 was our best year ever, and the first in which growth in men's exceeded growth in women's. Our average pricepoints are also up, so it's going to be tough to meet these numbers.
On the other hand, what we're seeing clearly is that the magic is back in the stores. Our customers love coming in, working with our sales associates, shopping early and paying regular price for unbroken assortments. (We're proud that 70 percent of our sales are at regular price.) A challenge now is continuing to innovate for the luxury customer who has everything. Another challenge is competing with off-price promotions and "points" in department stores and with assortments in mono-brand stores, now popping up everywhere.
As for changes we're making in 2024: we're investing in and renovating our stores to make them the center of the universe—for men, women, families. We want to make sure they remain fabulous, fun, and dynamic. We're completely renovating Portland and San Francisco and building a new store in Palo Alto. When we can create magical experiences, that's when we win.
LUXURY DEPARTMENT STORE EXEC: NO PLAYING IT SAFE!
What's selling best lately is versatile, elevated sportswear that can be worn to the office, events, dinner, etc. Think Zegna, Cucinelli, Loro Piana, Louis Vuitton, Dior. What's been disappointing is the footwear business.
Our greatest challenge these days is managing through a time when customers are gravitating toward sale vs. full-price. Another challenge is gaining market share via gaining new customers.
However, the challenge of gaining market share is also our greatest opportunity. We need to do everything better than our competitors.
What we need from the market: a broader range of pricepoints or a pricing architecture from the designer and luxury brands that attracts new clients to the brand. We need more fashion offerings. This is not the time to play it too safe.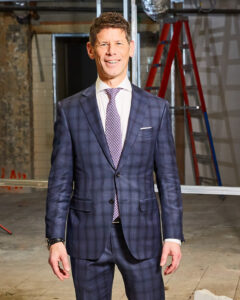 SCOTT SHAPIRO, SYD JEROME, CHICAGO: FASHION CREATES PASSION
Our customers have money and they're spending it, but not necessarily on clothes. Also problematic: the divisive, combative, and contentious ambiance in our country today: the haves vs. have-nots, big cities vs. suburbs. There's no more workweek in major metropolitan cities; execs can work from anywhere and don't come regularly to the office. They're in Scottsdale, they're in Palm Springs, they're at their summer homes on Lake Michigan… For big city retailers, it's much less fun these days: we're working much harder to do the same or less business. If a guy wants a new shirt to wear out on Saturday night, he'll go to Neiman's or Saks in his local mall rather than deal with downtown.
In the old days, on a slow day, I'd call customers and tell them about some great new styles that just came in and they'd come into the store to check them out. Now, it's hard to find guys working downtown so I can't generate business the way I used to. Fortunately, there are still enough weddings and graduations. Without dress-up events, I'd be in trouble.
I still carry inventory: I employ eight tailors. (Other retailers use me for their tailoring needs.) My mission hasn't changed: to carry a broad selection of the best styles in sizes and colors not often available in department stores. My customers like what they like: if something fits and flatters them, they want it in every color. So whether it's a jean from MAC or a sport coat from Windsor, I need to carry a broad range. I also need to manage the business better: the cost of carrying inventory has become excessive.
What I'd like to see in the market: more excitement, less predictability. We always bring in some forward fashion: wider lapels, DB's… And if we sell half of it, we're happy. When I shop brands like Herno, Isaia, Brioni, I look for the one piece that's different.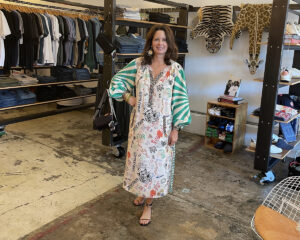 DEAVON MOORE, DLM SUPPLY, DALLAS: TIGHTER INVENTORIES
I'm seeing a shift to elevated casual. I'm essentially a casual store, but in men's, I pushed the envelope this season and went dressier. So far, it seems to be working: I believe our guys were ready to upgrade, both for the office and for going out.
What's doing well for us is cleaner, more fitted casual clothes in performance fabrics. Guys seem to be traveling again and often need to go to a meeting right off the plane. They want something that won't be completely wrinkled when they get to their appointment. Footwear and accessories have also been strong.
What's been a little disappointing is the frequency I would normally see my guys in the store. This could be partly due to the extreme heat we've had in Dallas. Fortunately, customers did clear out sale goods at the end of the season, but I notice many have been going on trips without shopping beforehand.
A big challenge going forward is tighter inventories: like many merchants, I tightened up my buys when I saw that customers were buying less. I now worry they won't be patient if I have to order their size or style. Hopefully, our customers understand the many challenges confronting specialty store merchants. A related challenge is having the dollars to react in season. I still want to push new trends and new brands. I plan to keep guys in the dressier casual clothing, and not let them get too casual again. I hope to work with more customers one-on-one.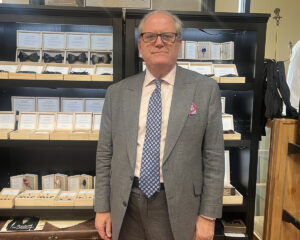 PERRY LANCASTER, BRITTONS, COLUMBIA SC: COMMUNITY BRINGS CUSTOMERS
We're doing a tremendous amount of business in tuxedos: both sales and rentals. Better sportswear (Johnnie O, Hagen, GenTeal, 34 Heritage, Ballin) and sport coats are also strong. What's not selling as well is trendy shirts that are a bit too fashion-forward for my customers.
A key challenge is finding vendors who can fill-in mid-season. And vendors who understand partnerships. Brands that offer us great markups, sell-through, and exclusivity are those we will grow with.
I see real opportunity in reinforcing relationships within our community and in giving back. We're involved in many community fundraisers; a major fashion exhibition focused on Alexander McQueen is currently running in Columbia through January. Participating in community events inevitably brings new customers to the store. Going forward, we'll work even harder to strengthen relationships with both our customers and our brands.