Furnishings Business: Optimism Amid Challenges
Dress shirts are doing well, but neckwear is a more complicated business: down some places, up in others, and full of intriguing niche opportunities.
Although most retailers are loathe to admit it, furnishings business has been tough for many, both large and small, over the last year. PVH's David Sirkin called the past year "challenging," but noted an increased sense of optimism for spring. And there's more good news: "Whereas two years ago, 65 to 70 percent of men's dress shirt purchases were made by women, it's now down to 50 percent. Men are taking ownership of how they look; they've connected to the fit message and they are out there shopping." And yes, Sirkin adds, it's mostly younger men—which is also good news for future business.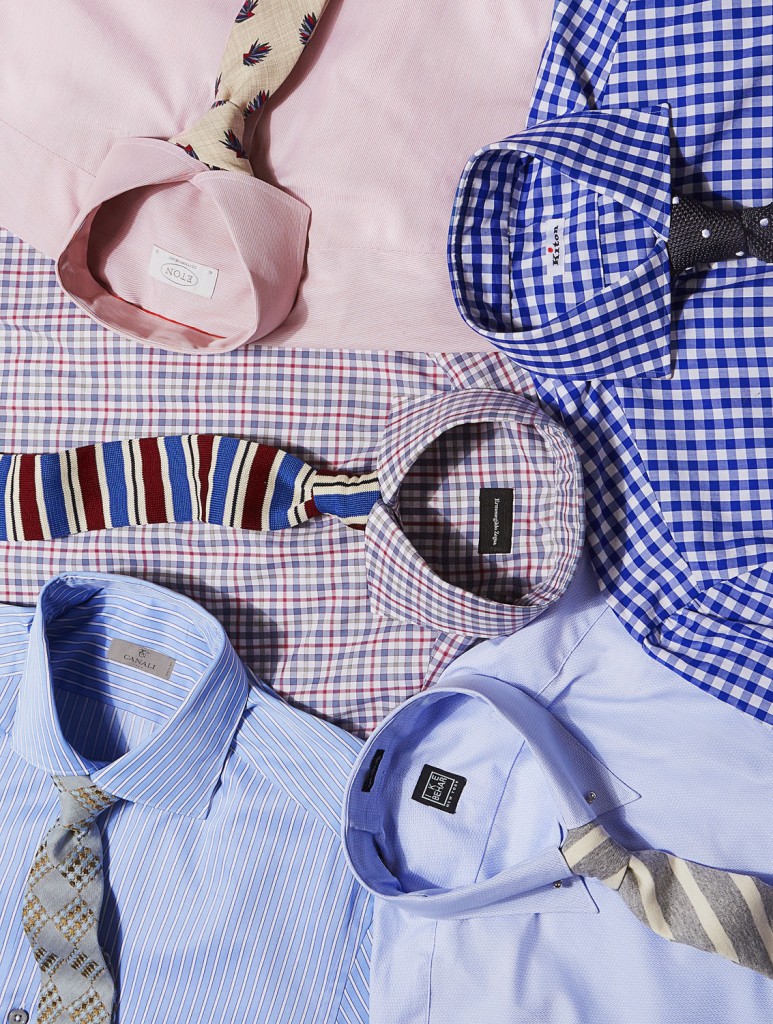 According to brand president Scott Norris, Men's Wearhouse business has been strong in both dress shirts and neckwear, and dress shirts are planned up for fall. "Our exclusive brands are driving our dress shirt business," he told us. "Exclusive brands are a significant piece (75 percent) and Abboud is 25 percent and growing."
Norris adds that blue and white make up half of all dress shirts and small checks and plaids are doing well. Spread collars drive sales at Men's Wearhouse and cutaways are growing.
Sirkin notes that slim-fits are now fully half the dress shirt business. "But the challenge lies in communicating a consistent message, since different brands use different terminology," he explains. "So with both fit and performance, we need clarity in messages. Performance fabrics are 70 percent of everyone's selling floor, be it wrinkle-free cottons, non-iron or easy care. Retailers expect it; some carry nothing but performance fabrics."
On the specialty store side, retail consultant Danny Paul noted in a trend report that for the independent retailers he works with, dress shirts were up but neckwear was particularly difficult: "Neckwear sales have drifted lower for five out of the last seven months," he wrote. "Neckwear business has been adversely affected as more casual dressing has taken hold."
Not every retailer is seeing casual trends squeeze neckwear though. Online men's accessories retailer The Tie Bar, which has quietly become a major force in neckwear, has noticed a different sort of trend. "Once the requirement to wear a tie was lifted, I think guys started wearing them for fun," says Allyson Lewis, VP of merchandising. "They saw ties as a way to express their personal style. It's now okay to care what they look like. They're spending money on apparel and grooming, and I think neckwear is a key part of that."
The Tie Bar's under-$20 price tag for neckwear (they recently raised prices from $15 a tie to $19) has helped fuel their fashion business. "We've given him much more freedom to experiment," Lewis continues. "I'll hear customers in our Chicago store saying, 'I wouldn't normally wear this, but it's cheap enough that I'll try it.' It's an accessible price point, so he's more apt to experiment than he would at a higher price point."
Seasonal fabrications are where much of that experimentation is happening, and it's happening everywhere.
"There isn't this assumption that ties have to be 100 percent silk anymore," notes Maria Humphrey, VP of design at MMG Neckwear. "The industry is open to new fabrications like wool and cotton now. If it's right for the brand, it doesn't matter what the material is, which opens up a lot of new opportunities."
"Although not a large percentage of the business, I believe it is important to show seasonality in neckwear," says Norris at Men's Wearhouse. "For spring, we carry cotton and linen blends, and wool blends for fall."
Between 3 and 3 1/8 inches seems to be the norm for most brands, says Sirkin. Norris at Men's Wearhouse concurs: "About half the business is 3 1/8 inches or narrower with the most growth coming at 3." The Tie Bar now has four different widths: 3½, 3, 2½ and 2 inches. "We see a lot of growth in our skinnier widths," says Lewis. "Even in the past year our 2-inch width, which is super skinny, has seen tremendous growth."
Bow Ties
Bow tie business exploded several years ago and has—for some retailers—become a significant business. At Men's Wearhouse, Scott Norris says it's almost 10 percent of neckwear. For The Tie Bar, it's more than 10 percent: "Bow tie growth in the last three years has been phenomenal," says Allyson Lewis. "Before that, it was the 'bow tie guy' who wore them to stand out. Now it's become much more of a mainstay for us."